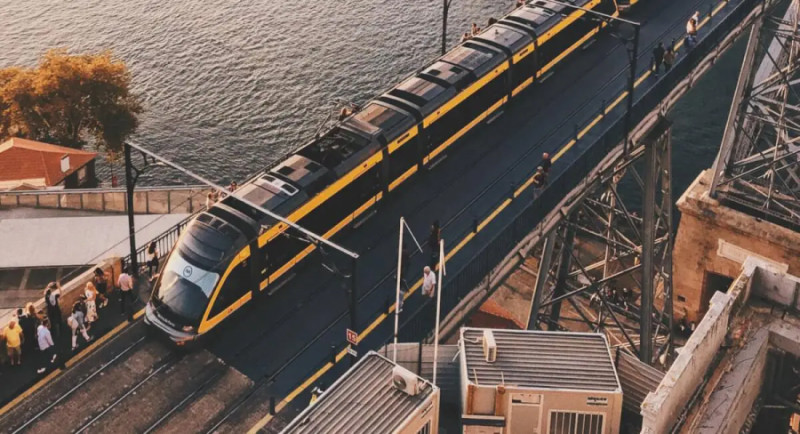 With its blue-flagged beaches, exciting cities, and protected nature parks, Portugal is the kind of place where it's difficult to pick only one thing to do. Fortunately, the country has an excellent and reasonably priced transportation network, as well as plenty of two and four-wheel vehicle rental options, making getting around this Iberian wonder a breeze.

Here's your guide on how to get around Portugal:
Train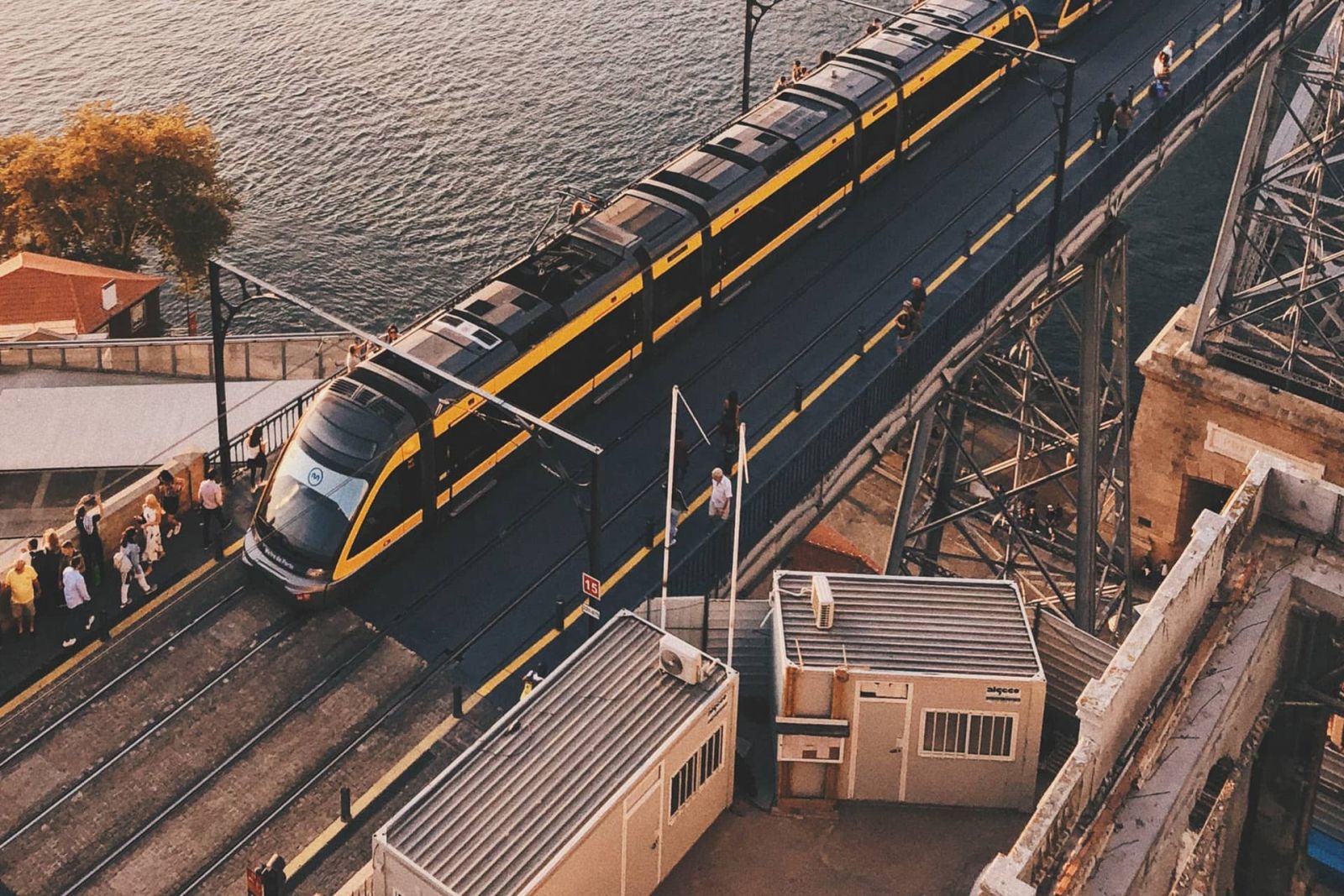 Portugal has a large railway network that spans practically the whole country, making travel between the cities quite economical, extremely convenient, and oftentimes very scenic thanks to all the greenery we see when traveling from city to city. Trains connect famous tourist destinations including Lisbon, Faro, Lagos, Porto, and Figueira da Foz, while international links run to Paris and Madrid.
CP (Comboios de Portugal) is the country's largest railway operator, operating four main categories of long-distance service (international trains are denoted IN on timetables):
Regional (R): slow trains that stop practically everywhere in Portugal
Interregional (IR): faster trains that skip the smallest stops/stations
Intercidade (IC): express trains that tend to stop only in major cities
Alfa Pendular Deluxe: faster than express trains which can be pricier
Lisbon and Porto each have their own Urbano (suburban) railway systems. The Greater Lisbon network extends to Sintra, Cascais, Setúbal, and up the lower Tejo valley. Greater Porto's network stretches all the way to Braga, Guimarães, and Aveiro, bringing the term "suburban" to higher standards. Urbano services also run between Coimbra and Figueira da Foz.
Train tickets may be purchased online, at the official CP website or at stations around Portugal. Tickets for Intercidade and Alfa Pendular are available up to 30 days in advance; however, you should have no constraints reserving for the following or even the same day. Other services must be reserved at least 24 hours in advance to guarantee a ticket.
It becomes important to mention that children under 5 can travel free, and those older than 12 pay half of the price. Additionally, senior travellers from 65 upwards can get 50% off any service but must show ID.
---
Bus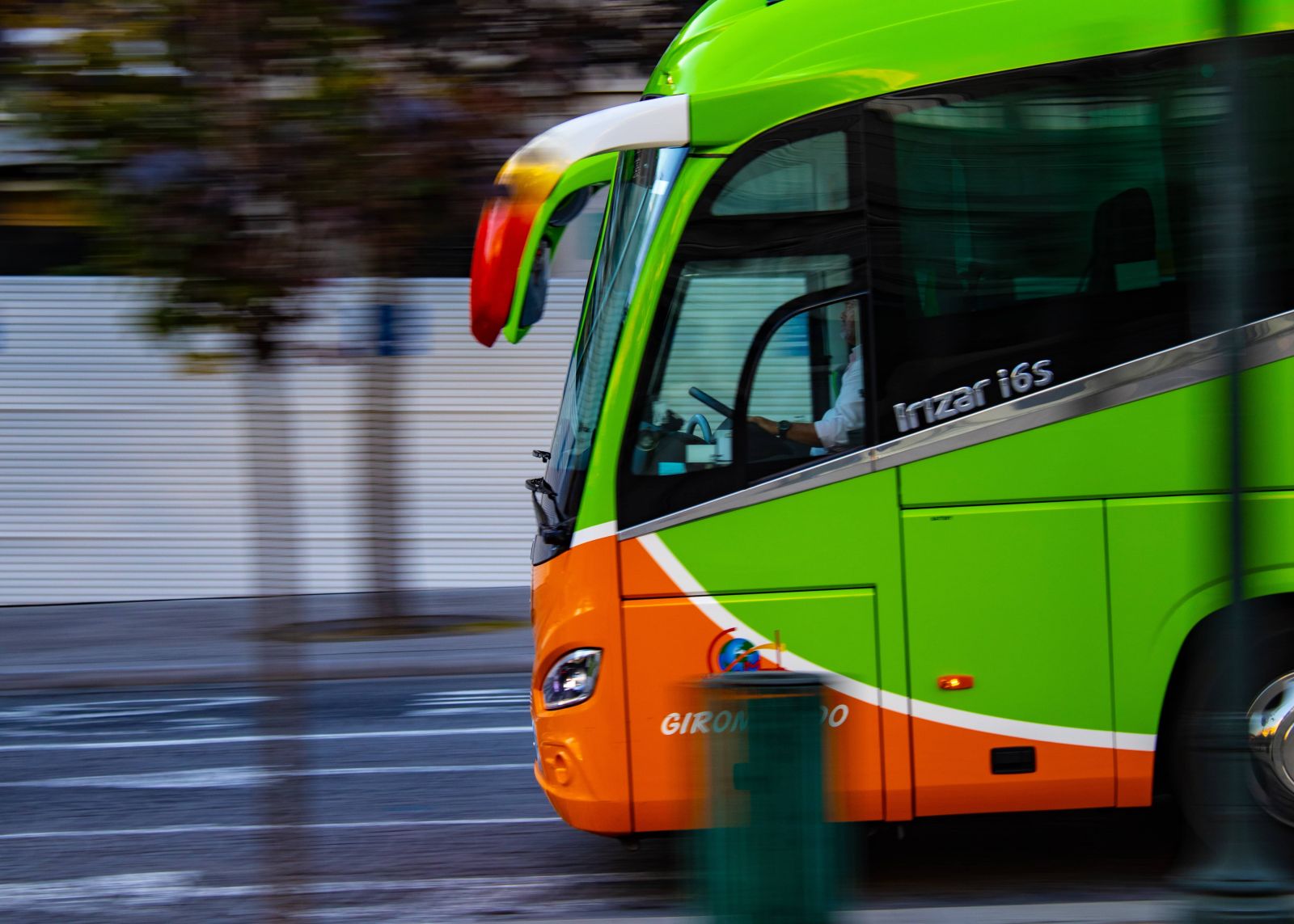 Although slower, getting around Portugal by bus is the ideal option on a tight budget. If you wish to get to the smaller towns and villages that aren't served by the rail network, you can book your tickets on the following transportation networks:
The bus services fall into 3 main categories:
Carreiras: slow route with several stops
Expressos and Rápidas: Comfortable and faster buses. Expressos run between major cities and Rápidas within specific regions
Alta Qualidade: A much faster category offered by some networks
---
Car and Motorbike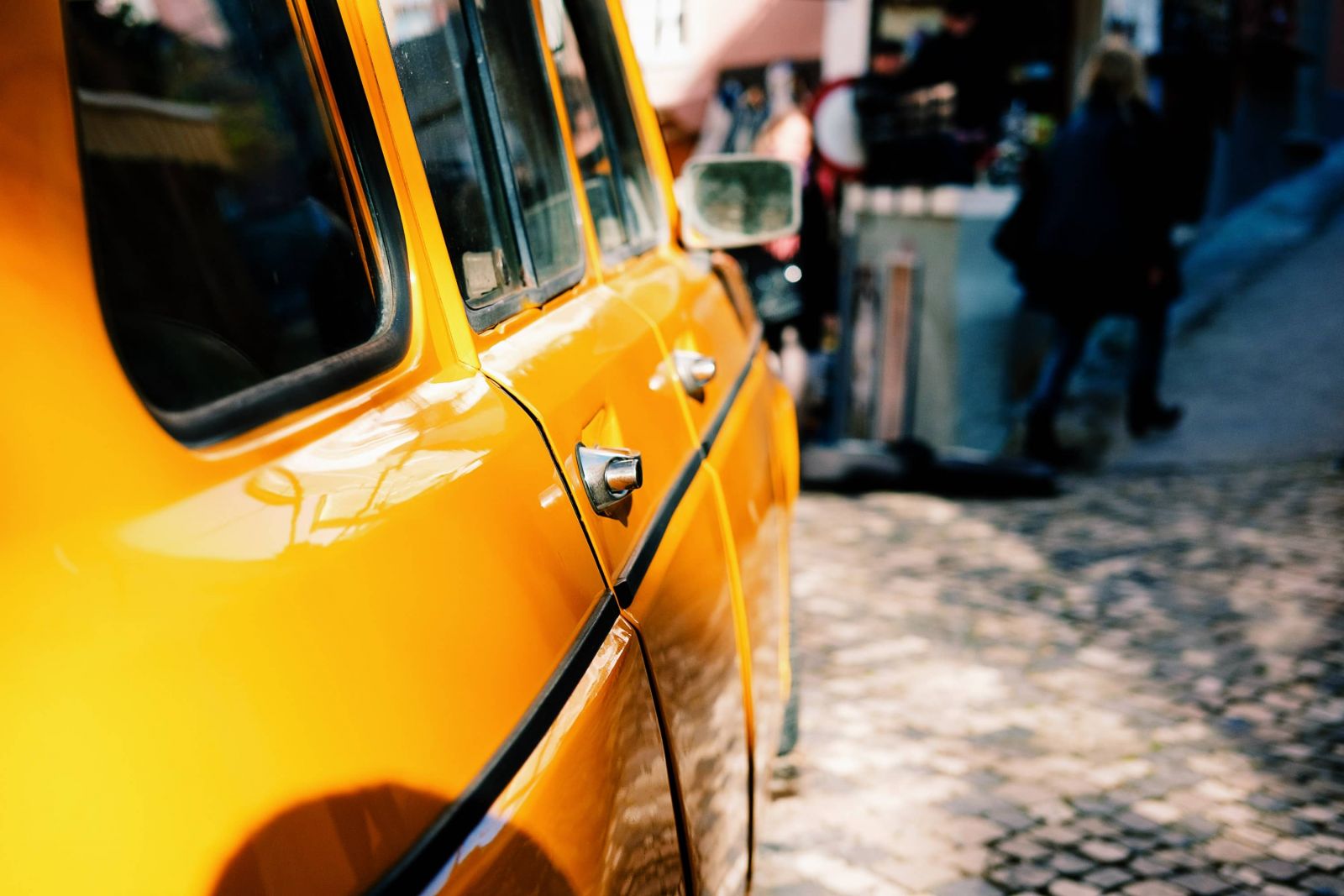 Exploring Portugal on wheels is a wonderful way to experience the country since it allows you to explore freely without relying on transports and timetables. The country's small network of estradas (highways) is steadily growing throughout the country, and important roads are sealed and in generally decent shape.
Nationals from the EU, the United Kingdom, the United States, and Brazil require their home driving license to operate a vehicle in Portugal. Others need to get an International Driving Permit (IDP) from their home country's automotive licensing agency or automotive club.
Renting a car in Portugal is reasonably simple, with rental companies located in major towns, cities, and airports such as Lisbon, Porto, and Faro. Because of competition, Algarve prices are cheaper than elsewhere, and reserving ahead will generally save you money. Among the various automobile rental firms accessible in Portugal are Amoita, Holiday Autos, and Europcar.
If you plan to stay in the Algarve, you may want to book a transfer with Portugal Airport Transfer, which uses the best routes available to transfer you to your destination in quality time.
You may also rent motorcycles and scooters in the larger cities, and all over the coast of the Algarve.
---
Bicycle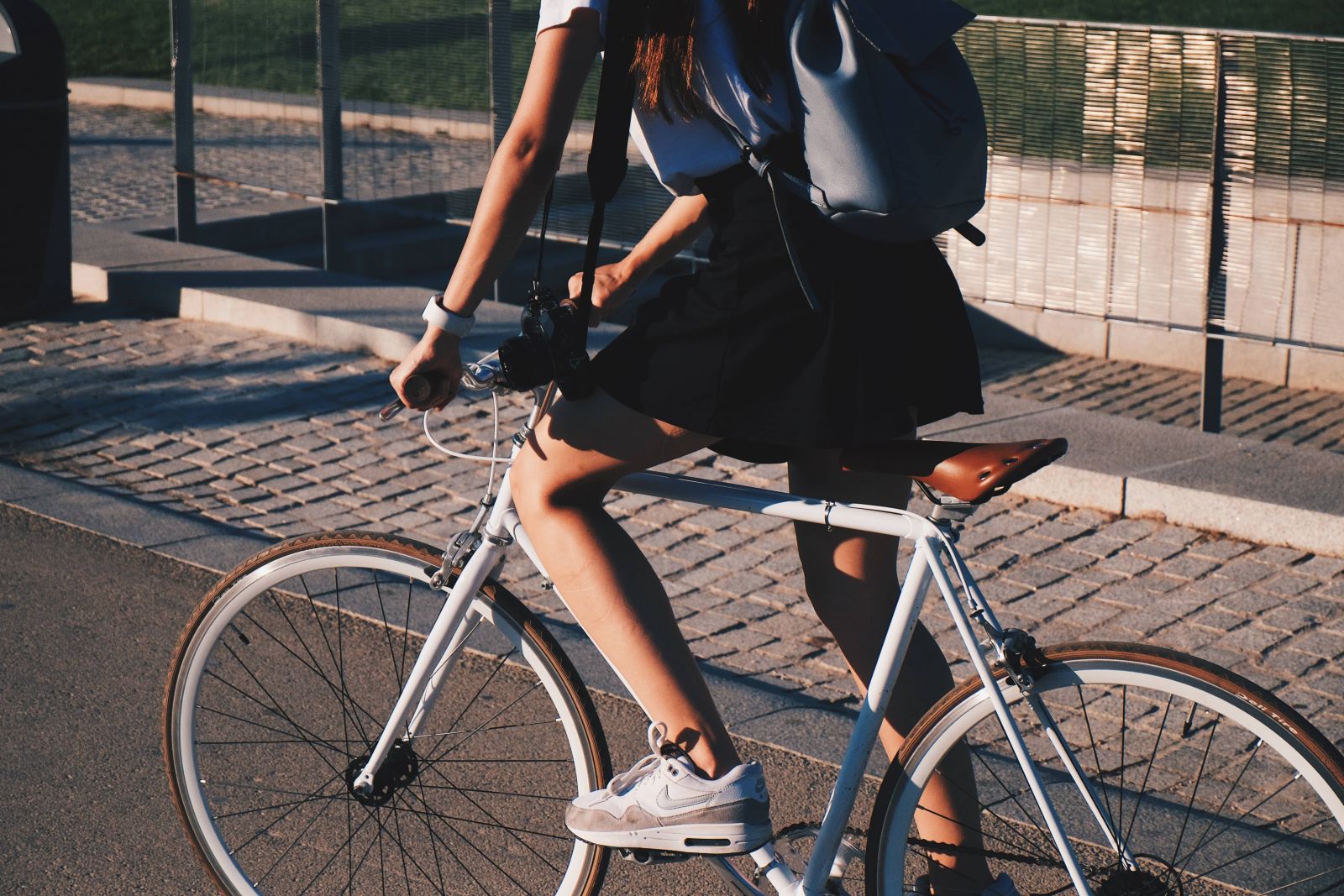 Although there are only a few designated bike paths, cycling is quite popular around Portugal. The available routes start in the north's hilly natural parks - for example, Parque Nacional da Peneda-Gerês -, along the coast, and also in Alentejo. If you're up for a really hilly trail, biking in Serra da Estrela (which acts as the Tour de Portugal's "mountain run") is quite a fun challenge. You might also attempt to cycle in Serra do Marão, which is located between Amarante and Vila Real. Cycling in Portugal offers incredible routes, tracks and paths, blissful sights and fascinating landscapes.
If you are an experienced rider wishing to explore the country on your own, look for Portugal Bike Rentals that can supply you decent, trustworthy bikes - Portugal is a safe country that can be explored on your own - just make sure you have the right bike routes to keep you out of the traffic.
---
Read More:
Portugal Ranked the Best Country for Road Trips in Europe
Cycling your way through Spain and Portugal
---
Plane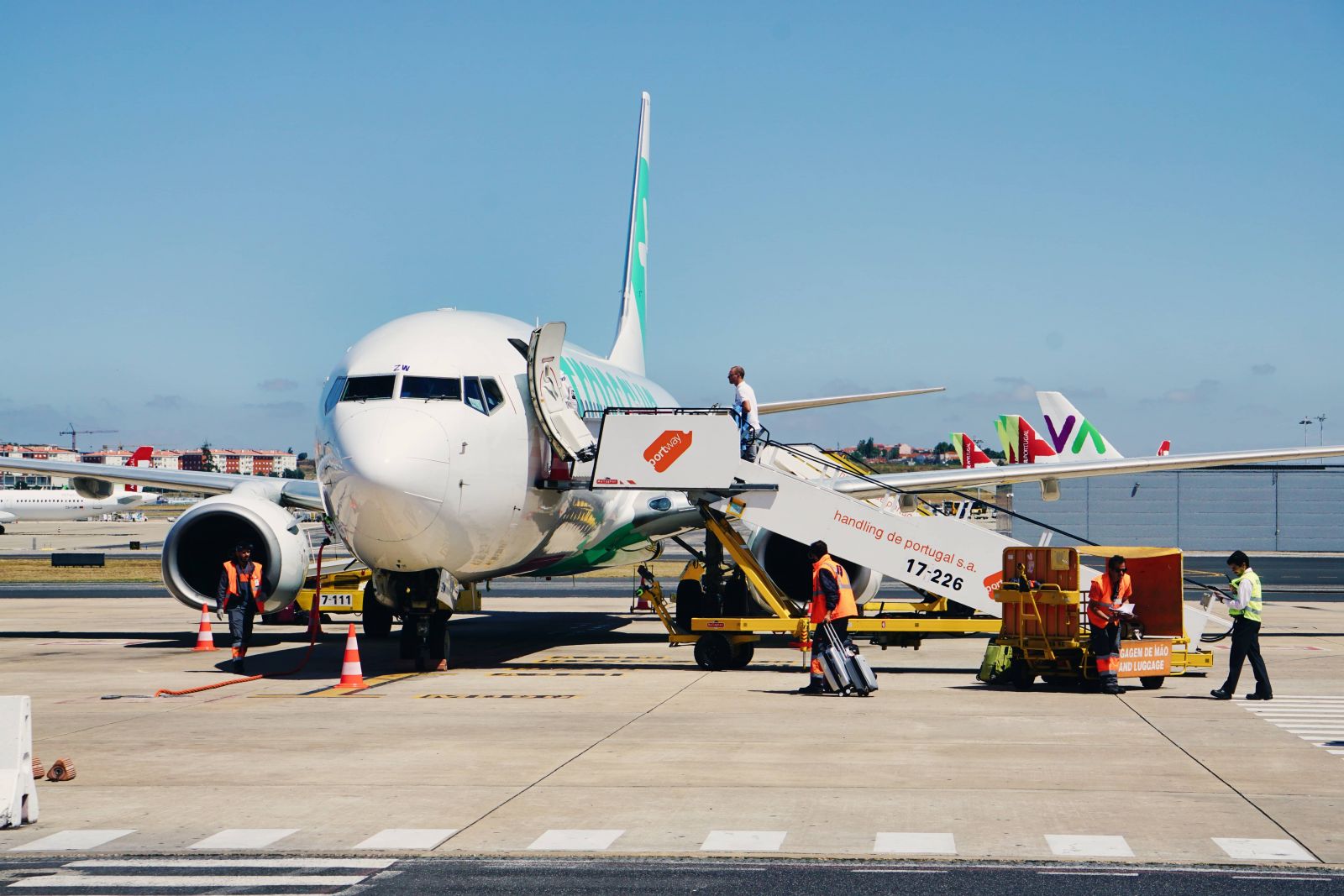 In Portugal, there are three major airports: the Porto airport in the north; the Lisbon Portela airport, and the Faro airport in the Algarve. When traveling to another country, the Lisbon airport is the principal entry point, though flights landing in Porto may occasionally be available at a lower cost.
TAP Air Portugal, the national airline of Portugal, frequently provides low fares and a range of flight packages when traveling inside the country. Among its offerings is the Stopover Programme, which allows travellers who are going to Europe from the United States, Canada, and Brazil to add a free stopover in Portugal for up to five days.
Ryanair and EasyJet are two other low-cost carriers that fly to (and via) Portugal.
Lisbon airport is the most convenient departure point for those who wish to travel to the islands of Azores and Madeira. Flights from Lisbon to Ponta Delgada (São Miguel), Lajes (Terceira), Horta (Faial), and Santa Cruz (Madeira). A flight can last anywhere from 1.5 to 2.5 hours, depending on the island you're flying to.
If you prefer to fly on private jet charters, Portugal has many dedicated airports that help save time, and allow you to arrive closer to your destination! The most well known will be the Lisbon Tires Cascais Airport, and Sintra Airport that is within close proximity to both Lisbon, Cascais, and the Sintra area.
Other airport locations offering private charter services within northern Portugal, closer to the city of Porto include Maia Vilar da Luz Airport, Espinho Airport, Viseu Airport, Bragança Airport, Ovar Airport, and Monte Real Airport. In the southern region of Portugal, we have dedicated airports such as the Montijo Airport, Sines Airport, these are closer to Lisbon South Bay, and should your destination be closer to Alentejo and the Algarve, you can choose your private charter flight airport to be in either Évora Airport, Beja Airport, Alvor Airport or Faro Airport.
---
Metro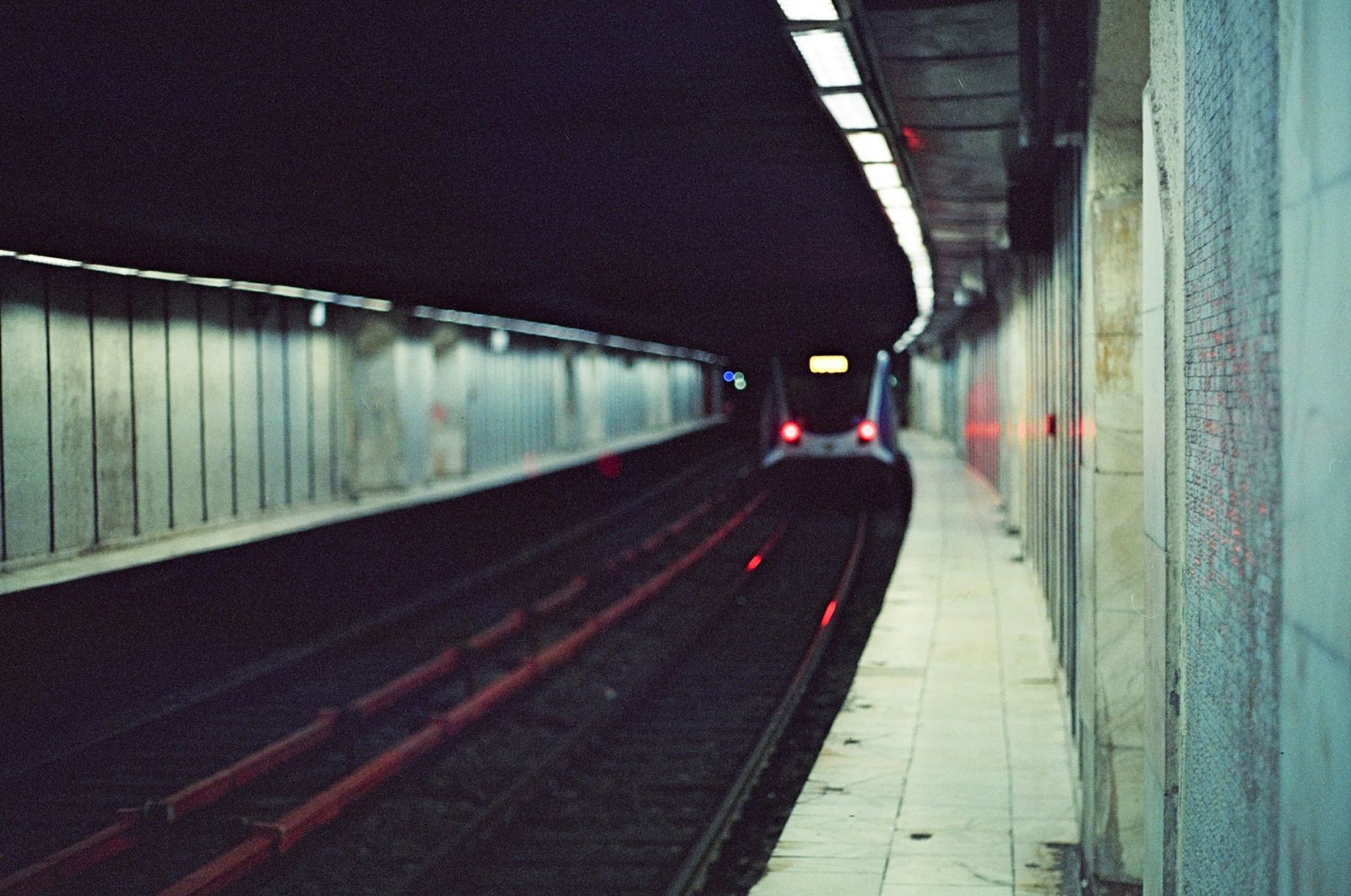 Metro Transportation, or rapid transit is a great way to get around Portugal within larger cities, such as the capital city of Lisbon, Porto, and the addition of Metro cars for the area of Lisbon South Bay. Metro Fares are reasonable, and special tour tickets or 24h fares ranging from € 6.45 to €7.00 are available for purchase at vending ticket machines, and through a Metro operator; purchasing a day ticket allows you more freedom of travel especially on days that you wish to explore more!
The Metropolitan of Lisbon has four main transit lines, connecting major sections of the city of Lisbon; each line is distinguished in a color and symbol iconography making it easy to understand for locals and tourists alike.
Linha Azul, the blue line featuring a seagull icon runs across Santa Apolónia Reboleira; connecting you to the main railway network, at rail station of Santa Apolónia, running along sought-out areas of Lisbon, such as Terreiro do Paço, Avenida, Marques de Pombal, Jardim Zoológico, Laranjeiras, Colégio Militar and terminus line as Reboleira, in the parish of Amadora, one of the larger parishes within Lisbon.
Linha Amarela, the yellow line featuring a sunflower runs across Rato to Odivelas; connecting you from between lisbon parishes, such as Marquês de Pombal, Saldanha, Campo Pequeno, Campo Grande, Lumiar to the northwest city of Odivelas.
Linha Verde, the green line featuring a caravel runs across Cais do Sodré to Telheiras; connecting the waterfront station at Cais do Sodré transfer access to and from the ferry transport, to the Lisbon Metro. The Green line travels through popular Lisbon parishes located within downtown city centre, such as Baixa-Chiado, Rossio, Martim Moniz, Intendente, Anjos, Arroios, Alameda, Areeiro, and Roma which you can transfer onto the Sintra and Azambuja railways.
Lastly, the Linha Vermelha, the red line featuring a compass runs across São Sebastião to the Aeroporto; the São Sebastião station is a connecting stop between the blue and red line within the neighbourhood of São Sebastião da Pedreira in Avenidas Novas parish.
While in the city of Porto, the metropolitan transport run by ViaPorto has six lines of rapid transit running through the city's suburbs and the central Porto, much like in Lisbon. The network reaches over seven municipalities: Porto, Gondomar, Maia, Matosinhos, Póvoa de Varzim, Vila do Conde, and Vila Nova de Gaia.
Line A, showcased in blue, connects Estádio do Dragão do Senhor Matosinhos; best known station for FC Porto all-seater football stadium in Porto, which has the capacity of seating for 50,033 fans. During a soccer match, this station will be buzzing with a heavy traffic of people which makes it easily accessible for those who wish to skip driving to the match altogether!
Line B, showcased in red, connects Estádio do Dragão to Póvoa do Varzim; this transport line connects the busier city center areas of Porto city, such as Heroismo, Campanha, Trinidade, all the way to Póvoa do Varzim, a city that is 30km away from Porto. Best known for its ship builders and merchants, this recognition dates back to the Age of Discovery, as all grand ships for voyages beyond Portuguese soil were originally built in Póvoa de Varzim.
Line C, showcased in green, connects Campanha - to ISMAI; on this line you begin within a parish of Porto, in Campanha station, considered to be the busiest and one the oldest habited areas in Porto, dating back III and II millenia A.C. In Campanha you will witness grand Quintas (Villas) and palaces, where the Portuguese bourgeoisie once lived. On route towards Line C's terminus station to ISMAI, which is the University of Maia (Universidade da Maia), a definite busy route for students.
Line D, showcased in yellow, connects to Hospital de São João to Santo Ovídio; this line connects you to Porto's main hospital at Hospital Sao Joao, which is acts as a medical school as well, giving direct access and assistance to the parishes of Bonfim, Paranhos, Campanha, Aldoar, Maia and Valongo. The terminus stops at Santo Ovidio in Vila nova de Gaia, or commonly known as Gaia; a city situated on the south end of Porto, on the other side of the Douro river. Gaia is known to hold many port wine cellars or "caves", which is a huge tourist attraction.
Line E, showcased in Purple, connects Trindade to Aeroporto; at the modern metro station of Trindade you are in close proximity to various hotels in the city center of Porto, and plenty of local commerce, from restaurants, cafes, shops and cinema. This line is perfect for those who are first visiting the city Porto as the metro line travels directly to the airport; a perfect route to and from your selected hotel.
Line F, showcased in orange, connects Fânzeres to Senhora da Hora; this line connects the parish of Fânzeres in Gondomar, just outside of Porto where you witness beautiful architectural landmarks, and quintas from the 18th century. Having its terminus top in Senhora da Hora, a parish in Matosinhos, part of greater Porto, which is famously known for having the second largest shopping mall in Portugal at NorteShopping.
---
Tram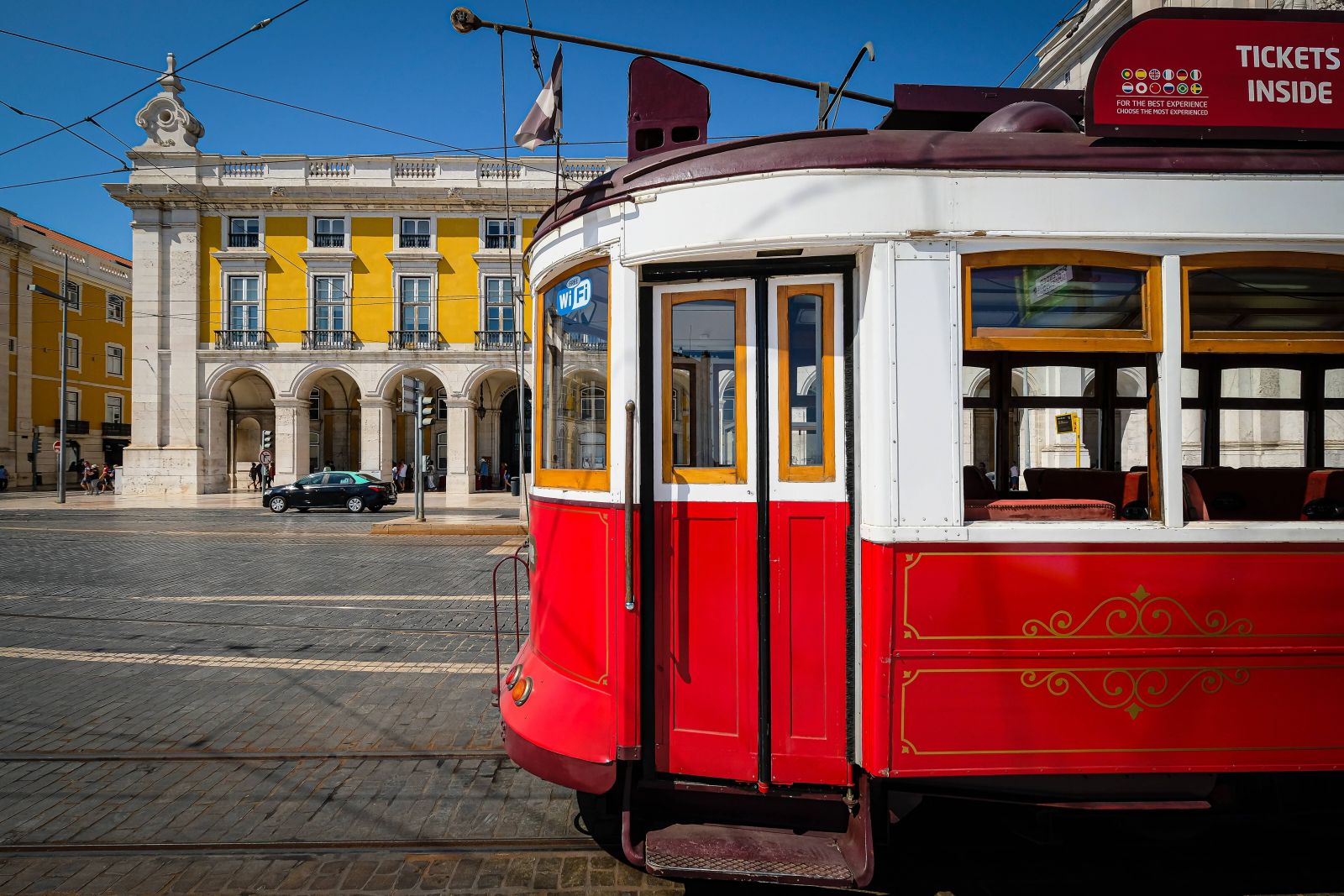 Taking a ride on one of Portugal's historic trams has become one of the country's must-do experiences. These lovely rattling antiques roll through the small alleyways of Lisbon and Porto, providing a low-cost sightseeing tour of both cities. As a result, they frequently become quite crowded at the height of summer - get there early in the morning to ensure a seat!
In Lisbon, the Tram 28 is the most hopped on, which is the best way to get to know the city as it passes through the popular tourist districts, from the starting route at Martim Moniz to Campo de Ourique. You can experience the districts of Graça, Alfama, Baixa, and Lapa-Estrela; each are distinct in their charming character, architecture, and national landmarks.
The route of Tram 12 will begin at Praça da Figueira, one of many busy squares in the city center of Lisbon, known as Baixa, showcasing an equestrian statue of King John I in its center. Here you can hop on Tram 12, which will take you up and back from São Jorge Castle, meanwhile giving your legs a chance to rest from the cobblestone streets.
Now if you are in the Cais do Sodre area, a main connection for trains towards Cascais, and ferries to Lisbon South Bay. Here you can hop on Tram18 that will take you towards Ajuda, a neighbourhood situated above Belém district, where you can get a chance to witness Palácio Nacional da Ajuda, a Portuguese royal palace turned museum.
On Tram 24 you can venture from Largo do Camoes, to the heart of Campolide, passing through a sought-after neighbourhood at Principe-Real, Rato, and Amoreiras. Principe Real is a great stop to hop off Tram 24 to enjoy this beautiful neighbourhood in Lisbon that offers a multitude of restaurants, bars, and alternative boutique shops.
Another tram route to experience when in Lisbon, is Tram 25 that connects Praça da Figueira to Campo de Ourique, passing through the neighbourhoods of Santos, and Lapa-Estrela, where you can hop off to visit the Basílica da Estrela, and the Museum of National Ancient Art.
In Porto, vintage tram transportation is also highly popular among locals and tourists; there are three main tram lines connecting the city within a 30 minutes ride, and fares can be purchased onboard at €3.50.
Catch a ride on Linha 1 (Line 1) cable car, the most popular with tourists when voting Porto, venturing your way through the northern bank of the Douro River from Infante, via Alfandega and Massarelos, to Passeio Alegre in Foz do Douro. This route is an especially pleasant way to see the beautiful Douro River, showcasing amazing views from the tram while soaking up the charm the city of Porto has to offer.
On Linha 18 (Line 1), the route connects the parish of Massarelos, where the Tram Museum is located, making your way through Rua da Restauração with Carmo (Praça Parada Leitão), next to the rectory of the university of Porto. Massarelos parish is classified as a UNESCO World Heritage Site, as it is considered Porto's olden downtown area with a 2,000 year old history.
On route at the cable car Linha 22 (Line 22), starting at Carmo and Praça da Batalha with the Funicular dos Guindais, offering convenient transport connections to three stations on the Porto Metro. Batalha square is considered an important monument of the late 18th century in Porto, showcasing Oporto's opera house, the Royal Theatre of São João, and Cinema Batalha, making it a busy hub offering plenty of cafes, restaurants, monuments, and hotels.
---
Mountain Cable Car or Elevator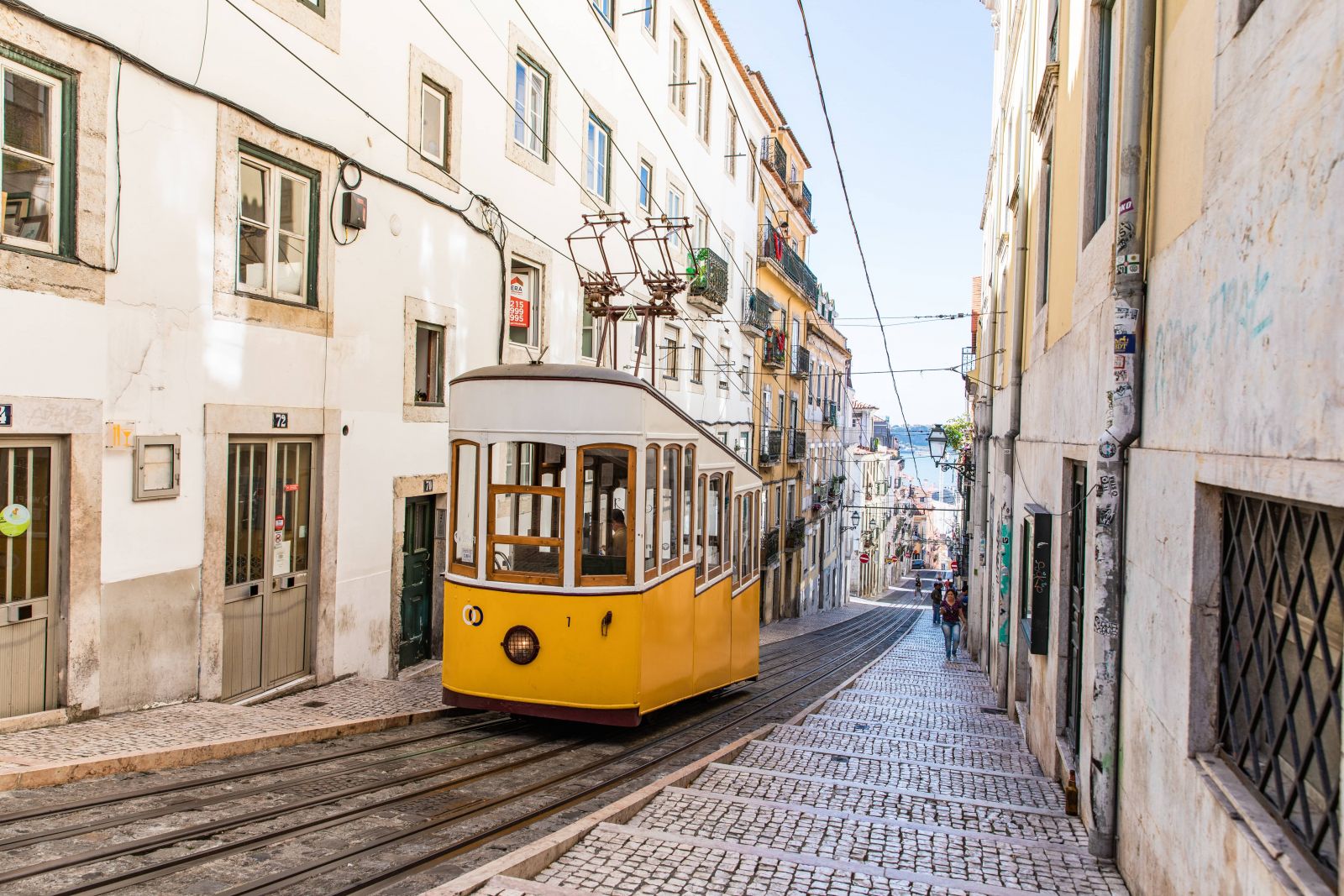 In Lisbon, there are three Mountain Cable Cars that are considered national treasures, and help you get around the city of eights hills with the Gloria Elevator, Lavra Elevator, and Bica Elevator. A single ticket costs €3.00, with Carris, with a 24h transport ticket that can be purchased at metro stations via operator or at a ticket vending machine; then you can hop on and off as many times as you would like on the metro, trams, buses, or mountain cable cars.
The Gloria Elevator cable car can be caught at Avenida da Liberdade, by the Restauradores taking you up to Bairro Alto, Príncipe Real neighbourhood, and witness amazing views of the city at the garden and lookout point of São Pedro de Alcântara.
Lavra Elevator cable car connects Largo da Anunciada to Rua Câmara Pestana, in the parishes of Santo Antonio and Arroios; within close proximity you can visit Jardim do Torel, to experience a public park with great water and city views. Lastly, the Bica Elevator cable car connecting Rua de São Paulo with Calçada do Combro and Rua do Loreto; leading you to Bairro Alto, and Bica neighbourhoods, and best of all, the lookout point known as Miradouro de Santa Catarina, part of the eight hilltops or "colinas" of Lisbon.
Getting around Portugal is quite easy; there are plenty of options for those who might not wish to rent a car, and drive. Ultimately public transportation services in Portugal are accommodations and trustworthy, best of all affordable, especially when you are visiting this beautiful country!
---
Read More:
Porto and Lisbon are the friendliest cities in Europe
Portugal was elected the best European destination to visit in 2021
---