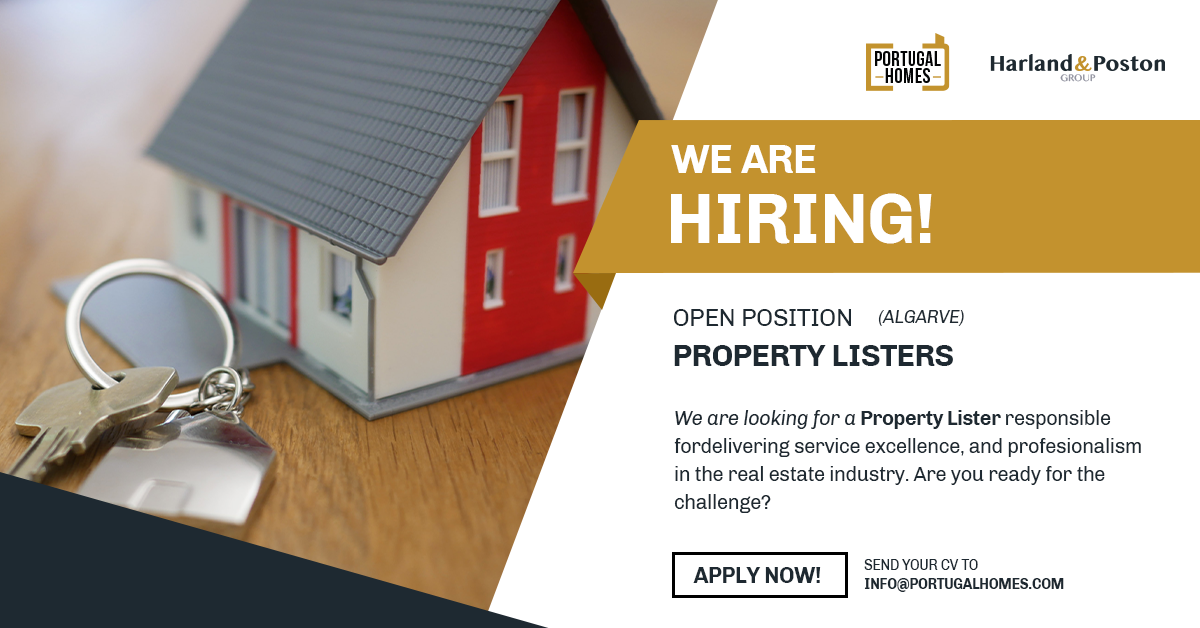 Property Listers | Algarve
Portugal Homes, part of the Harland & Poston Group is a real estate agency based in Lisbon and Algarve that deals mainly with investment and Golden Visa (GV) clients. We are responsible for providing operational excellence in our services. As a business we understand our clients' needs, the reason why our company is structured to provide our clients a full service from A to Z - from full explanation about how the Golden Visa Programme, the application process and educate the clients on the Portuguese real estate market, so they are able to choose the best property investment for our first class clients.
We're offering:
Full help and support from the office team;
Training provided by our Property Listers team;
Between 40k/60k expected earnings;
Candidate Requirements:
Fluent in Portuguese, English, and an extra language would be a plus;
Proactive, dynamic and flexible in dealing with stressful situations;
Professional, punctual and with a positive attitude;
Will to learn;
Driver's License
Ensure all information for sale and to let properties are actively and consistently monitored
Working with sales reps and team to List, letting and sales properties together with ancillary services
Deal with portal enquiries effectively and quickly
Be punctual to the office and to appointments
Ensure the office system is used and kept up to date
Work with sales progressor to progress
Work closely with partners to achieve listings and sales
Ensure online and social media activity is kept current, positive, updated and regular and liaise with marketing department to create new campaigns
Ideal Candidate
Target orientated with a proven record of achievement
Enthusiastic and motivated at all times
Excellent written and verbal skills
Be very organised
Have the ability to develop and maintain internal and external relationships
Display high standards of service and presentation
Details:
Working hours: 9:30 AM – 6:30PM
Start Date: Immediate
Contract Length: Full Time
Central Location
Salary + Commissions
How to Apply
To apply, please send your CV/resumé in English to info@portugalhomes.com, referring to the position you're applying for in the email's subject.
We like to speak to all applicants, but this is not always possible. To ensure your application is not overlooked it is important that you emphasize any skills or work experience relevant to this position. If you have not heard from us within 5 working days please assume that you have been unsuccessful in this instance, we will also therefore not hold your data.
---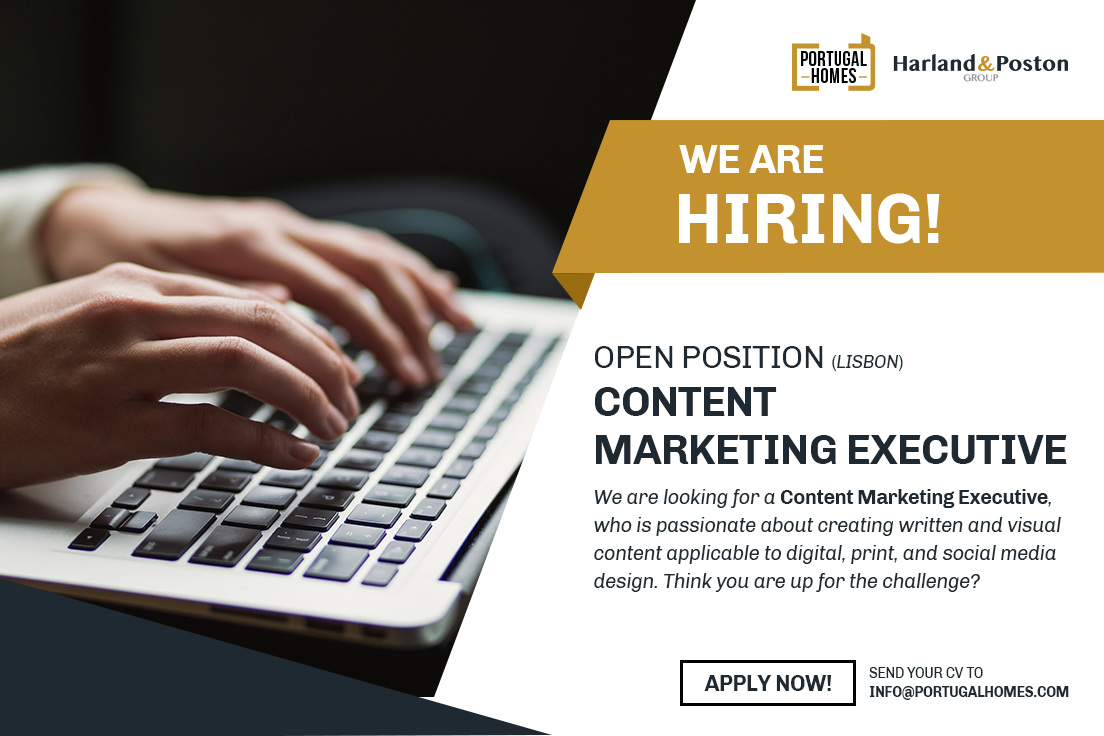 Are you looking for a dynamic workplace in Marketing and Communications?
Well, Harland & Poston Group is searching for creative talent to be added to our in-house Marketing Department!
We are a privately owned group that shelter strong, self-made brands in real estate, investments, property management, and travel. Our Marketing Department is looking to grow, and we are looking for a Content Marketing Expert to join our team. Think you are up for the challenge?
What does the Content Marketing Executive position entail?
A Content Marketing Executive will be responsible for the creation of written content such as articles ranging from relevant investment, real estate news and lifestyle-based content on travel (Portugal).
Written content for social media platforms will also be required as our affiliate brands under Harland & Poston Group hold social media presence in the most well-known platforms (Facebook, Instagram, Twitter, LinkedIn, Google Business). This candidate must have experience in social media campaigns, the creation of new ads, and be responsible with budgets.
This job position is a great opportunity for a candidate who wishes to live in Portugal, and work on-site in a dynamic company that has in own in-house design & marketing agency with eleven dedicated team members specializing in journalism, data analysis, web development, graphics, and social media.
Remote or Hybrid work will not be available for this job position, as Harland & Poston Group trusts in the importance of building a lively and positive office environment, where employee connect with each other and evolve personally & professionally. The Content Marketing Executive will work closely with the Content Marketing Manager, the PR & Media Manager, SEO Manager, and the Social Media Content Executive. You will have to be self-sufficient, and team player who loves a co-design approach to work!
Additional Job Position Details:
Brand & Advertising oversight and adaptation
• Adapt all relevant materials to local language and positioning;
• Support the Digital Marketing Director & Content Manager to plan and execute
brand advertising and communication campaigns relevant to the country needs,
while following Group Brand and Advertising Guidelines;
• Adapt all digital and offline advertising concepts and creatives to meet local
requirements;
• Support the content team in communications for existing clients (mostly email
campaigns): tone of voice, template designs for social media and brand guidelines.
Social media, brand relevance and reputation
• Create, Monitor, and Promote content via our social media channels across 30
international markets;
• Monitor brand ratings and reviews in the different platforms and social media
channels;
• Define with Digital Marketing Director & Content Manager the strategy and action
plan for the year;
• Support in the development of the content strategy required to enhance brand
relevance in owned and external platforms (website, blogs, reviews platforms
etc.), in coordination with lead acquisition team;
• Community management in coordination of CS when required
Website and Lead acquisition
• Support both website developers and campaign managers to adapt and develop
website, landing pages and paid media ads content, translations and designs for
the Portuguese, Spanish & UK markets.
Candidate Requirements:
•Native English language (written and spoken);
• Bachelor's degree in Communication, Business, Marketing or another related field;
• Master's degree in marketing, Advertising and Branding will be a plus;
• Knowledge of digital landscape is a must;
• Clear understanding of brand building through the whole brand funnel and omnichannel media context;
• A strong focus on reaching results/KPI's;
• Good command of Microsoft Office (Word, Excel, PowerPoint, Outlook);
• Design skills in Photoshop and Illustrator will be desirable, but not mandatory;
We offer exciting career opportunities in a company with an ambitious growth strategy and
fantastic colleagues. We would love to hear from you.
Please send us your CV in English to info@portugalhomes.com, with your name and position in the email's subject.
---
Explore more about our teams:
Team dynamics, the key to Portugal Homes success
Portugal Homes team bonding and weekend getaway
---
Watch some of our staff talking about their day-to-day life at Portugal Homes. We love to have fun even when we're working!