FULL-TIME PROPERTY ADVISOR (ALGARVE OFFICE)

Portugal Homes, a leading estate agency with AMI Licence 14414, is currently looking for a full-time Senior Property Advisor with Telemarketing / Customer Sales experiences, in Real Estate in Portugal preferred. We offer a competitive salary and this position is to start in September 2020!

What we offer:
- a competitive salary for the right candidate
- help and support from the office team
- Full Training provided by the Property Advisor Supervisor
- A multidisciplinary team
- 50k expected On-Target Earnings

Minimum Requirements:
- Fluent in English, Portuguese and an extra language would be a plus.
- Proactive, expert in dealing with clients, professional with a positive attitude
- Willingness to learn and grow fast

***Please send us your CV in English to kate.goucher@portugalhomes.com, with your name and position in the email's subject
______________________________________________________________________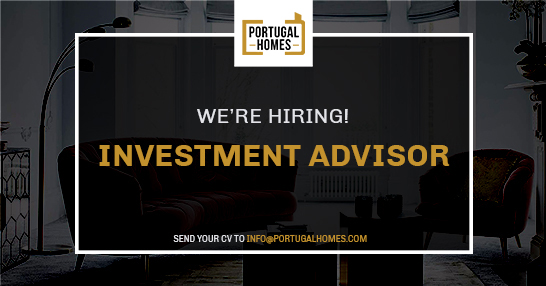 INVESTMENT ADVISOR (LISBON & ALGARVE OFFICES) 
Portugal Homes, a leading estate agency with AMI Licence 14414, is currently looking for a full-time Investment Advisor. Candidates with some level of experience will be preferred. Also, you'll be expected to demonstrate a combination of interpersonal, sales and marketing skills.
The right candidate will have an opportunity to grow professionally and financially, as long as is willing to excel in many ways and to be a committed professional. This is not a 9 am / 5 pm job, but it'll be very rewarding if you're willing to take on the work, be a part of an amazing team and grow in a fast-moving and exciting environment.
What we offer:
A competitive salary for the right candidate
Help and support from the office team
Full training provided by the team
A multidisciplinary team
A fast-moving exciting environment
Between 50k/100k expected earnings
Requirements:
Fluent in English and an extra language are a plus.
Proactive, expert in dealing with clients, professional with a positive attitude
Be able to analyse existing market data for strategy development
The ability to use your contacts and find new contacts/leads that we can use to grow our client base
Monitor the competition on the field and keep the team updated on developments within the sector
Re-engage with agents that are actively selling competitive products
Meet with agents, lead suppliers and collaborators
Liaise your work in the field with the Property Advisor team and our Sales Director
Please send us your CV in English to info@portugalhomes.com, with your name and position in the email's subject.
______________________________________________________________________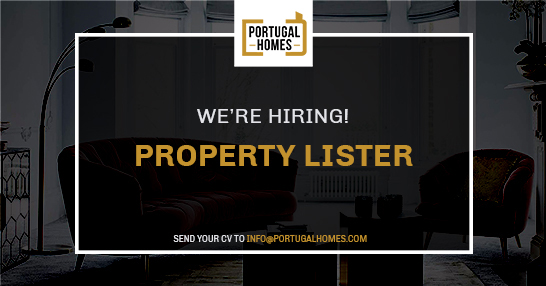 PROPERTY LISTER / ANGARIADOR IMOBILIÁRIO (LISBON & ALGARVE OFFICES)
A Portugal Homes, com licença imobiliária nº 14414, está à procura de Angariadores Imobiliários. Candidatos com experiência terão preferência. No entanto, estamos a contratar também pessoas júnior que terão acesso a formação por parte da equipa sénior de angariação.
Oferecemos: 
- Um bom salário base para o candidato certo;
- Apoio do secretariado e de uma equipa internacional;
- Formação completa na área de angariação, vendas, gestão de propriedades;
- Equipa multidisciplinar.
Requisitos Mínimos:
- Fluente em Inglês e Português;
- Proactivo, dinâmico e flexível em alturas de stress;
- Profissional, pontual e com uma atitude positiva;
- Com vontade de aprender;
- Possuir carta de condução válida.
Por favor envie-nos o CV para o email info@portugalhomes.com, com o nome e posição no assunto do email.
________________________________________________________________________