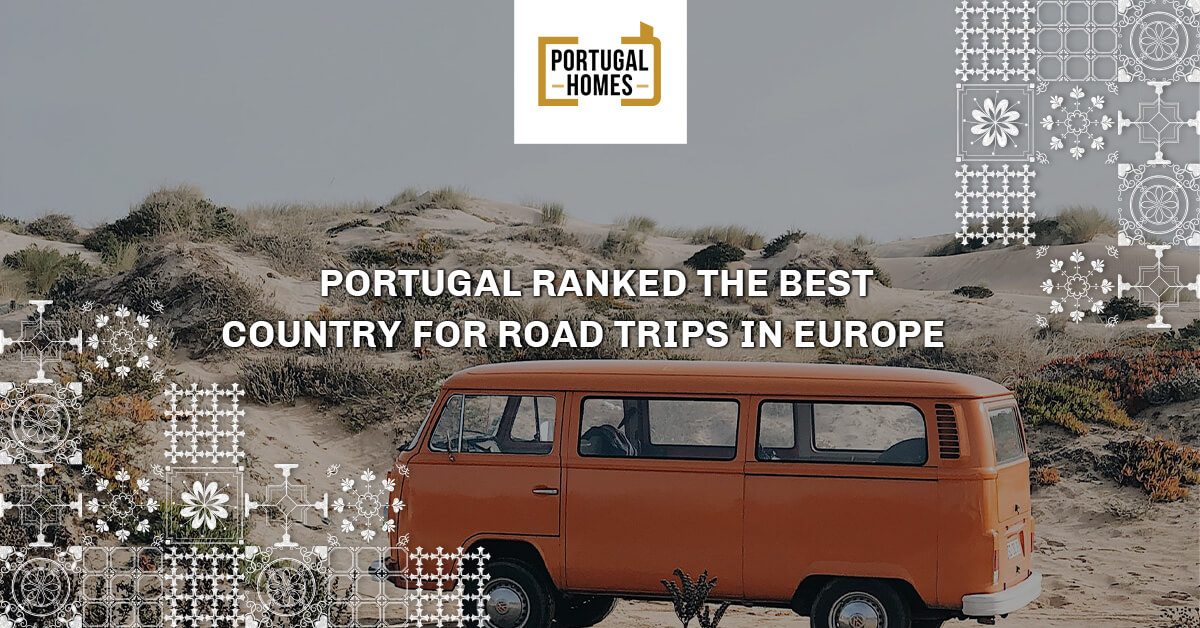 Are you a road trip extraordinaire? Well, let's hit the highway and venture across beautiful Portugal, a flexible way to travel while being mindful of the current restrictions and social distancing criterias. Road trip flying solo or with your ride along bud, as you zip on by the vast landscapes and feast your eyes on the wonders of Portugal.
It is to no surprise that Portugal has been selected as the finest destination for road trips, by travel website Momondo, who analyzed over 31 countries in Europe, and based their decision on the following six categories on a scale of 1 to 100:

Portugal ranked in the top #1, due to its numerous natural attractions, very reasonable car rental prices, amazing weather, and most importantly for its great roads. The Portuguese road infrastructure is considered one of the best in Europe, ranked at 6 out of 7 in the 2021 Road Quality Ranking by Landgeist.
One of the most scenic roads, is the connection between Peso da Régua and Pinhão, in Trás-os-Montes, in the northeastern region of Portugal; this road is a section of N222 which follows along the sweeping riverside views of the Douro Valley, filled with vineyards.
The region of Trás-os-Montes and Alto Douro is divided between four districts of Vila Real, Bragança, Viseu and Guarda; districts hosting scenic towns, national landmarks, and plentiful amounts of parks and natural reserves to witness such as the Reserva da Biosfera Transfronteiriça Meseta Ibérica, Lagos do Sabor, Parque Natural de Montesinho, Paisagem Protegida da Albufeira do Aizibo, Parque natural Regional do Vale do Tua, Serra do Marão, Alvao Natural Park, Miranda do Douro, Parque Natural do Douro Internacional.
Another famous route that connects the entire Portuguese territory, from north to south, the longest road in Portugal that crosses a country in its entirety; the EN2 (Estrada Nacional 2). This extensive road runs from Chaves, close to the Spanish border, to Faro in the Algarve, a great route for a road trip!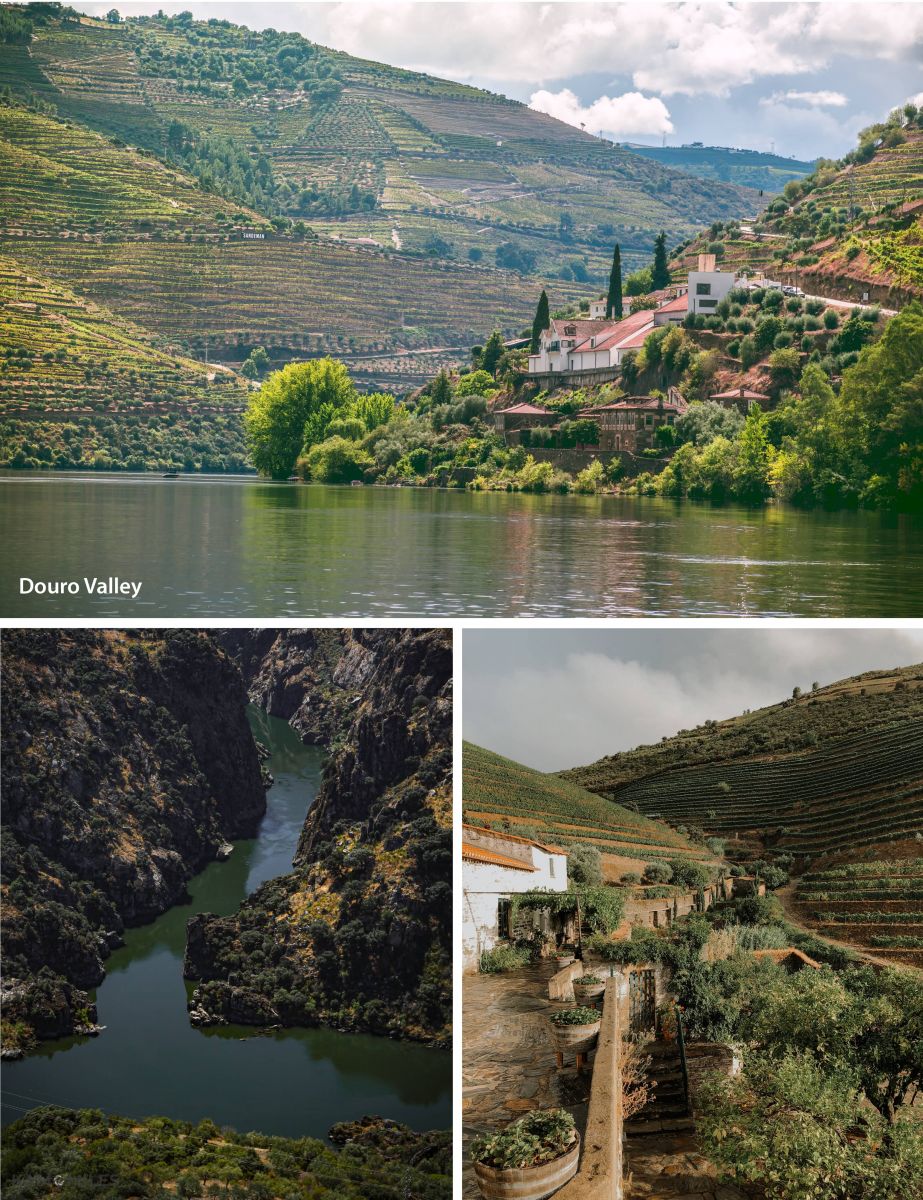 ---
Read More:
8 Things to Discover in Porto and Douro Valley
Your Guide to Drinking Portuguese Wine
Portugal was elected as the best European destination to visit in 2021
---
Now for some beach views down the Atlantic coast, the best road to take A17, heading from the riverside city of Porto to Ericeira; stopping along the way at key beach spot locations in Aveiro, Mira, Tocha, Quiaios, Figueira da Foz, and switching to A19 and follow route towards Nazaré , Peniche, en route on to Ericeira on A8.
The most famous beach destination on this road trip will be Nazaré Beach, where American surfer Garrett McNamara broke a record with a 30 m (100 foot) wave, in Nazaré Canyon off from Praia do Norte. This fishing port of Nazaré is blessed with an amazing beach that is adored by locals and visitors alike, featuring numerous seafood restaurants, cafes and shops.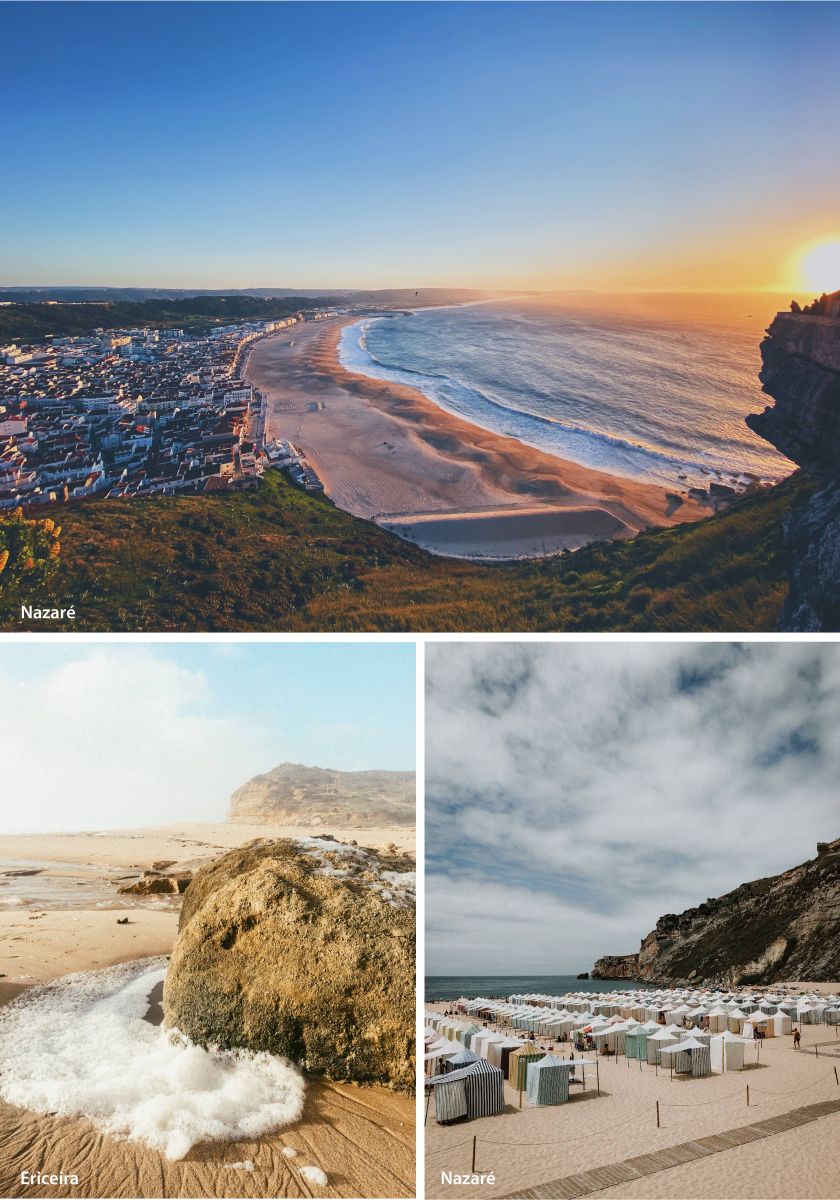 Once you reach Ericeira, you can continue to explore the 948 kilometers of Atlantic ocean coastline, when you venture further into the Alentejo and Algarve in the south of Portugal. Start your journey on A21 to A8, and A12 crossing the Vasco da Gama Bridge over the Tagus River, one of the second bridges, after Ponte 25 de Abril the "Golden Gate Bridge" look-a-like connecting Lisbon to the Lisbon South Bay area.
This detour will give you a chance to explore Lisbon South Bay, the three districts of Almada, Seixal and Barreiro; where you can experience many more beautiful beach spots located in the Costa da Caparica, Arrábida, and Sesimbra area. Make time to check out at least three beach locations, if not all, because they are truly picture-worthy; our top pick begins with Portinho da Arrábida, situated in the Serra da Arrábida Natural Park, an astonishing coastline of white sandy beach, and clear blue oceanside, and lush green surroundings.
Costa da Caparica, consists of the following 5 beaches: Praia da Mata, Praia Morena, Praia da Fonte da Telha, Praia do Meco, and Praia da Sereia.
Arrábida, consists of the following 5 beaches: Praia dos Galapinhos, Praia dos Galapos, Portinho da Arrábida, Praia da Figueirinha, Praia dos Coelhos.
Sesimbra, consists of the following 3 beaches: Praia do Ribeiro do Cavalo, Praia do Ouro, and Praia da Califórnia.
Learn more about the laid back attitude of the Lisbon South Bay, here.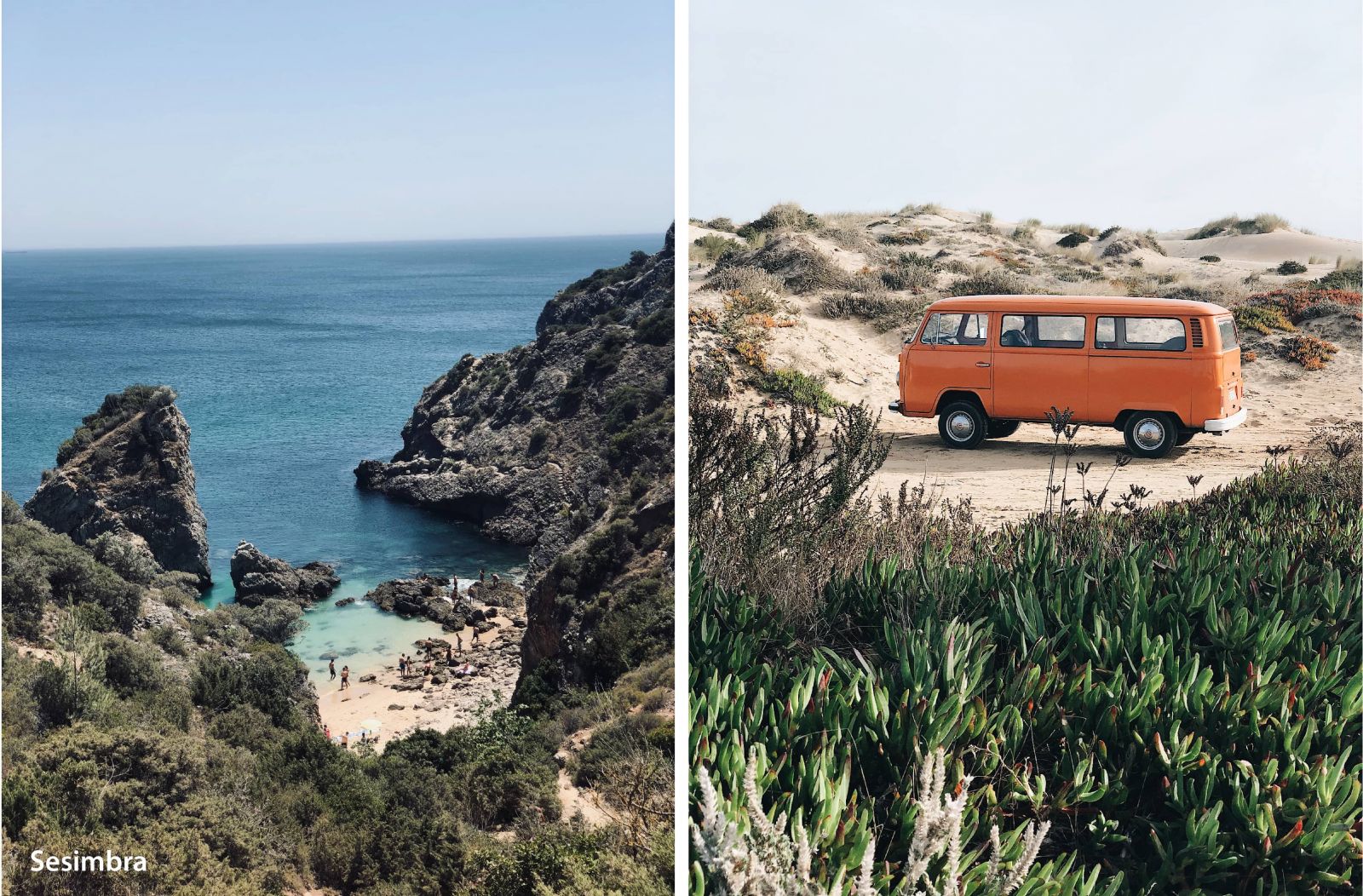 ---
Read More:
Lisbon, home to World Surf League
Probably the Best Beaches in Portugal
The Summer in Portugal: Vibrant City Streets & Pristine Beaches
---
After some fun in the sun in Lisbon South Bay, you can venture onwards with the road trip experience into the southend of Portugal, catch the A2 road to take into the Alentejo region, its name derived from being situated beyond the Tagus river, as said in Portuguese, "Beyond (Além) the Tagus river (Tejo)".
The Alentejo contains vast landscapes of cork oak trees, olive trees, wheat fields, and vineyards; utterly peaceful countryside scenery that is perfect for an afternoon picnic and stroll. Alentejo can experience prolonged periods without rain, leaving the fields dry, creating a golden glow over the terrain; temperatures during the summer season are high, so best to stay under a "sobreiro" (oak tree) for that outdoor escape.
You can experience the natural biome of the region at Serra de São Mamede Natural Park, Vale Guardiana Natural Park, and the Southwest Alentejo Vicentine Coast Natural Park. Traveling through coastal Alentejo is a must-see destination, stretching from Sado River to Zambujeira do Mar; endless views of the Atlantic Ocean, seaside cliffs and sandy beaches.
As you road trip down the Alentejo coastline, experience renowned beaches such as Troia, ferries are available through the historical city of Alcácer do Sal, offering a beach escape with surfing, boat trips for dolphin sightseeing, or wander through the peninsula by bike or foot to discover the Troia Roman ruins.
Another top beach destination will be Comporta, considered the "Hamptons of Portugal" as it is known to be the most exclusive summer beach destination, where notable artists and designers have come to sun-soak their woes away. The Comporta region is located within three Alentejan parishes of Alcácer do Sal and Grândola: Comporta, Carvalhal, and Melides, featuring paradisiac beaches such as Praia da Comporta, Praia do Carvalhal, Praia do Pego, Praia dos Brejos, Praia da Raposa, Praia do Pinheirinho, Praia da Galé.
Learn more about the serenity of the Alentejo, here.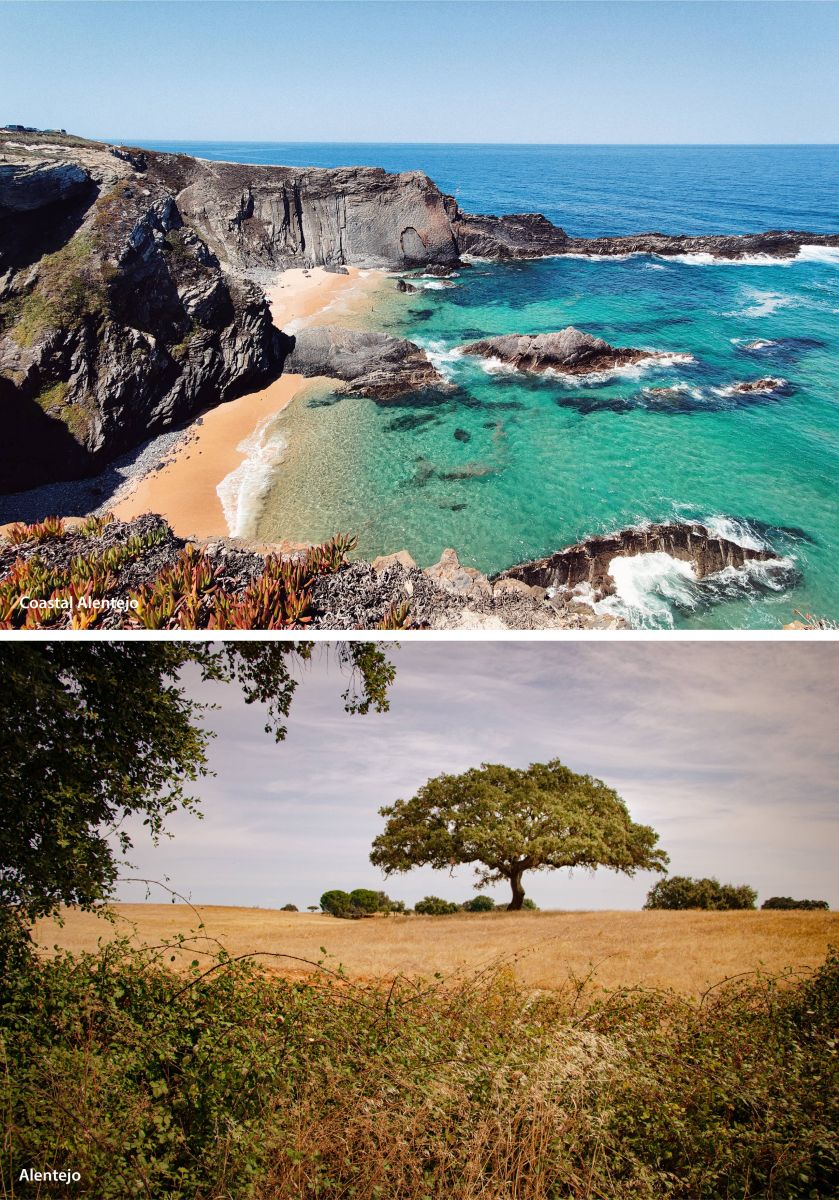 ---
Read More:
The best Blue Flag beaches in Portugal
Enjoy the Portuguese Good Life
---
Within the Southwest Alentejo and Vincente Coast Natural Park, you will witness spectacular beaches to visit on the road, you can easily hop from beach to beach, or take a day to stay in at a local independent guesthouse, or experience camping at a nearby campground located over the coastal region between Alentejo and the Algarve.
The natural park is considered one of the last strongholds of wild European coast, with a high-level of biodiversity in fauna and flora; along the beach coastline, you can explore the nearby parishes such as Évora, Sines, Porto Covo, Vila Nova de Milfontes, Odeceixe, Aljezur, and Sagres. A true coastline experience of Portugal, finalizing your road trip in the Algarve, the southernmost region with the second largest tourism revenue after Lisbon.
The Algarve offers a multitude of sightseeing options, from old fishing towns to green spaces, golden beaches, sea caves and cliffs; there is something for everyone! The most popular destinations in the Algarve are: Vilamoura, Albufeira, Silves, Portimão, Serra de Monchique, Lagos, Vila Real de Santo António, Tavira, Alcoutim, Olhão, Loulé, Faro, and Sagres.
Learn more about the wonders of the Algarve region, here.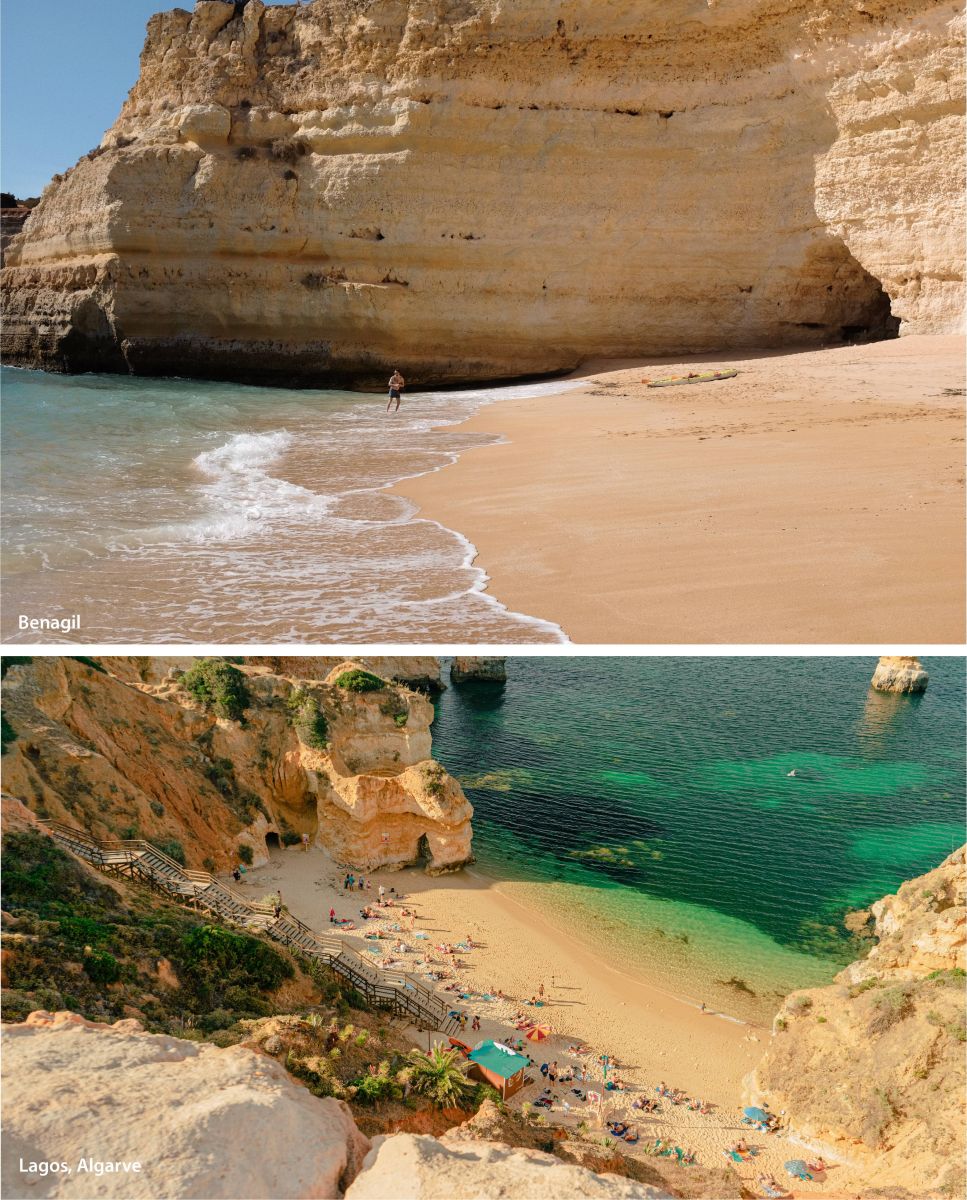 On your road trip voyage, you can experience beaches, and the countryside all along the coast from North to South in Portugal, so be sure to bring the picnic basket, shades, bathing suit, surfboard and towel! Expect the unexpected, and with Portugal Homes guiding you through the top road trips destinations, you might love the country so much and stick around permanently.
Source: Travel Tomorrow
---
Read More:
Traveling to Portugal with Turismo de Portugal
Lisbon is the third best city in the world for foreigners to live
8 Reasons Why You Should Move to Portugal
---