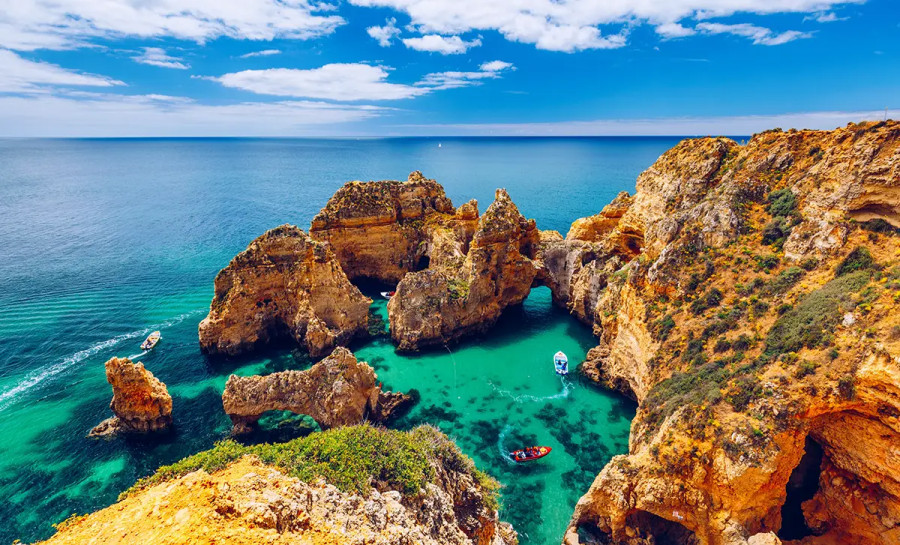 Experience a summertime like no other in Portugal's most trendy destinations: whether you choose the cosmopolitan allure of Lisbon summer, the riverside enchantment of Porto, or the sun-soaked bliss of the Algarve. Portugal invites you to indulge this season in its essence. From vibrant city streets to golden beaches, immerse yourself in a world of beauty, culture, and excitement, that will redefine your vacation experience.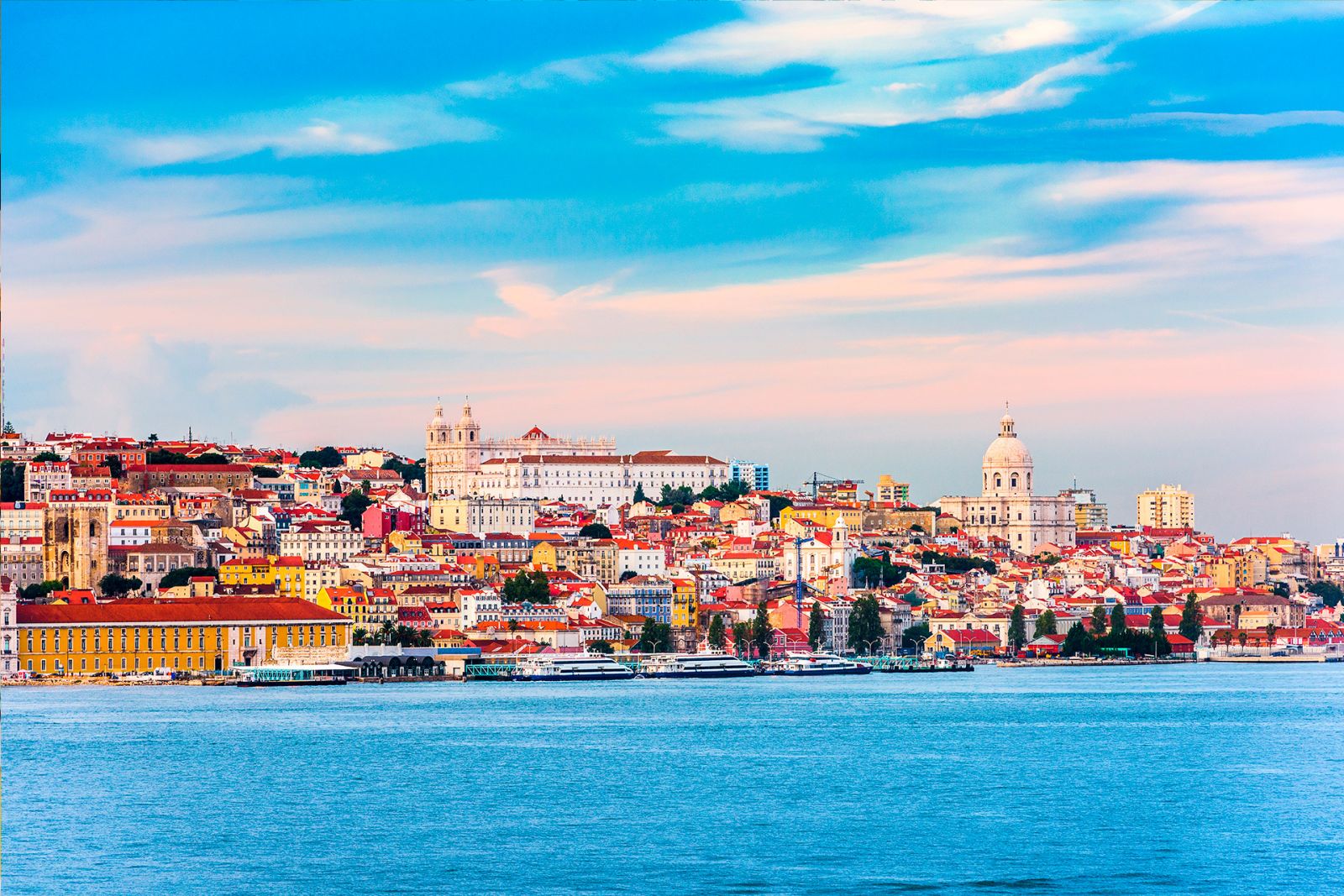 Summer in Portugal – When does it start?
Summertime in Portugal arrives early, even before the official start on June 21st. From Lisbon to Porto and the Algarve, the country's delightful weather attracts residents and visitors alike, to embrace the outdoors. With sunny days, that stretch from the beginning of summer until the end of September, the country enjoys a generous and extended fascinating season.
And unlike other European countries, Portugal is influenced by its good weather. The country benefits from a highly desirable Mediterranean climate during summer, with temperatures that attract visitors looking for the perfect atmosphere to spend time outdoors. The beach is one of the main attractions during this season. In Lisbon, the Algarve, on the Silver Coast or Vicentine Coast, you will find the ideal environment to spend some time by the seashore.
Now picture yourself strolling along Lisbon's charming streets, feeling the cool breeze off Porto's Douro River, or lounging in the sun-kissed shores of the Algarve. It's a time for blissful moments, where cultural exploration, beach days, and the joy of summer activities blend in with the Portuguese lifestyle.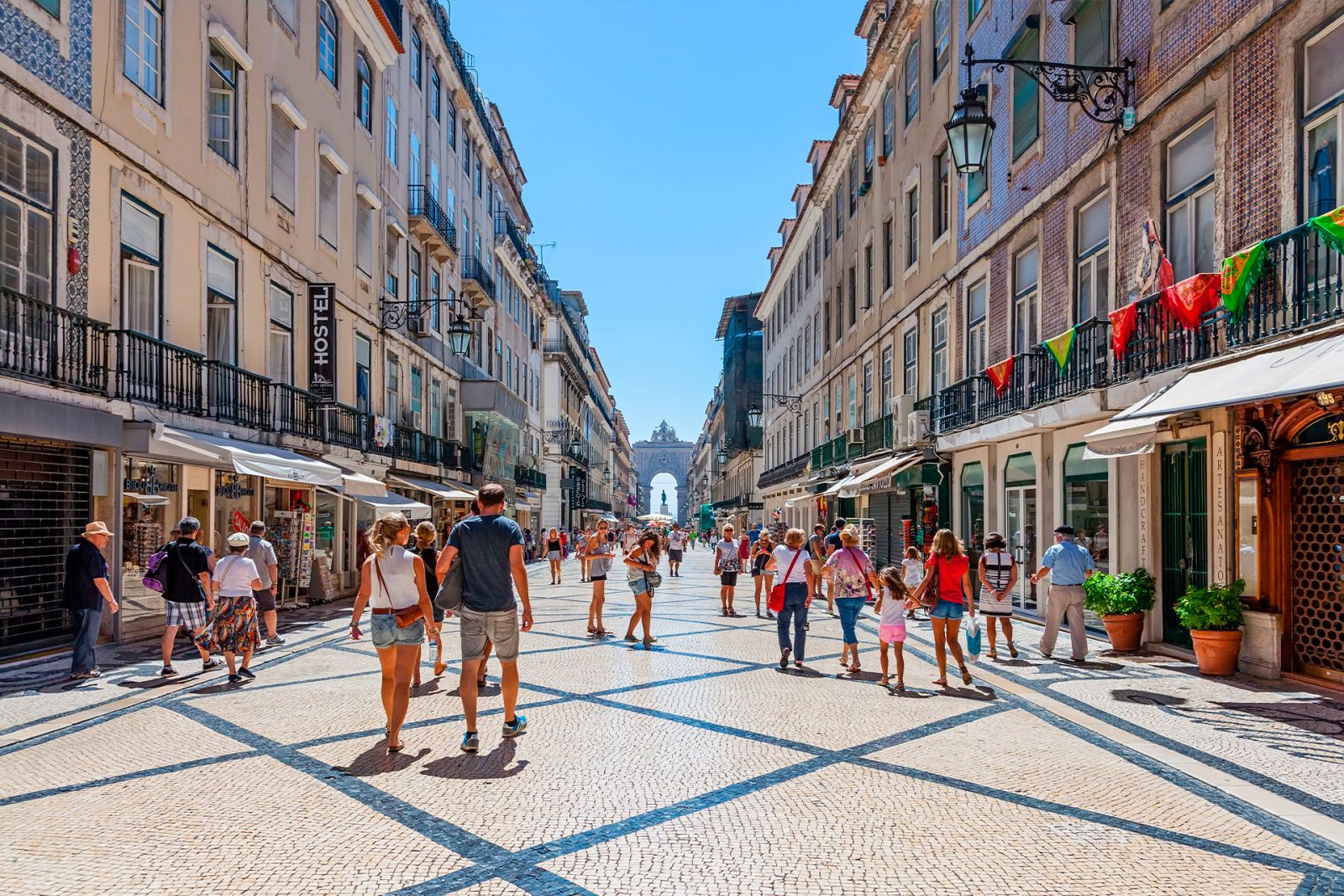 What's the weather like in summer in Portugal?
With an abundance of sunshine, during summertime in Portugal, you can expect clear blue skies and minimal rainfall during this time of year. The refreshing sea breezes along the coastline offer a welcome relaxation from the heat, creating a pleasant atmosphere for beach lovers and outdoor enthusiasts. Portugal provides the ideal backdrop to indulge in outdoor activities and savour the country's delightful weather. From jogging to surfing, this coastal country provides the perfect scenario for water sports, hiking, biking, exploring trails and nature, and many more. And if you want to lounge by the sun, there are a lot of beautiful desert beaches for you to explore.
The coastal regions, including Lisbon, Porto, and the Algarve, are particularly inviting during this season, with average highs ranging from 25°C to 30°C (77°F to 86°). Whether you're strolling along the scenic areas, walking on golden sands, exploring the vibrant city streets, or thinking to move to one of the best places to live, the summer in Portugal sets the stage for an unforgettable discovery.

Weather in Lisbon
Lisbon's summer welcomes you with its warm embrace, luring you into a city where history and culture merge under the clear blue sky. During the summertime, Lisbon comes alive with energy as locals and visitors fill the streets. From the charming cobblestone alleys of Alfama to the trendy districts of Bairro Alto and Chiado, relaxing in beautiful parks, every corner of the city holds a unique charm waiting to uncover. Unlike other capitals, such as Madrid and Rome, Lisbon's weather remains mild, thanks to the refreshing Atlantic winds, that caress the city. The result is a pleasant and enjoyable climate experience, where outdoor activities can be embraced without the sweltering heat.
Like most areas in Portugal, Lisbon offers a cool and sunny climate – mixed with an irresistible combination of cultural richness, architectural beauty, and an enchanting atmosphere. So, during summer in Lisbon, embrace the warmth of the season as you explore this captivating city and let its spirit capture your heart. Also, Lisbon's metropolitan region boasts a collection of breathtaking beaches that complement the city's idyllic weather. From the vibrant shores of Cascais and Carcavelos to the stunning Caparica and Portinho da Arrábida, these coastal havens offer the ultimate city & beach lifestyle.
With average temperatures ranging from 25°C to 30°C (77°F to 86°F), Lisbon also has the perfect setting for immersing yourself in its captivating history, exploring its traditional areas, and discovering its breathtaking viewpoints.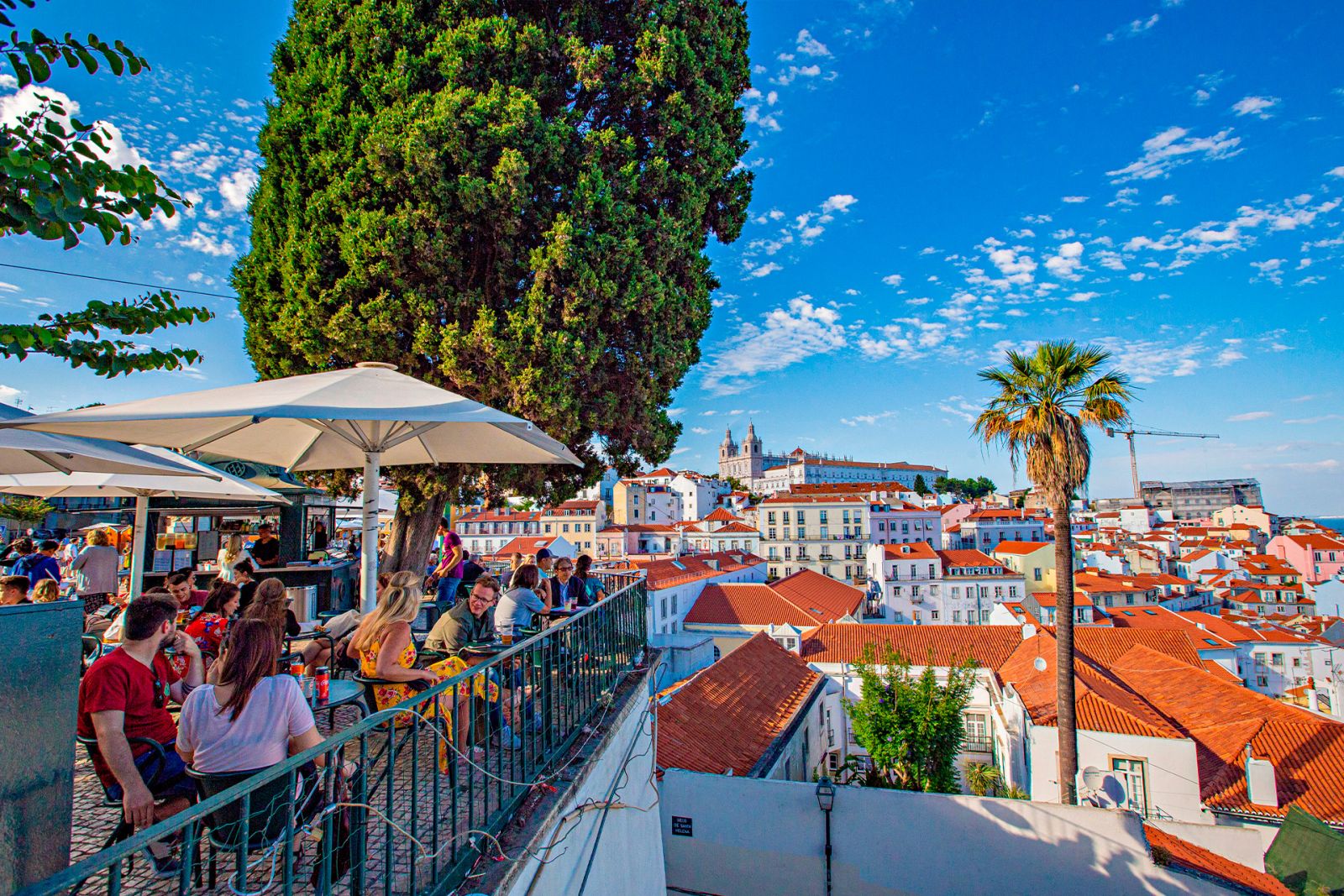 Weather in Porto
Porto is a great city to live in! During summer you'll endear your senses, while this season paints the city with warmth and reveals its cultural treasures at every turn. Experience the delightful warmth of summertime in Porto.
As the sun sets, Porto's nightlife comes alive, filled with charming bars, trendy clubs, and cosy restaurants offering a variety of cuisines. The city's captivating atmosphere ensures that your evenings are as enchanting as the sunlit days. Porto's inviting beaches, including the renowned Matosinhos and the nearby coastal treasures of Foz do Douro and Espinho, perfectly complement the city's delightful weather. Whether you're seeking relaxation or thrilling water activities, Porto and its surrounding beaches offer picturesque scenery for enjoying the best of summer in true Portuguese fashion.
With warm temperatures ranging from 20°C to 25°C (68°F to 77°F), Porto invites you to discover its charming ambience as you explore its narrow streets and visit historic wine cellars.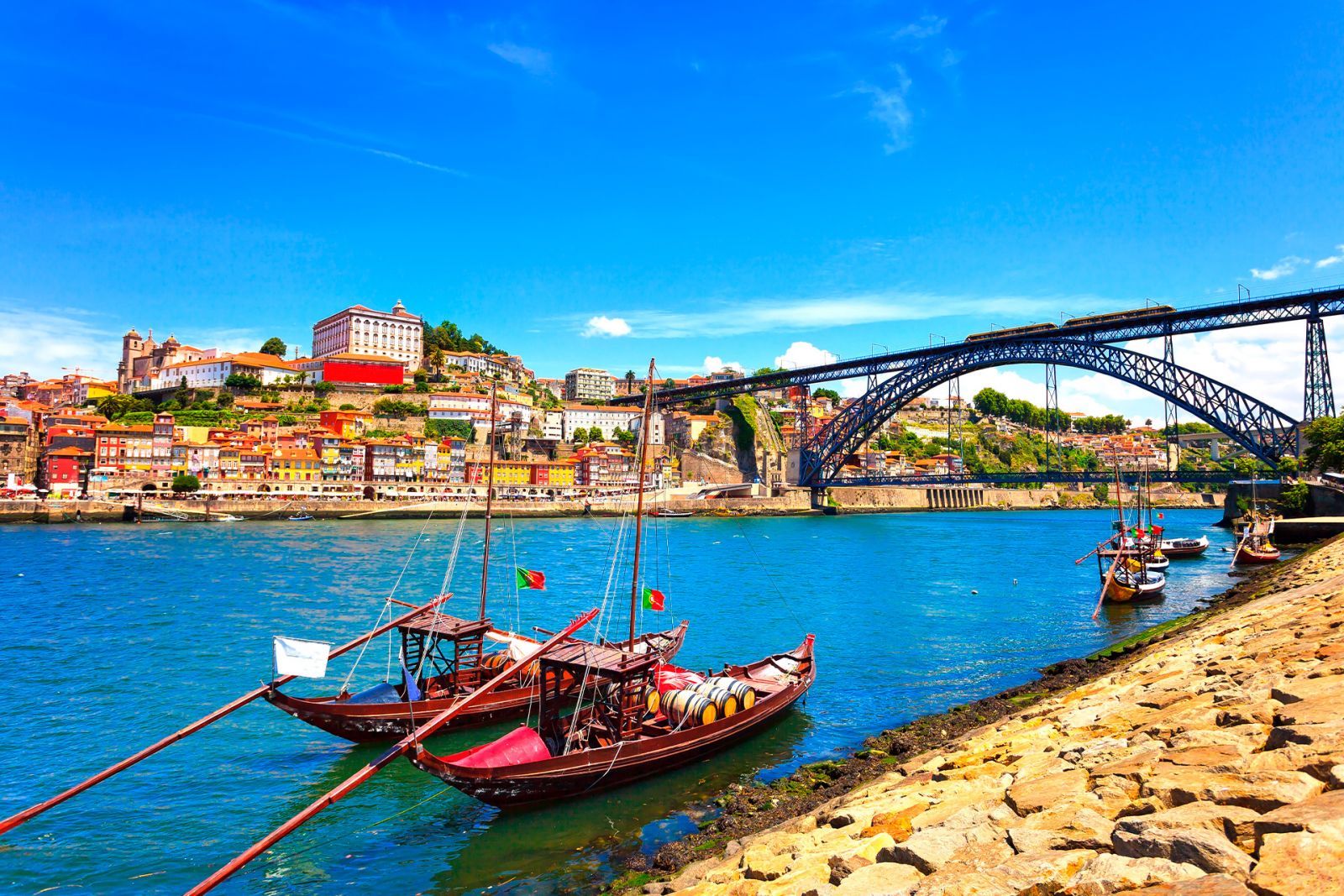 Weather in the Algarve
The Algarve is renowned for its stunning coastline and pure enchantment, during this season – whether you seek relaxation, adventure, or cultural travel. This sun-bathed region offers a little piece of paradise where you will create happy memories and experience summer bliss. The climate in the Algarve is always pleasant, making this region a popular destination to live, for people who are looking for vacation houses, moving or retiring.
Renowned for its year-round sunshine and ideal weather, the Algarve is a golfer's paradise. With its stunning coastal landscapes and a wide range of world-class golf courses, it offers an exceptional golfing experience. From the championship courses of Vilamoura to the breathtaking fairways of Quinta do Lago, golf enthusiasts can enjoy picturesque views and amazing course conditions. Whether you're a seasoned golfer or a beginner looking to improve your skills, the Algarve's golfing scene offers something for everyone.
With temperatures ranging from 25°C to 30°C (77°F to 86°F), during Summer, this sunny region invites you to lounge on beautiful beaches, improve your golfing skills, indulge in water sports, and explore picturesque towns.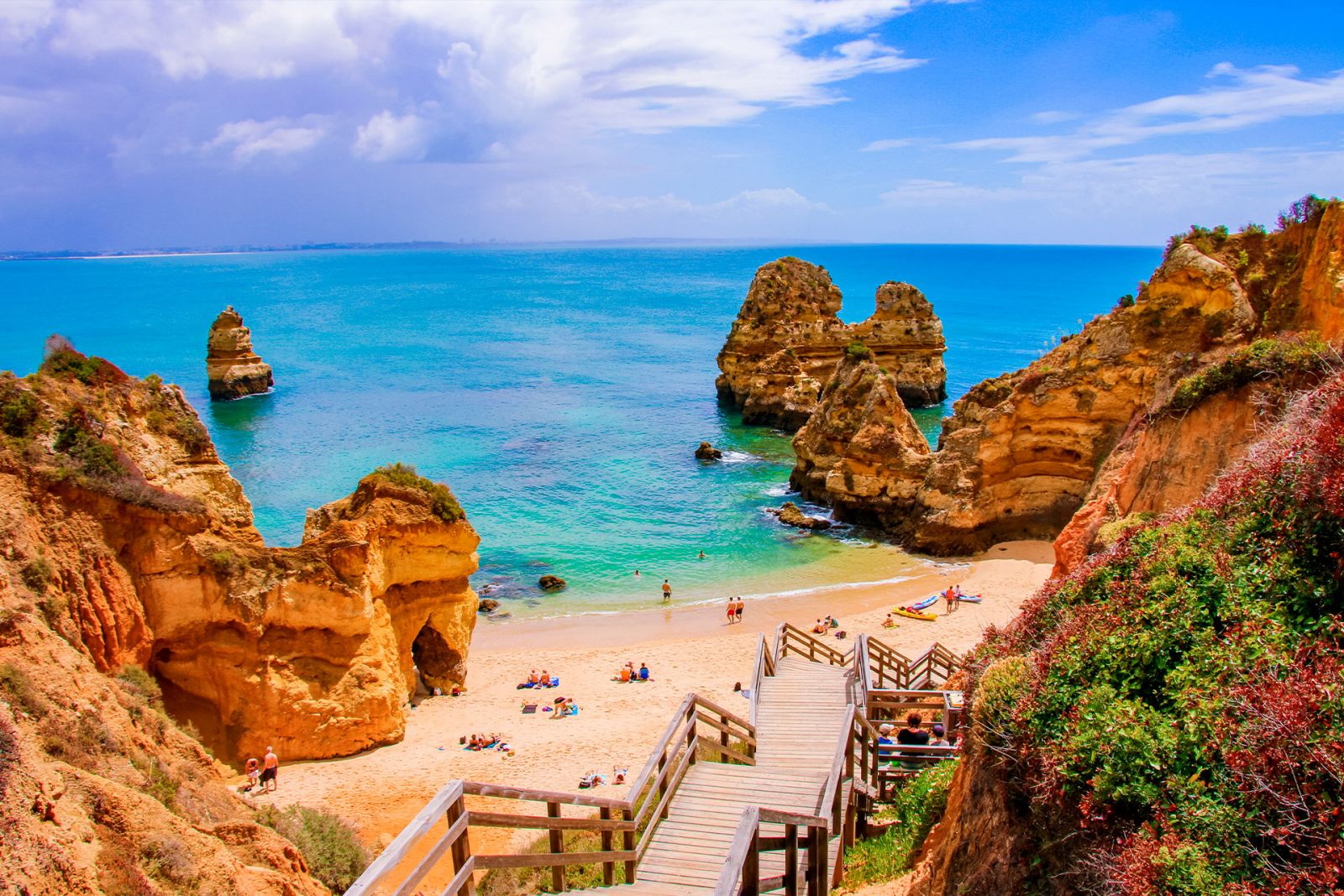 ---
Related articles:
The Winter in Portugal: Mild sunny weather & Blue skies
The Spring in Portugal: Warm days & Active life
Portugal is The Best Place to Retire
Is Portugal a good option for Middle Eastern families?
---
Best things to do during summer in Portugal
Lisbon is a city that combines tradition and innovation, inviting you to engage yourself in its vibrant historical background. From exploring monuments to trying culinary delights, Lisbon offers a captivating journey that will leave you with cherished memories and the desire to come back or move in! While spending this season in Lisbon you can experience the city's festivals, such as the Santo António Festival in June, where the city comes alive with colourful street decorations, parades, and traditional music and dances. There are many outdoor concerts, film festivals, and cultural events that take place in various venues throughout the summertime.
The capital of Portugal invites you to discover the enchanting village of Sintra, with its fairytale-like castles and palaces, including the famous Pena Palace. Take a boat trip along the Tagus River for a relaxing cruise and enjoy the breathtaking views. Also, a short trip away, you can try SUP (Stand-up Paddle) or kayaking, play a game of beach volleyball or soccer on the sandy shores of nearby Cascais, Costa da Caparica, Arrábida or Comporta. Finally, have a glimpse of Lisbon's nightlife scene in the trendy areas of Bairro Alto and Cais do Sodré. There you will find traditional restaurants, trendy bars, and a variety of nightclubs.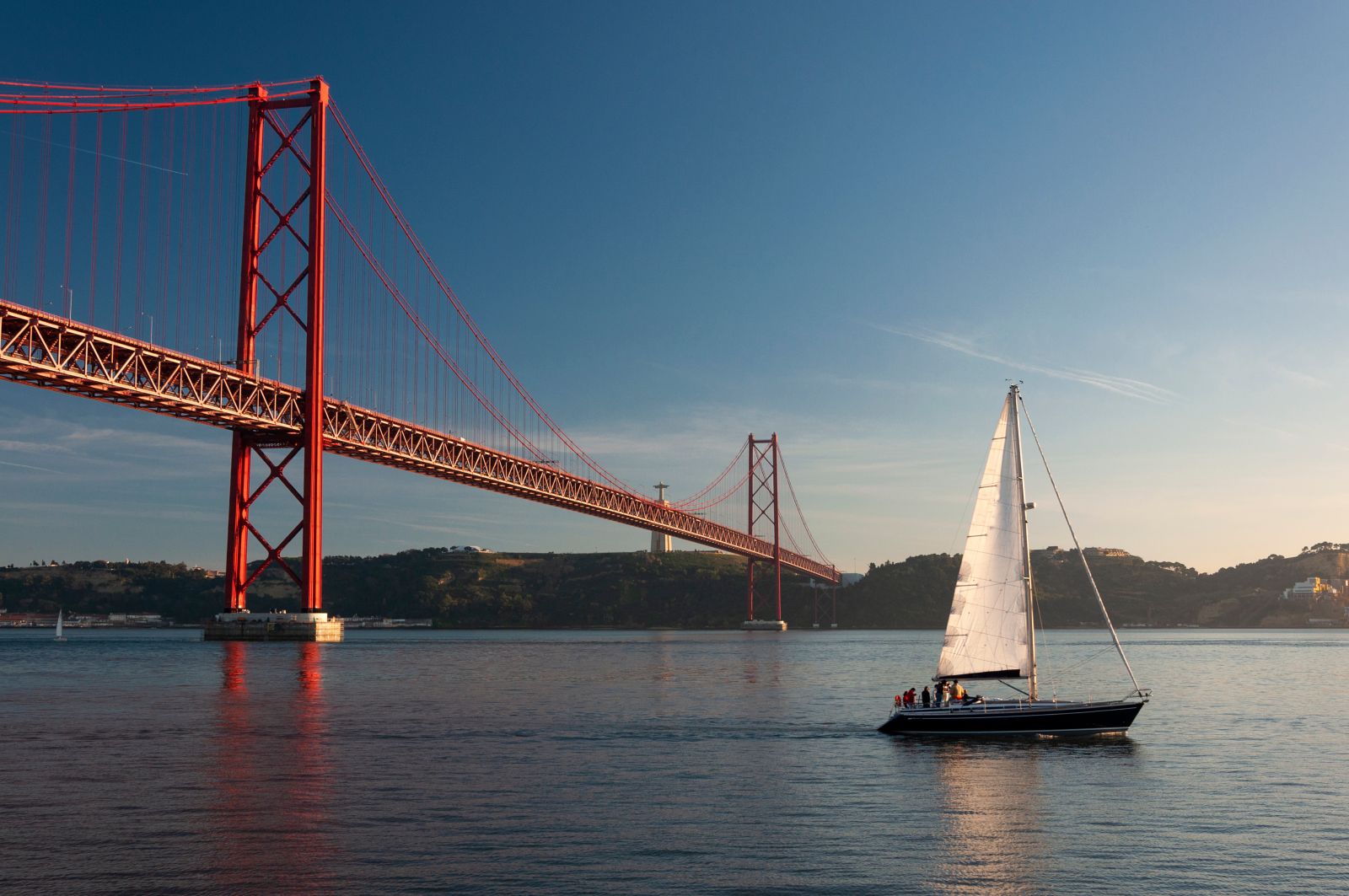 Porto has a warm and welcoming atmosphere, mixed with its history and culture. If you are planning to spend your summer in Portugal, Porto offers an unforgettable experience that celebrates its authentic traditions and embraces the spirit of community. When in Porto, enjoy the lively São João Festival in June, celebrated with street parties, fireworks, and traditional rituals. Here you will also find various concerts and cultural events at Casa da Música. Indulge in a port wine-tasting experience at one of the historic wine cellars in Vila Nova de Gaia. This region invites you to take a unique train ride to the charming town of Aveiro, known as the 'Venice of Portugal', and explore its picturesque canals. The Douro area is a short and scenic boat trip away, so you can enjoy a relaxing family cruise. You won't want to miss out on Porto's vibrant nightlife in the Ribeira district, with its bars, live music venues, and must-go clubs.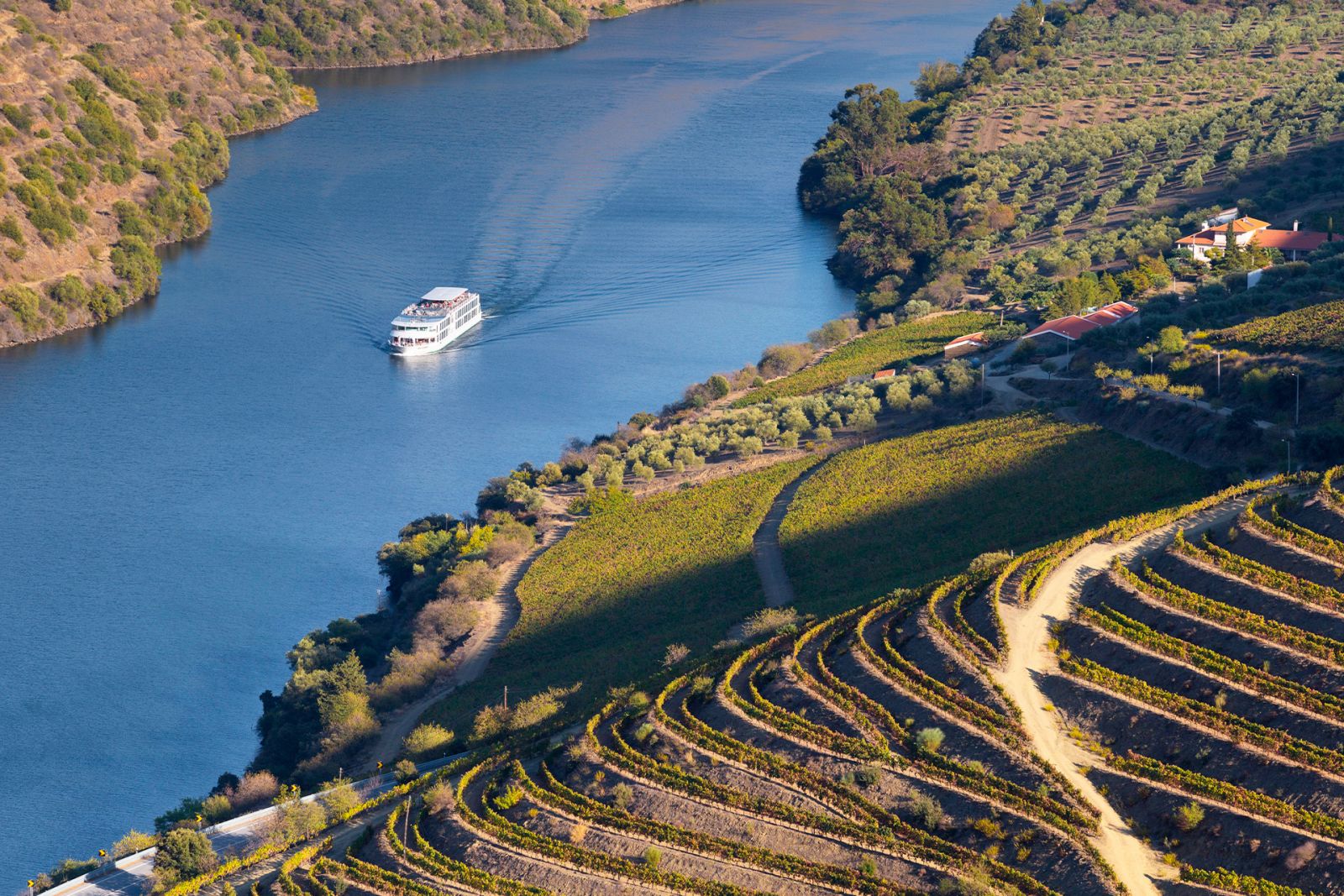 The Algarve has an irresistible combination of stunning beaches, picturesque coastal towns, and a laid-back atmosphere. If you are looking for adventures, beautiful beaches, relaxation or a glimpse of Portugal's heritage the south of the country is the perfect choice for your summertime days. From the lively resort towns of Albufeira and Lagos to the more exclusive areas like Vilamoura or Quinta do Lago, the Algarve offers a range of options to suit different preferences. Go horseback riding along the beach or enjoy a bike ride through the scenic countryside or try out water sports such as surfing, paddle boarding, or jet skiing along the Algarve's amazing shores!
If you're a golf enthusiast, you'll delight yourself in the world-class golf courses. The Algarve was named, for the third time, as the "Best Golf Destination in the World 2020" – by The International Association of Golf Tour Operators (IAGTO). With an impressive variety of golf courses, catering to all skill levels and budgets, here you can choose from a scenic 9-hole course or immerse yourself in the challenges of an 18-hole championship layout. The Algarve presents a wide range of accommodation options, and attractions for families, couples, and golfers alike. It combines perfect summer weather, enhancing every swing as you embrace the unrivalled joy of golf in this captivating region.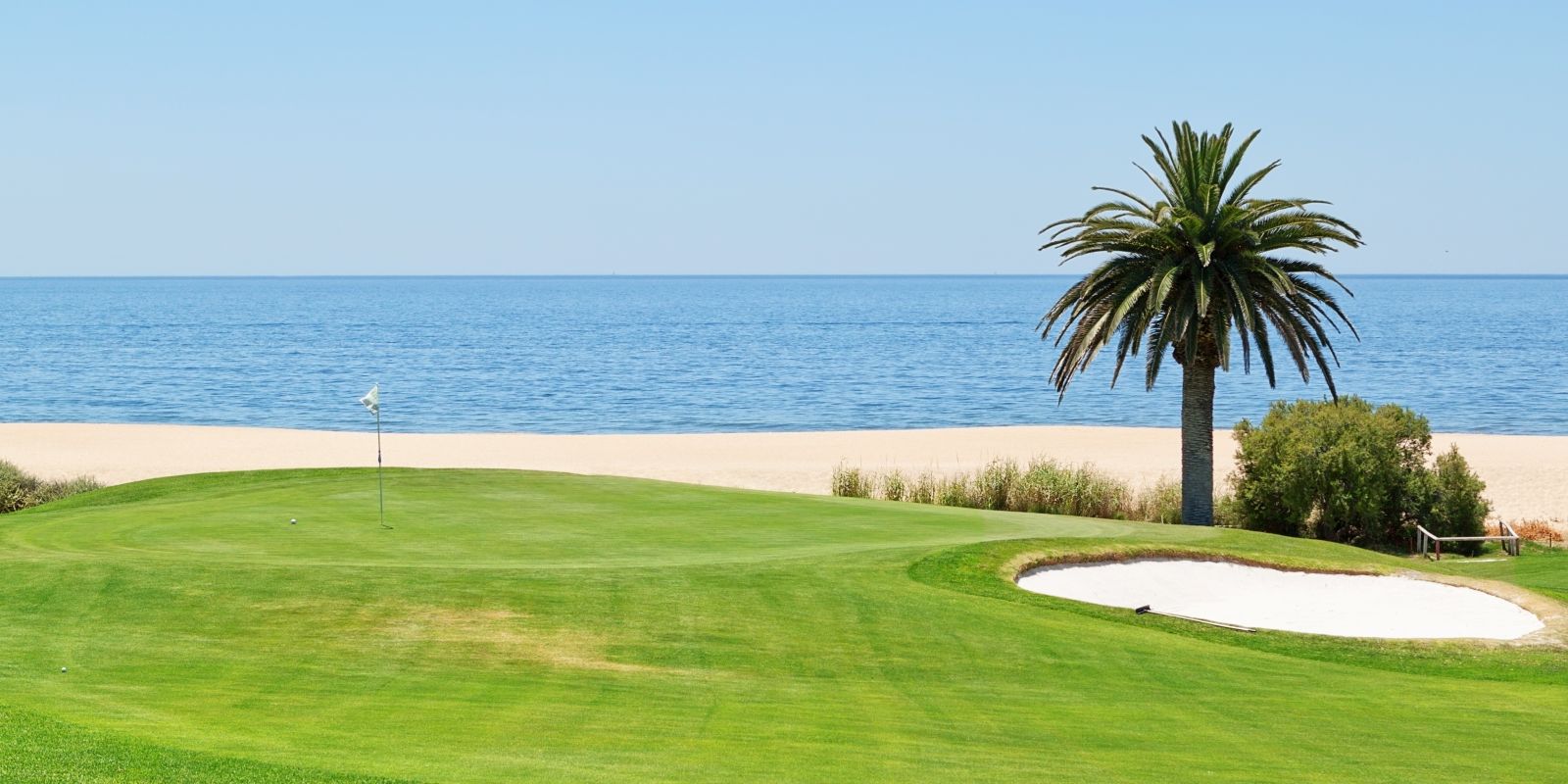 You can also do some beach hopping and visit the Algarve coastline beaches: Praia da Marinha, Praia da Falésia, or Praia da Rocha (among many more). During the summer in Portugal, you can enjoy the serenity of the Algarve, relish delicious seafood, and let the gentle ocean breeze wash away your worries. You have also various waterparks, like Aquashow Park, Slide & Splash, and Aqualand, and also water sports and boat trips!
Is it worth visiting Portugal in the Summer?
Summer in Portugal is unique, an experience that you will not forget. From north to south, this sunny coastal country has everything you need to spend your holidays and also to live in! You will experience luxury, adventure, and cultural richness, that make Portugal an irresistible destination.
Whether you find yourself captivated by the historic streets of Lisbon in the summer, delighted by the vibrant summertime spirit of Porto, or seduced by the beauty of the Algarve during the bathing season, Portugal promises an unforgettable experience, filled with blissful moments.