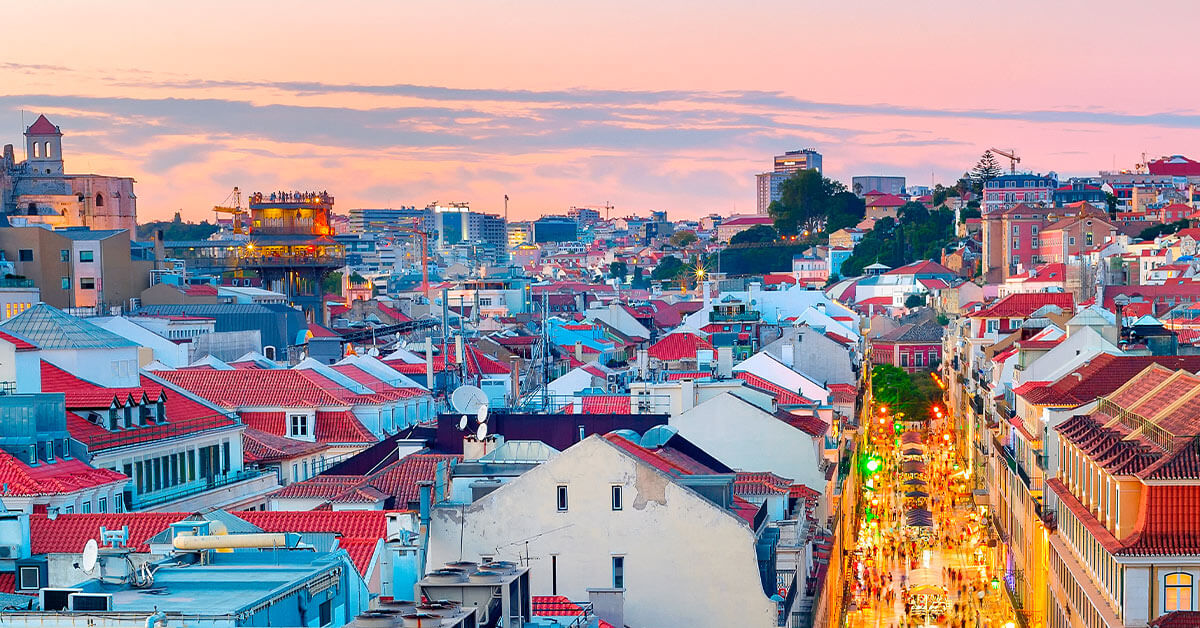 Visiting a city for its shops and malls can be a shopper's paradise, either if you are looking for high-end fashion, antique items, traditional and luxury accessories or local handcrafts – you will surely enjoy shopping in Lisbon, the coastal capital of Portugal. This sunny city by the river is known for its cultural heritage, and gradually is becoming a great shopping destination.
Being the most affordable country in Western Europe, Lisbon is known for its amazing weather, historical background, traditional architectural neighbourhoods, relaxing green spaces, and delicious gastronomy. But these are only a few reasons why this city is a growing popular destination for people looking to relocate and invest in Portugal's real estate. This European city attracts more and more people by each day, not only travellers but also shoppers that are looking for a variety of shopping options. One of the reasons, while you explore Lisbon, you might as well take time to do some shopping – you will be surprised by how many designer brands, local designers and street markets the city has to offer!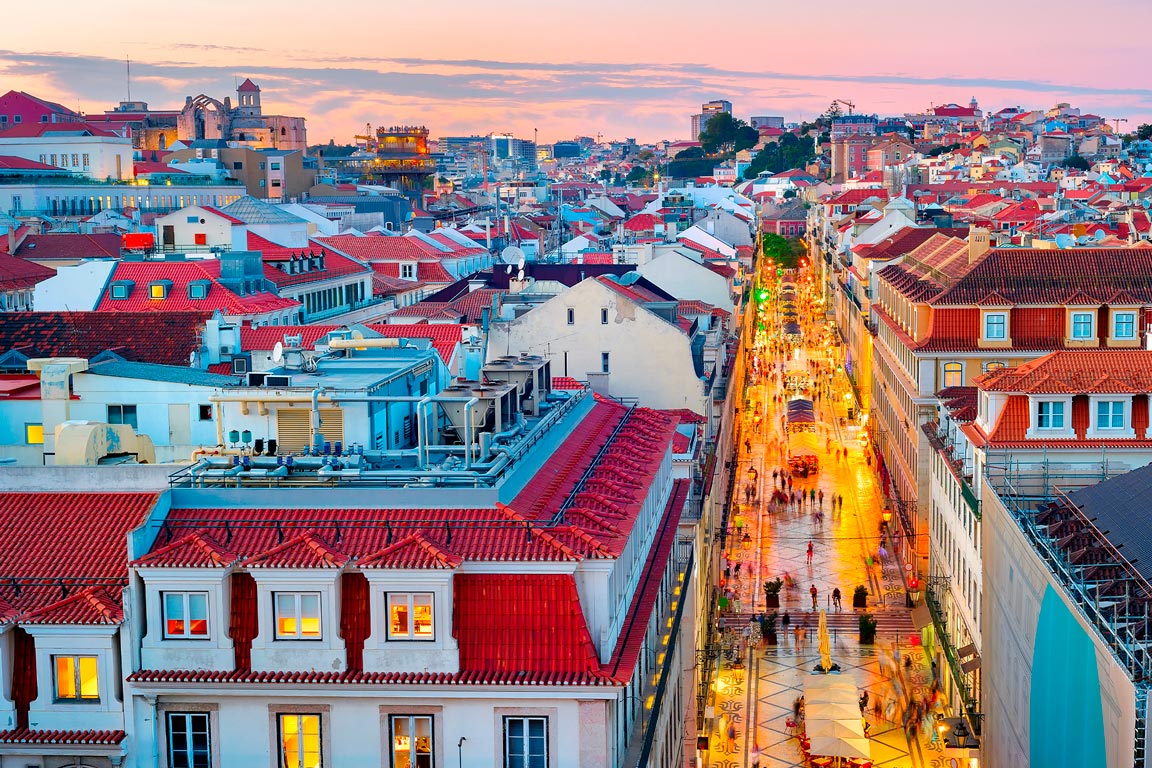 Best shopping areas in Lisbon: a complete guide to the main shops and street markets
If you live in Lisbon or are planning a trip to the welcoming capital of Portugal, especially if you are planning to relocate to one of the best cities in the world to live, let us guide you through 8 of the best shopping places. From fashion boutiques, luxury brands, modern malls and traditional shops, Lisbon can be more than purchasing your favourite things, it is a unique experience for you and for the whole family. Let's tour around the city and introduce you to Lisbon's best fashion and consumer landmarks!
Chiado (shopping street)
Chiado is the centre of shopping and theatres, mixing culture with sophistication, and also history. If you visit Chiado you will find trendy boutiques, art galleries, and antique shops. The main shopping streets are Rua Garrett – home to Bertrand, recognised by Guinness World Records in 2011 as the oldest functioning bookstore in the world – and Rua do Carmo, where you can choose between a vast range of shops, from international brands to local designers. Your choice! Being one of the most characteristic places in town, with a lot of history behind it, some of Lisbon's most iconic monuments can be found here. You can visit landmarks like Convento do Carmo and Elevador de Santa Justa, or shop in Armazéns do Chiado, a high-end shop place, and Ulisses, a small and unique glove shop, founded in 1925. If you enjoy culture and you are a shopping enthusiast Chiado is a must-visit destination to do your shopping in Lisbon.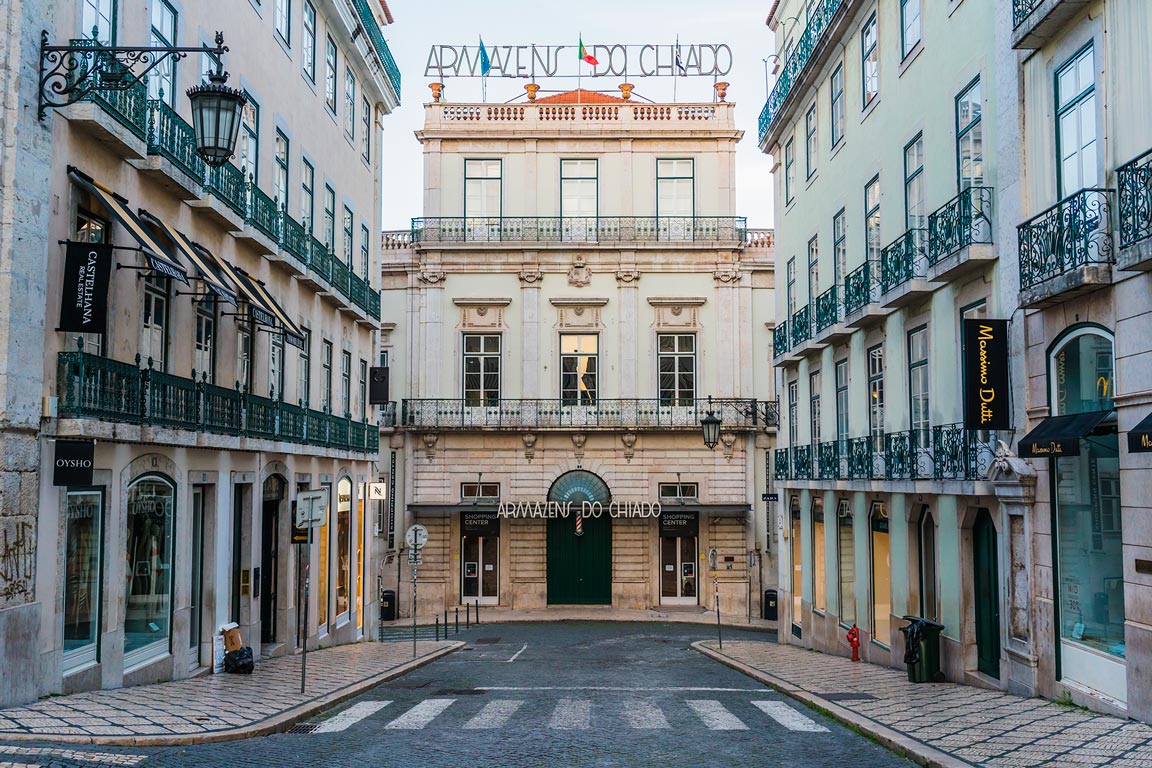 Avenida da Liberdade (shopping street)
Avenida da Liberdade is Lisbon's most luxurious shopping street, if you fancy luxury brands you will get lost in this Portuguese shopping wonderland. 'Avenida' represents luxury and opulence. It houses many high-end international brands such as Prada, Louis Vuitton, Gucci, Pinko, Miu Miu, Burberry and many others. It's a perfect place for luxury shopping in Lisbon, from high-quality clothing, shoes, jewels and other luxury accessories – to Cartier, Rolex, among other high-end watch and jewellery brands. With charming cafes, fine dining restaurants and theatres, here you will delight yourself and surely will enjoy spending the evening or afternoon admiring Avenida da Liberdade's natural allure. You can explore more about this elegant boulevard by reading our guide to Avenida da Liberdade.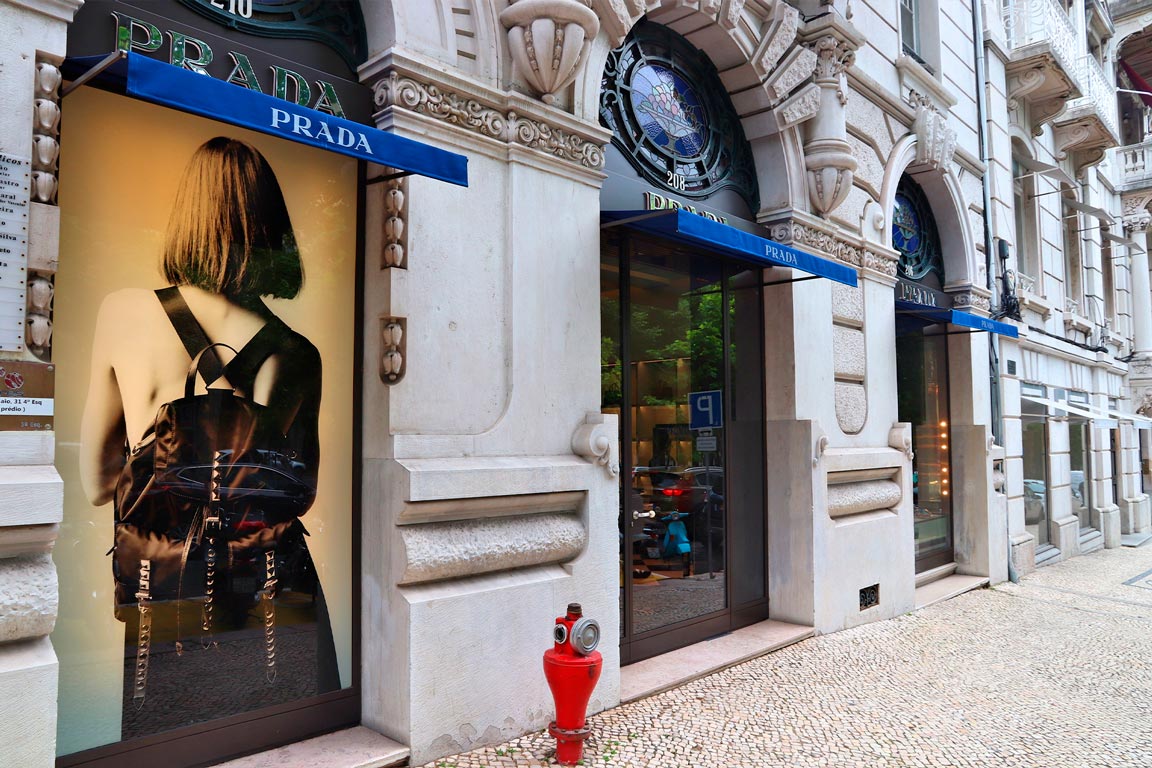 Príncipe Real (shopping street)
If you like trendy shopping, alternative fashion, art galleries and antique shops Príncipe Real is the place for you. This high-class neighbourhood is known for its mansions, bars and mostly the EMBAIXADA – a beautiful shopping gallery, located inside a 19th-century neo-Arabic palace in the heart of Lisbon. EMBAIXADA gathers multiple concept stores for every taste, from clothing to décor. Here you will find the perfect and original souvenir, probably handcrafted. Like most shopping places in Lisbon, you will be surrounded by an amazing environment. The Príncipe Real Garden is also the perfect place to end your shopping spree day, relaxing under the trees on a sunny day or enjoying a fresh drink in one of the kiosks.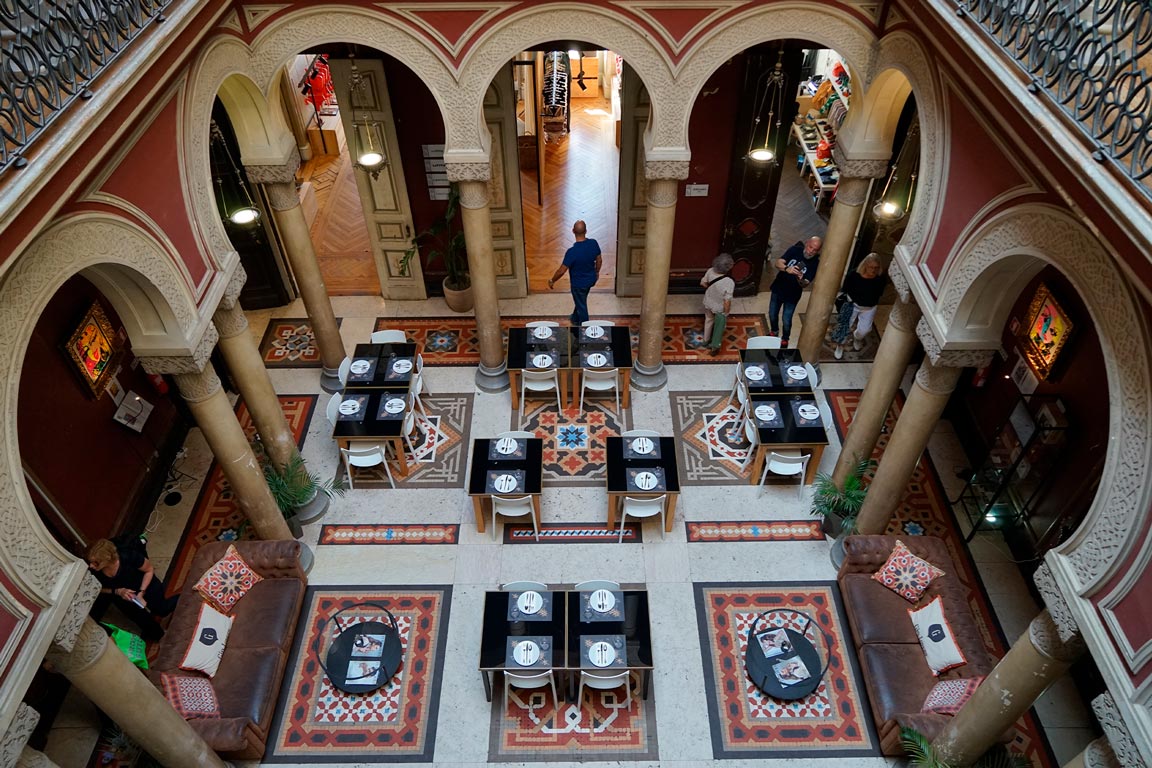 Amoreiras Shopping Center (shopping centre)
Amoreiras Shopping Centre (Centro Comercial Amoreiras) is a popular shopping mall with an exquisite selection of high-end brands. Located near Campo de Ourique – one of the best areas to live in Lisbon – and Marquês do Pombal, Amoreiras is considered a luxury shopping centre. Known for its fashionable stores and refined restaurants, it assembles over 200 stores, with brands such as Chanel, Dior, and Burberry. You will discover a diverse variety of restaurants and cafes, thus making this shopping mall a great place to grab a bite to eat while cruising through shops in Lisbon. From clothing to electronics, home goods and jewellery, Amoreiras Shopping Centre is the ultimate shopaholic's paradise that you will not want to miss while in town.
Colombo Shopping Centre (shopping centre)
Welcome to Lisbon's largest shopping mall. Colombo holds over 400 stores and restaurants. In this shopping mall, you can go from luxury brands to more affordable items, making it the perfect place to do your shopping in Lisbon. Here you will find everything you need and want! High-end designer boutiques, luxury multi brands' stores, budget-friendly franchises and many more. Colombo also has a variety of entertainment options, like an IMAX cinema, and a bowling alley, among other options. This popular shopping destination is easily accessible by public transport (metro and bus), making it an inviting place for both tourists and locals alike.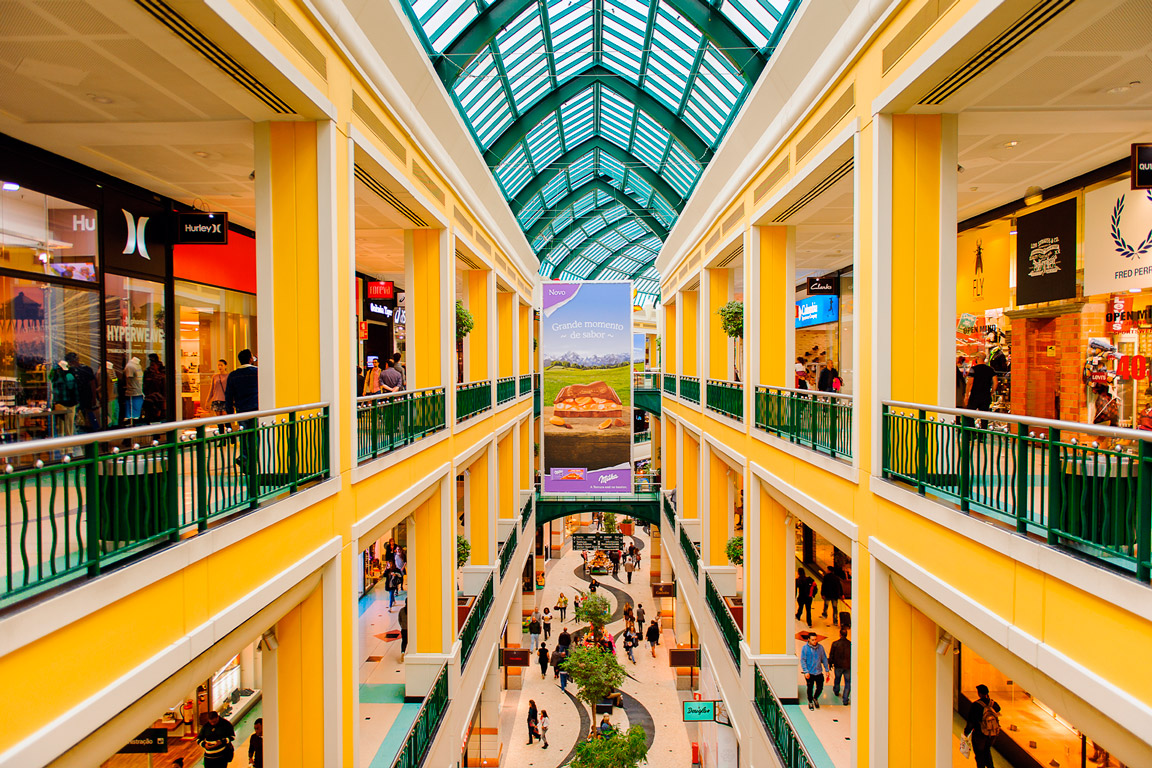 El Corte Inglés (department store)
From fashion to food, El Corte Inglés Lisboa is a department store that has several locations in the most important Spanish cities and in Portugal – in Lisbon and Porto. The massive store occupies several floors, 10 to be precise, dedicated to every possible thing you can imagine. Here you will find everything: do affordable shopping or buy high-end fashion and luxury designers' items. Known for its excellent selection of fashion, electronics, home goods, jewellery, and much more, El Corte Inglés also has a gourmet food section that is worth checking out. Located near Parque Eduardo VII, a beautiful Lisbon Park, this department store is every shopper's temptation and the perfect place to find every single thing under one roof! If you are planning a trip to Lisbon and love to shop, make sure to spare some time to visit El Corte Inglés.
LxFactory (shopping experience)
The ultimate shopping experience is in LxFactory, a creative hub that's located in an old industrial complex in Alcântara. The open-air complex holds several shops, tattoo studios, restaurants, cafes, bookstores and art galleries. LxFactory is unique, and trendy and represents culture with alternative and hipster vibes. This is Lisbon's creative side, where you will find handcrafted items, local art, exclusive clothing, trendy restaurants and more. If you are looking for the city's cultural side you can get lost in this amazing bookstore, located inside an old print factory, that mixes books with vinyl records, and live music. By yourself, with your family or friends, be prepared to spend your morning, afternoon or evening discovering this Lisbon shopping gem.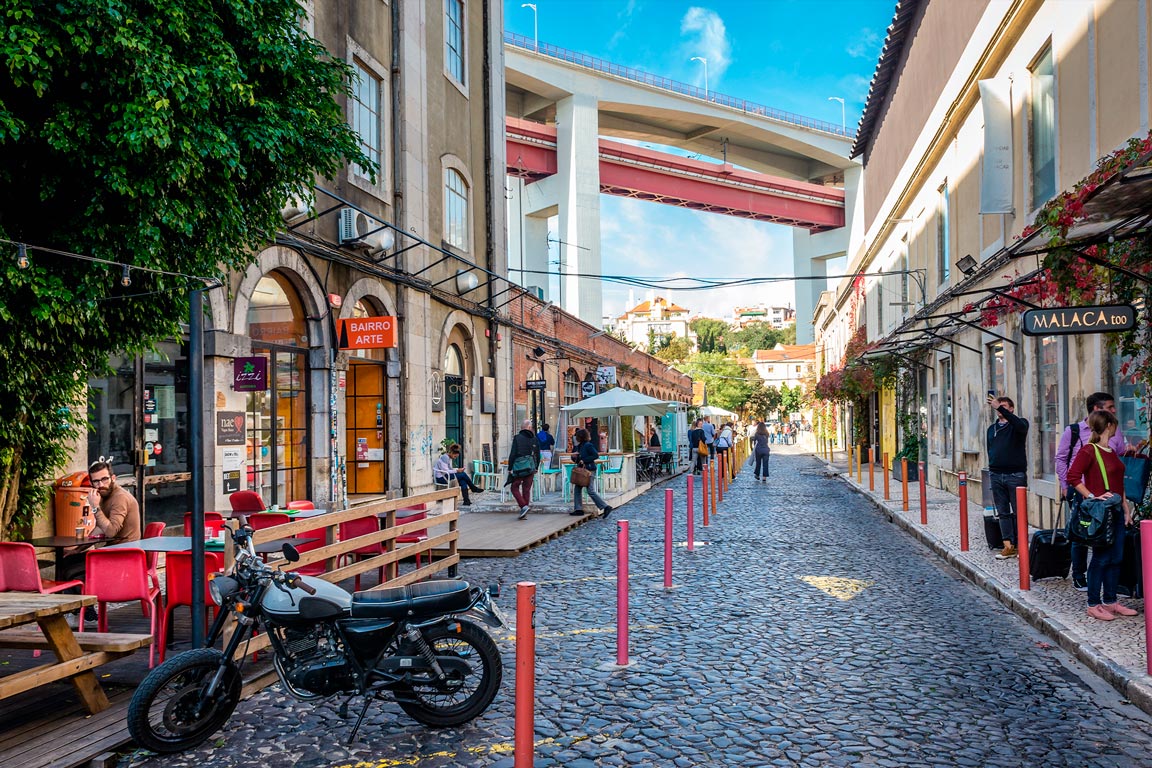 Street Markets (shopping experience)
Lisbon's street markets are a unique shopping experience that blends old and new. If you like to purchase antiques, artisanal goods, handcrafted items, and local art while strolling in beautiful parks and historic streets this is for you. Imagine that 'something' so hard to find anywhere: you will find it in the following street markets for sure! These markets are an excellent opportunity to immerse yourself in the city's vibrant culture.
---
Related Topics:

The Winter in Portugal: Mild sunny weather & Blue skies
The Spring in Portugal: Warm days & Active life
Portugal is The Best Place to Retire
Portugal is the New Hotspot for Millionaires
---
Best street markets in Lisbon - here are some of them:
Avenida da Liberdade Market is a weekly market that takes place every Saturday on the sidewalks of the boulevard. The market has a lot to offer, from local food to handmade crafts, jewellery and clothing. This is the perfect place to find unique souvenirs and gifts to take back home.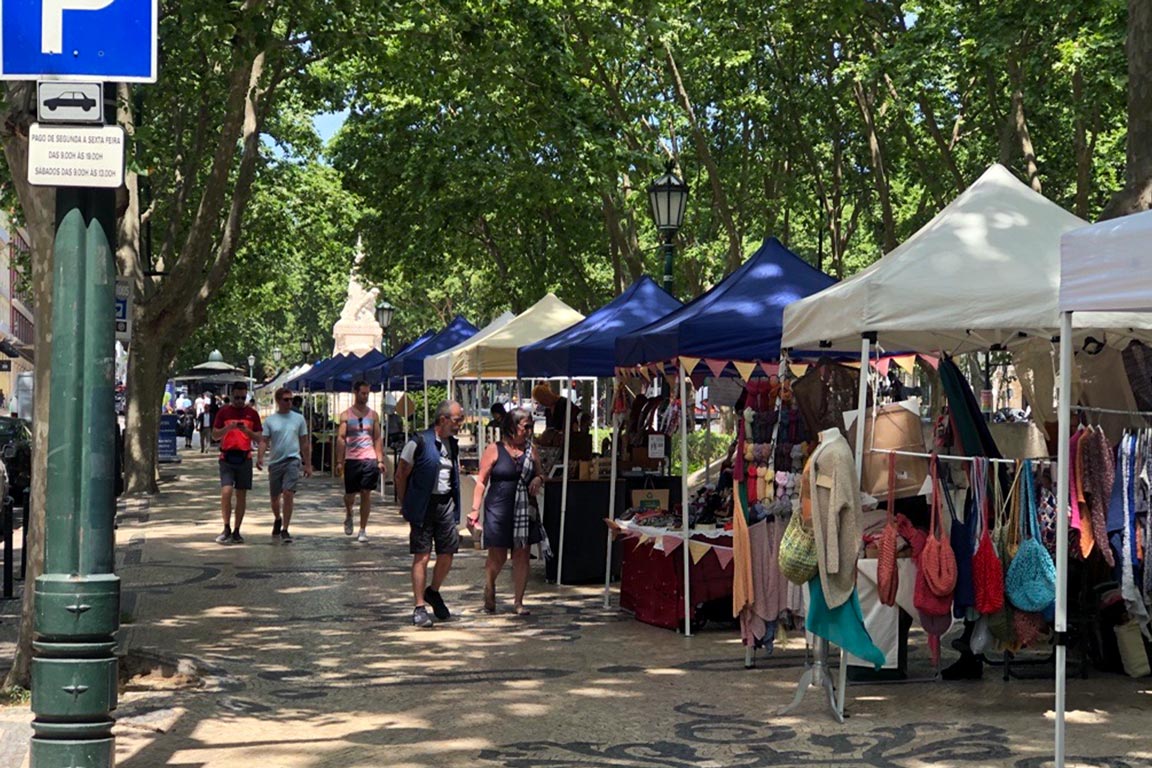 Principe Real Market is another popular street market that also takes place every Saturday. Located in the charming Príncipe Real area, this street market is known for its selection of vintage clothing, handmade crafts and antiques. If you are looking to find one-of-a-kind pieces and unique souvenirs this is the place.
LxMarket is a trendy street market that takes place every Sunday in Alcântara. Located in the LxFactory complex, this market offers a wide variety of products, including accessories and clothing, art, and also street food. Due to its lively atmosphere, this is a great place to spend a lazy Sunday afternoon while shopping in Lisbon.
Jardim da Estrela Market is a well-known street market held every Saturday in one of Libon's most beautiful parks. With a lot of green spaces, traditional garden benches, kids' playground, and food stalls, this street market is ideal for the whole family and even your dog. Here you can shop for vintage clothing, jewellery and handmade crafts.
Feira da Ladra is Lisbon's most famous flea market! Taking place in one of the most traditional areas, Alfama, every Tuesday and Saturday, this market is known for its vintage items, antiques, memorabilia and second-hand goods. If you are looking for a cultural experience while shopping in Lisbon this is your go-to place. You will be amazed by the city's rich cultural heritage.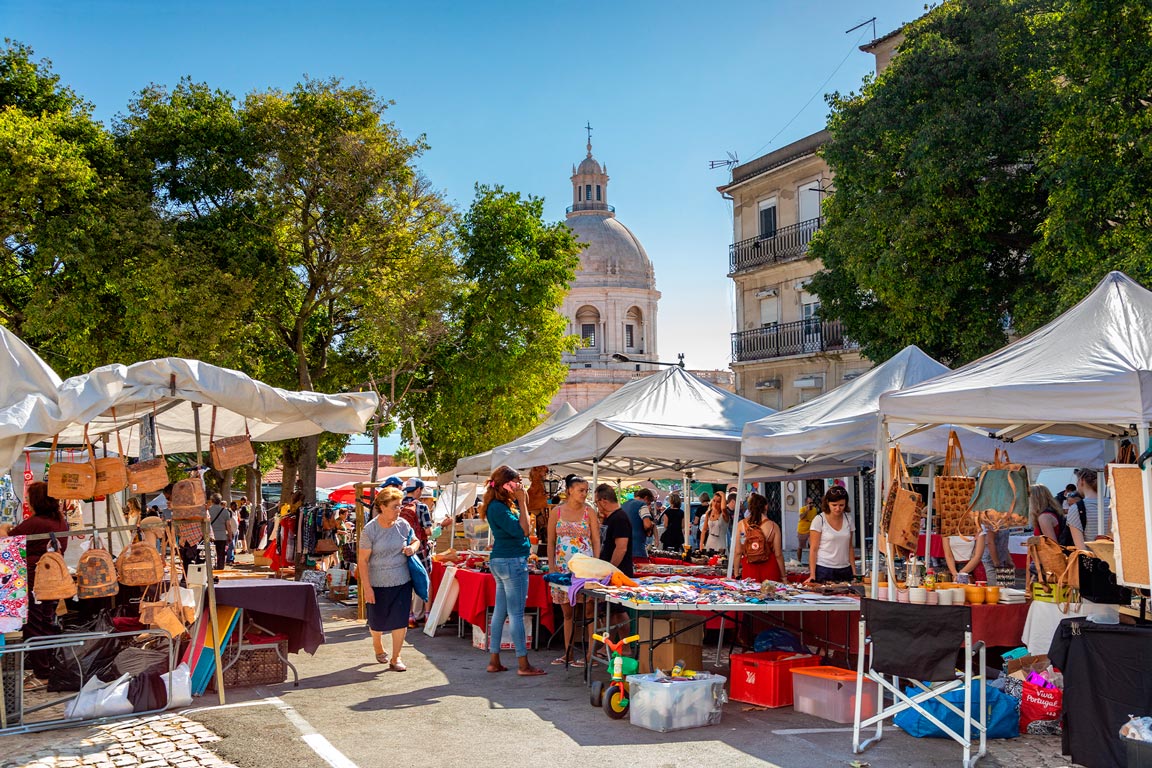 The Best of Both Worlds: Lisbon's Harmonious Lifestyle and Amazing Shopping!
In conclusion, besides being a great city to live in, Lisbon is a place that offers a unique shopping experience. From luxury shopping neighbourhoods to charming street markets, the city has a lot to offer to anyone who likes to shop.
Full of life, historic buildings, a blend of modern proprieties, and an enormous cultural heritage, Lisbon is a great city to live, invest and shop. Whether you are looking for high-end designer boutiques or one-of-a-kind souvenirs, Lisbon has got you covered, and if you are thinking of moving or investing you can rely on us. Portugal Homes will help you find the perfect real estate investment – see our properties for sale in Lisbon and make your move right now: