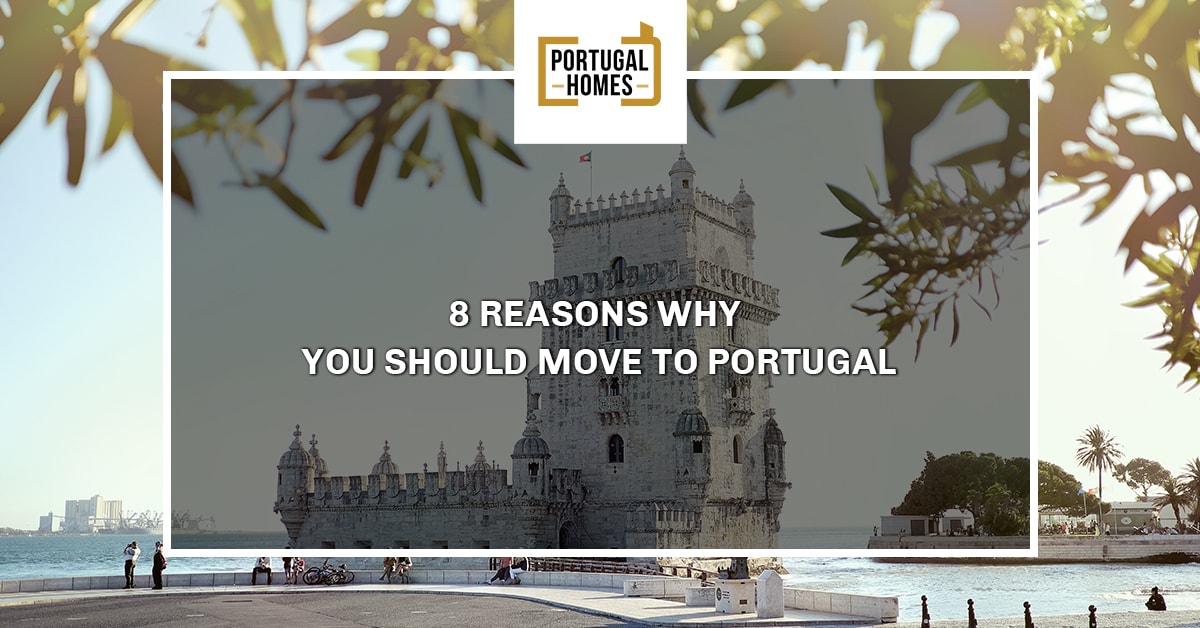 Being one of the oldest nations in the world, the small but respectful country of Portugal enjoys a balance of unique characteristics that makes it truly special. It stands as a gateway to Europe on the southwest side of the continent, welcoming people from different corners of the world for centuries.
History was kind to this land, blessing it with richness and beauty. Because of its neutral position in the biggest social transformations that the world had suffered, its natural and historical patrimony has remained intact. The beginning of the 21st century has catapulted the country to bigger stages – after the Expo 98 came the hosting of Euro 2004, which gave proof to the world of Portugal's tremendous potential in organizing and welcoming major events and it was also in the first decades of the century that the world discovered what Portugal has to offer. Here is a list of the major reasons why you should move to Portugal.
1. Geography
Like we mentioned priorly, Portugal is located in a strategic point in Europe that has served it quite well during the Conquest ages. Thanks to its small size, you can get to know the most important cities and sites quite easily. Discover Portugal's Popular Locations here.
2. Weather
Tired of the cold and rain? We feel you, as our mood can be fully influenced by the weather. That is why people in Portugal are always in a good mood, because the excellent weather, especially during the Spring and Summer, brightens up everyone's days. Are you ready for more than 300 days of sunshine? If you want to enjoy the warm weather all year-round, make sure to visit the Algarve that offers you the best blue flag beaches in Europe!
3. History
Time for some curious facts: did you know that Portugal and Spain have the oldest border in Europe? It dates from 1143 and from then on history has taken its course in order to transform this country into the greatest place to live. You can find traces of it by visiting the many museums located throughout the country. If you're the romantic kind of person, visit the fairytale region of Sintra, rightly distinguished as a UNESCO World Heritage Site.
Related topics:
Spain and Portugal: a guide for property investors
Follow us on Social Media for continuous updates on the Real Estate Market in Portugal, Golden Visa Portugal, Non-Habitual Resident and so much more!





4. Gastronomy
There's a reason why Portuguese people spend a lot of time on the table: the best food awaits in every restaurant and tavern! The secret of its richness is in diversity; every region is known for delicious typical dishes with a great offer of meat, fish, seafood, and vegetables that will make you beg for more. Discover here the 10 foods you have to try when visiting Lisbon!
5. Quality of Life
A typical workday ends around 6 PM and after that, it's all about relaxing. Having drinks in pubs or having a nice dinner in warm locations are just a few activities that can demonstrate how good life is in Portugal. Forbes has also listed Portugal as one of the best places for residency and a second passport.
6. Services
Most of the services in Portugal are efficient and have great quality. The National Health System, for instance, is the most cherished service by the Portuguese, since you have the best medical teams and the expenses are quite low compared to the private sector. Having the 22nd best healthcare system in the world, Portugal prioritizes unity and equity, ensuring that vulnerable populations are not left behind.
Related topics:
7. Sightseeing
Starting a family makes you anticipate certain needs for the future. In Portugal you can find schools with great quality - from the moment your kids enter pre-school to finishing college, your children will have the best mentors in developing their skills, both social and professional. Within the Portuguese education system, there are options that fit every budget (public, private and international schools), however, if you plan to raise your kids in a multicultural setting, then international schools might be the best option. Also because of the unique challenges you face when moving to a new country, you may want to enrol your kids in a school that teaches them in your native language but also enables them to learn Portuguese.
Related topics:
All in all, people are flocking to Portugal thanks to the Mediterranean wonders the country offers, and the possibility of having the most favourable tax schemes in the EU, whether you're a citizen or resident in the country.
Portugal's living cost, quality of life, and the exceptional value of property prices are also motivations of why the ex-pat community keeps growing here. If you are considering relocating to Portugal, it can also help you pay dividends as the country offers a favourable tax jurisdiction for financially prudent and high-net-worth investors.
For example, by investing at least €280K in Portuguese real estate, applicants can secure residency on fairly straightforward terms, while also benefiting tax breaks through the Non-Habitual Residency programme.