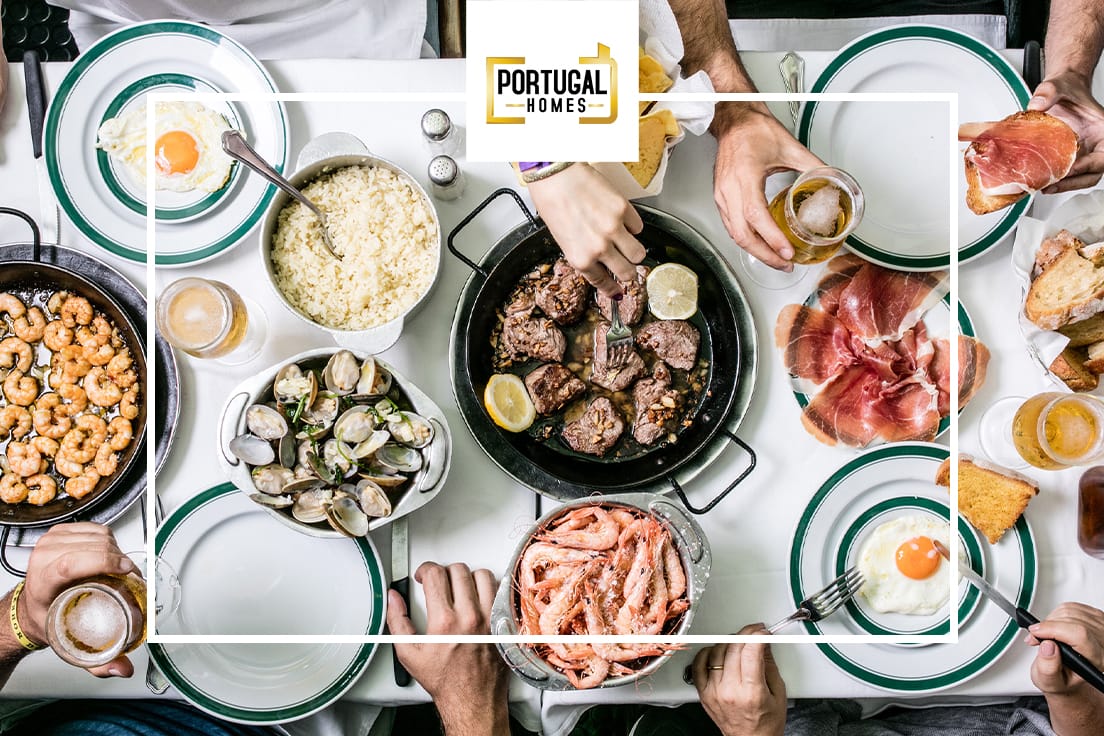 Ice-cream coloured buildings, cobbled streets and beautiful beaches, Lisbon has become Europe's new culinary capital. The city has won another trophy to put on its shelf this month by being elected "Foodie Hotspot" of the year at the annual National Geographic Traveller UK reader awards in 2019.
Baixa, Chiado, Bairro Alto, Cais do Sodré and Príncipe Real are some of the neighborhoods that tourists love to stroll around when in the historical centre of Lisbon. In addition to the vintage squares, short buildings, historical shops and the breathtaking beauty of the Tagus River, sitting down and enjoy a traditional cod dish, for example, is part of a trip to Portugal.
These are the top 10 foods that we think are unmissable when visiting Lisbon!

(Check the map below to discover where you can eat each one of these delicious dishes!)
1. Roast Chicken (Chicken Piri-piri)
Frango assado is the original and authentic Nando's, the favourite fast-food of the portuguese. Usually marinated in garlic, olive oil, salt, lemon, piri-piri chillies, and whatever secret ingredient is special to the establishment selling it, the chicken is accompanied with rice, a simple salad and fries. Some say the secret is in the marinade, others say it's in the cooking time, but you can decide that yourself.
2. Bacalhau à Brás
Bacalhau à brás is pure weekend comfort food! It is made up of boiled and diced salt cod, fried potato strips, onions, eggs and olives. A delicious combination of flavors and textures blended into an incredibly satisfying dish that is popular all over the country. It is usually garnished with parsley and served soft, while the potatoes are still crispy.
3. Caldo Verde
Caldo Verde is a traditional soup, very earthy and usually served in local homes. The base of the caldo consists of potatoes and kale, and it's finished with a generous dose of olive oil, salt and sliced chorizo.
4. Ginjinha
Ginjinha is what locals call the Morello cherry liqueur, which is a sour cherry. It's served as a shot, in small glasses or an edible chocolate glass. The portuguese have been sipping on this liqueur for more than a century, and everyone has their favourite spot where they buy it from.
5. Sardinhas
With Portugal being the top of the Atlantic Ocean, it's no surprise that fish features heavily in Lisbon's cuisine. Sardines are the queens of portuguese summer, particularly during the St Anthony Festival in June. Grilled sardines are eaten in a sociable setting with a glass of wine and chunks of fresh-made bread.
6. Ameijoas à Bulhão Pato
Like many classics in the portuguese kitchen, this dish starts with garlic and olive oil, and then comes the sea flavor, mixed with the fresh aroma of coriander. These clams are served dripping in lemon, parsley, and shellfish meat and are usually eaten with toasted bread.
7. Polvo à Lagareiro
Polvo à Lagareiro is a simple dish of grilled octopus drizzled with copious amounts of olive oil and typically eaten with grilled garlicky potatoes.
8. Pastéis de Nata
These sweet tarts are flaky cups of puff pastry with creamy scoops of custard and a sprinkling of cinnamon. Best eaten warm (but still delicious cold), the secret to finding a good one is to make sure the custard filling has a decent wobble to it.
9. Bifana
Although bifanas are quite simple in their looks, the inside is stuffed with thin, juicy slices of pork marinated with garlic, spices and white wine, and topped with mustard, ketchup or chilli sauce. Commonly accompanied by a fresh beer, the bifana is a must when roaming the city.
10. Travesseiros de Sintra
Climb the Sintra Mountains for a picturesque town and historic palaces, and try the Travesseiros de Sintra sweet treats. "Travesseiro" means pillow in Portuguese, and it's a chubby puff-pastry dream come to life! It is filled with a rich almond and egg cream, and dusted with sugar.

Check the Map below to discover where you can enjoy each one of these delicious portuguese dishes!

About Portugal Homes
PortugalHomes.com specializes in investments through Real Estate and Golden Visa. We help buyers find the right property overseas, whether it be for Golden Visa, NHR, Investment or simply a place in the sun. Our properties are selected with great thought in mind to give our clients the best opportunities. We offer the complete service from introducing them to the Legal Representatives, Currency Exchange, Mortgage Advisors, Property Management, Rental and Furniture Packages along with making sure all our staff are trained to fully understand the buying process and taxes for every scenario. Portugal Homes provides the complete service to anyone looking to buy a new or resale property overseas for holiday use or as a short or long-term investment.
To find out more, please contact us:
Phone: +351 213 471 603
E-Mail: info@portugalhomes.com