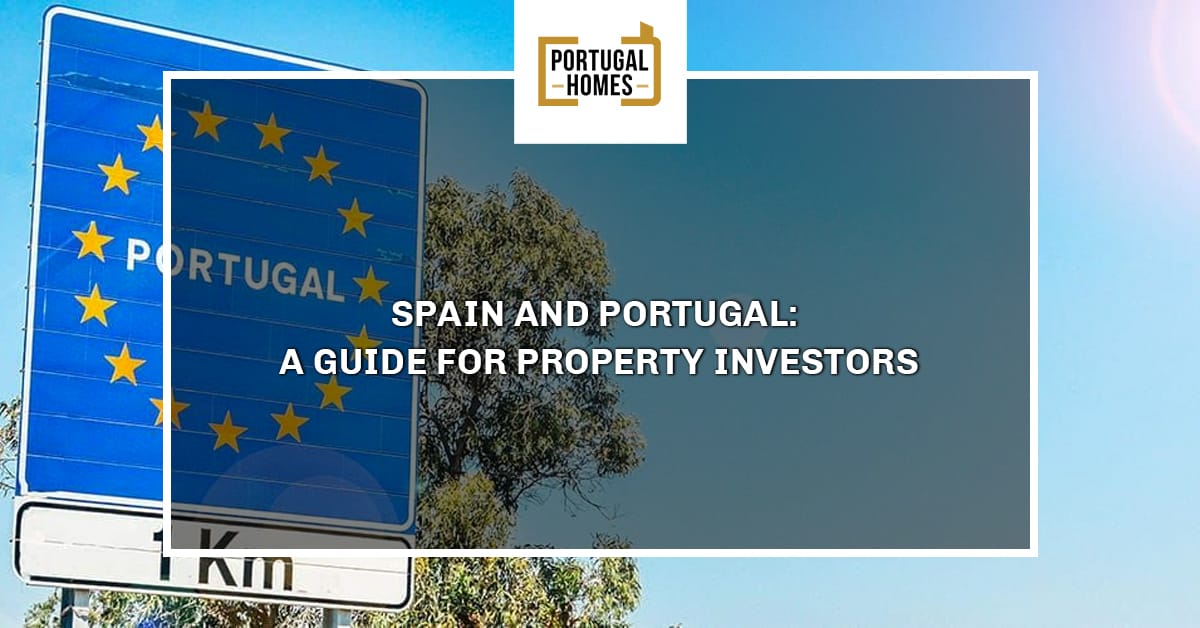 Depending on who you ask, you might get passionate answers for one over the other or that there aren't differences between the two. We get it! Both Portugal and Spain make most of the Iberian Peninsula, have a lot of common history, and occupy a similar headspace for tourists and new property investors wanting to get away to sunshiny climates with good food and welcoming people.
If you would like to visit both Portugal and Spain, and have an idea of which one to prioritize when visiting, here is your guide where we break down the differences between the two sunny European countries, focusing on landscape and climate, expenses and infrastructure, landmarks, food, history and culture and of course, property investing.
These Iberian countries have also taken advantage of the recent period of economic recovery, enticing international investors and to enter the Forbes list of most attractive real estate markets.
Landscape and Climate
Both being Iberian countries, they share similar landscapes and weather. Portugal geographically is characterized by the long coastline, turning it into a renowned country for its finest beaches. The north is rugged and humid while the south is drier and has rolling plains that literally look like green blankets. On the other hand, Spain is mainly a highland country, with mountain ranges running through it. There are also coastal plains and river valleys crisscrossing the outskirts of Spain. The biggest geographic difference between the two is definitely the size; the spanish land is about five times larger than Portugal.
Portugal and Spain both have Mediterranean climates, which means they generally benefit from pleasant temperatures all year-round, with warm summers and mild winters. This similarity makes sense as both countries are known for attracting tourists to the beach even during the colder months!
Portugal is definitely easier to visit around as it's a smaller country, but if you have more time in hand, be sure that the spanish land is equally enticing both for locals and visitors!
Read also:
What do you need to know about retiring in Portugal?
The three main reasons to move to Málaga, Spain
Expenses and Infrastructure
Portugal, also known as Lusitania, is relatively cheaper than Spain and it has an array of options for accommodation. If you're on a budget, there are a lot of great hotels and hostels starting at €10/night. But if you're after a more comfortable stay, you'll want to check out some of the more high-end hotels. Depending on the location and proximity to large cities, prices will vary, starting from €100/night. In Spain, the average cost of a good hotel starts from €124/night.
Overall, the Portuguese land is known as one of Europe's most appealing budget destinations, even though Spain is hardly expensive when compared to other European countries.
Learn more about the expenses in each country below:
When it comes to tax benefits, the truth is that even the Spanish themselves are looking into retiring in Portugal and taking advantage of Portugal's Non-Habitual Resident tax regime. Whilst in Portugal, you can benefit from tax exemptions, in Spain you are taxed for your earnings if you live there for more than 183 days. Learn more about Portugal's Non-Habitual programme here.
Regarding infrastructure, Portugal and España are well developed when it comes to transport. Portugal has an affordable and easy to travel large train network. The Spanish AVE Alta Velocidad, which runs across all of the major cities, is a wide high-speed train network. The gaps between both countries' major cities are covered by public transport systems like trains or buses. As for driving, Portugal's highways have improved in recent years, even though some areas are still rugged, but highways are in better conditions in Spain.
Read also:
Investing in Portugal Real Estate
What are the running costs of a house in Portugal?
Landmarks
Portugal and Spain are both rich with cultural and historical icons. The capital of Lusitania, Lisbon, has many landmarks that other cities would envy. The most iconic is probably the Belém Tower, a 16th century fortified tower that sits on the Tejo river, and there's also the Castle of São Jorge and the Monastery of Jerónimos. Also between the sea and the mountains, and with lots of culture, Sintra is another UNESCO World Heritage Site worth visiting in Portugal.
In Porto city, the second-visited city in Portugal, you'll find the Dom Luis Bridge spanning the Douro River between Porto and Vila Nova de Gaia.
Read also:
Another iconic and truly paradisiacal place in Portugal can be found in the Algarve: the Benagil Sea Cave, a natural skylight in the roof with a lonely beach cut off from the rest of the city. This is one of the best caves in Europe! The Algarve as a whole is as iconic as any of the historic monuments, thanks to the many beautiful beaches and the most stunning coastline areas!
See also:
España has no shortage of historical icons either! For those who value old sites, it's got the Aqueduct of Segovia, which is probably the best-preserved Roman aqueduct in the world. From the medieval era, you'll find the Moorish city of Cuenca and the Mezquita of Cordoba, which was once the Great Mosque of the Iberian Peninsula.
For more modern landmarks, you'll find the works of Antoni Gaudi in Barcelona, such as the Sagrada Familia, and many others spread around the coastal areas, where you can visit the party islands of Majorca and Ibiza, too, and dive into Mediterranean crystal clear waters!
See also:
Food and wine!
Whether you are in Spain or Portugal, we advise you not to miss the food! Fresh seafood, fragrant ingredients such as olive oil and garlic, and robust wines, are what make up Portuguese and Spanish cuisine. Both countries use rice as their common grain and almost overdose on the chorizo (no regrets!), a spicy pork sausage.
The food in Portugal, especially the seafood, is often seasoned with spices such as piri piri, black pepper, cinnamon and saffron, and most dishes are cooked in olive oil with plenty of garlic. The dishes tend to be light but if you head up to the north, the heavier they will get, so save up some space!
Bacalhau is the most common ingredient in Portuguese cooking. This is a dried salted codfish and it is eaten everywhere in the country. It is also said that there are 365 ways to cook codfish, one for every day of the year! Other popular and delicious Portuguese dishes include Francesinha, Cozido à Portuguesa, and Posta Mirandesa. Portugal is also known for the port wine and other dry white wines, as well as some full-bodied red wines from the Douro Valley.
Read also:
Just like in Portugal, also España is rich in seafood in the north, and more hearty foods in the south. The Spanish food style is best-known for the tapas which consists of small savoury dishes, such as patatas bravas, that go really well with alcoholic beverages. If you're a foodie, you surely know about the most famous fulfilling dish, paella, cooked in a broth along with either seafood or chicken, saffron, and green and white beans. You can have the best paella in Valencia, make sure to explore it here.
Portuguese and Spanish cuisine share many similarities and were extremely influential in international cuisine and, in particular, in South America. However, it is most likely that the average person will enjoy Spanish food more as it's usually more accessible even in other countries.
History and Culture
Because of their geography, Lusitania and Spain share a lot of history. They both became world forces during the Age of Discovery, when European colonial powers sprawled their empires to the edge of the known world, and the Roman Empire, Goth, and Caliphate Umayyad were conquered during the last two thousand years. With such opulent heights in their past, both nations are understandably proud of their history. The people are proud of the heritage of their towns and cities. However, between the two cultures, there are major differences.
Portugal can have a more laid-back posture than other European countries. The coast attracts many surfers and there are many places to relax in the backwaters of the country, where people are in no hurry at all. In addition to food and football, Portugal is well-known for Fado, the scornful folk music that you probably hear in country houses all across the country and that is renowned as UNESCO World Heritage.
In Spain, depending on the region you are visiting you will find different cultural specifications. Generally, the Spanish people are proud of the food, football and the arts. Spain has accommodated some of the world's great artists, to name a few, Antoni Gaudi, Pablo Picasso and Miguel de Cervantes – and this artistic heritage is openly celebrated by culture.
In Spain, the people also take their time to take their siesta, which is a dead period in the late afternoon when everything shuts down in the country, so people can rest and take a nap. A dream come true for the average worker!
Both countries have a long history and strong cultures, but Spain probably edges Portugal because of its size, and also hosts the most famous artworks and influential culture.
Property investment
The Iberian Peninsula is one of the most powerful tourism markets in the world: only in 2019, both received more than 106 million tourists! In Spain, there were nearly 84 million visitors compared to 22.8 million in Portuguese territory. The direct connection of these two countries to Latin America as well as the strategic infrastructure previously mentioned, become crucial factors for investing as they help raise investments in sectors such as retail or hotels.
Both countries also have high education levels - especially in business schools - which puts the nations into an advanced technological level and good quality of life and makes it perfect for investing if you have kids.
Read also:
It becomes important to mention that even during the current pandemic, the Portuguese real estate market was able to maintain an activity level of about half of the pre-COVID, which is remarkable. It is a sign of the sector's resilience. Check the change of prices per sqm during the pandemic here.
Rent is also an important factor. In Barcelona, Spain, office rental prices have risen by 50% in the last five years, whilst in Lisbon, they have grown by 37% in the last four years. These numbers might continue to grow thanks to the exponential growth of areas such as Barcelona's 22@ technology district or the Silicon Valley in Portugal.
Because of all the reasons mentioned above, Spain and Portugal also have one of the world's highest life expectancies, hence they tend to receive many foreign students, who are potential people in need of old people's homes, student halls and other alternative accommodations or assets, such as "co-living", as well as "build to rent", which consists of constructing or renovating homes in order to rent them out. If you're an investor wanting to renovate your property, learn more about our Furniture packs here.
At Portugal Homes, we believe that there's always a need to differentiate assets and investments if you're looking to get a return of your investment or simply want to be investing in a personal home. In this sense, we believe the location of the property becomes the second plan and differentiation becomes first. This means that it is not enough that a property is well located, but the property must also be efficient and have additional services. Learn more about adding Real Estate Value through our After Sales services while saving some money here.