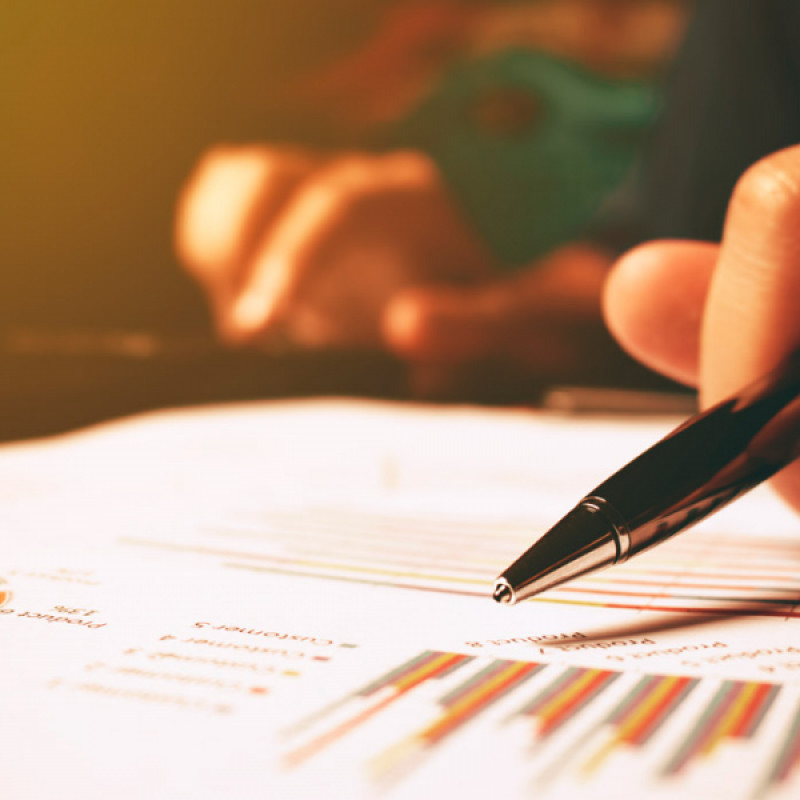 Annually, Portugal Homes creates a report overviewing the past business year, which showcases real estate transactions made, the number of private meetings held worldwide, the database of clientele, and much more! 2022 proved to be an excellent recovery from the previous economic challenges faced by the world, presenting unique factors encountered nationally and internationally.
Portugal Homes, part of Harland & Poston Group, maintained a continuous focus, keeping the team motivated while driving the company forward with new business. The past year of 2022 was particularly important, bringing innovative ideas to overcome the challenges at hand versus giving up altogether. By the end of the year, our CEOs David Poston & Gary Harland celebrated one of the best years since the beginning of the Group, with solid physical growth.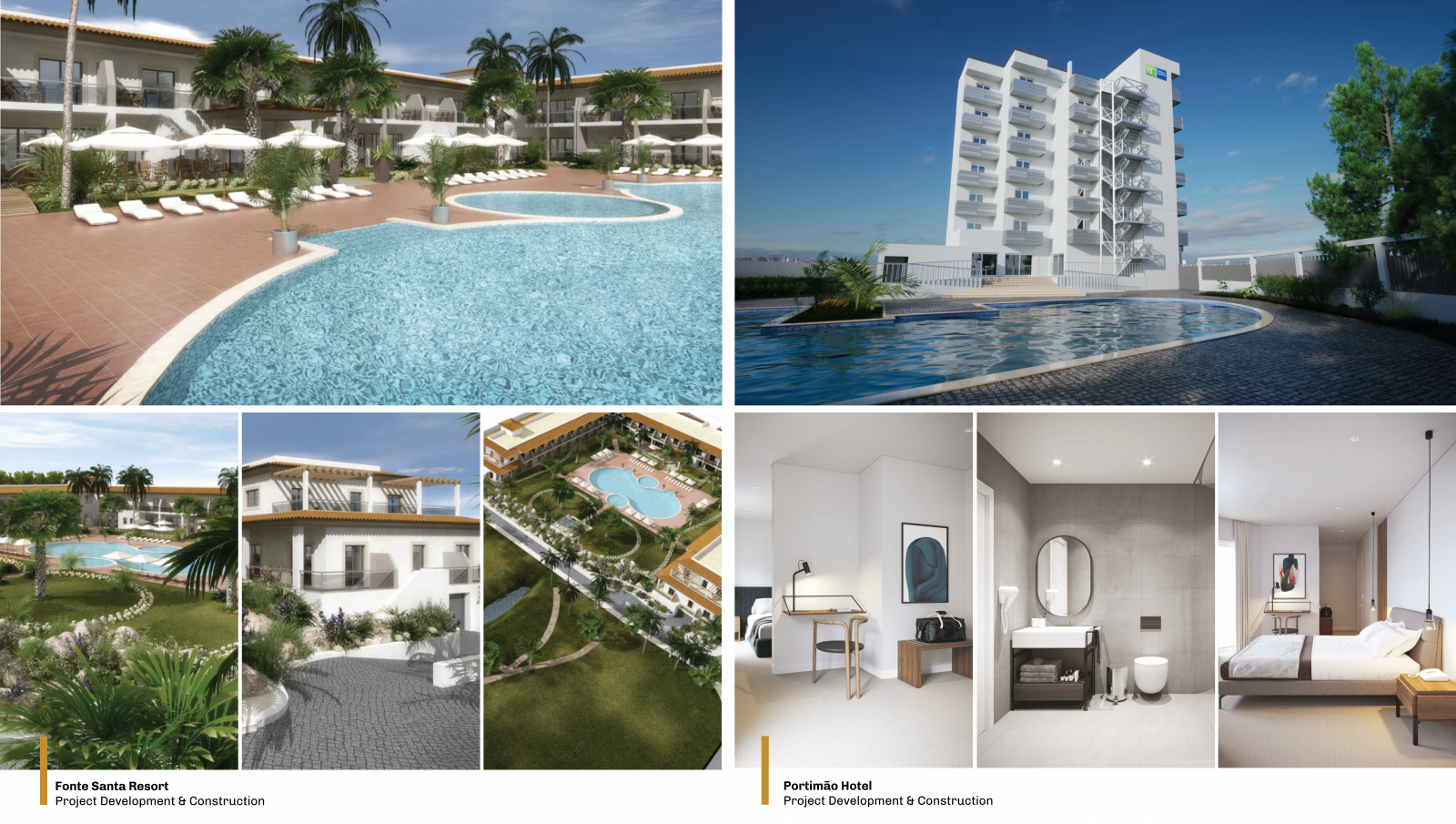 For instance, Portugal Homes is happy to have achieved more than 50 million euros in sales from its own Project Development & Construction (PD&C) Department, responsible for the main real estate investment revenue made by the company in 2022. One of the deluxe developments assembled by the PD&C Department is the Fonte Santa Resort, a 4-star resort featuring studio units to 2 bedrooms, tennis and paddle courts, restaurants, bars, swimming pools and expansive gardens. This development provides existing and new clients with a state-of-the-art opportunity. It is catered to our clients seeking to obtain the Portugal Golden Visa; the property investment provides guaranteed returns for 5 years, as this resort is a perfect vacation getaway for holiday seekers visiting the sunny Algarve region of Portugal!
Our Project Development & Construction Department also accomplished the construction of the Portimão Hotel, a 30-unit hotel of 2 bedrooms, featuring a restaurant, gardens and a swimming pool, located in central Portimão and just 8 minutes away from Praia da Rocha. This touristic project development is also catered to Portugal Golden Visa clients, offering amazing yields for a real estate investment. As our portfolio of projects grew, so did our PD&C Department, adding five new staff members to the team, varying from senior civil engineers to project management and real estate development management. A department within Portugal Homes that we foresee growing ever more in new project developments and new staff!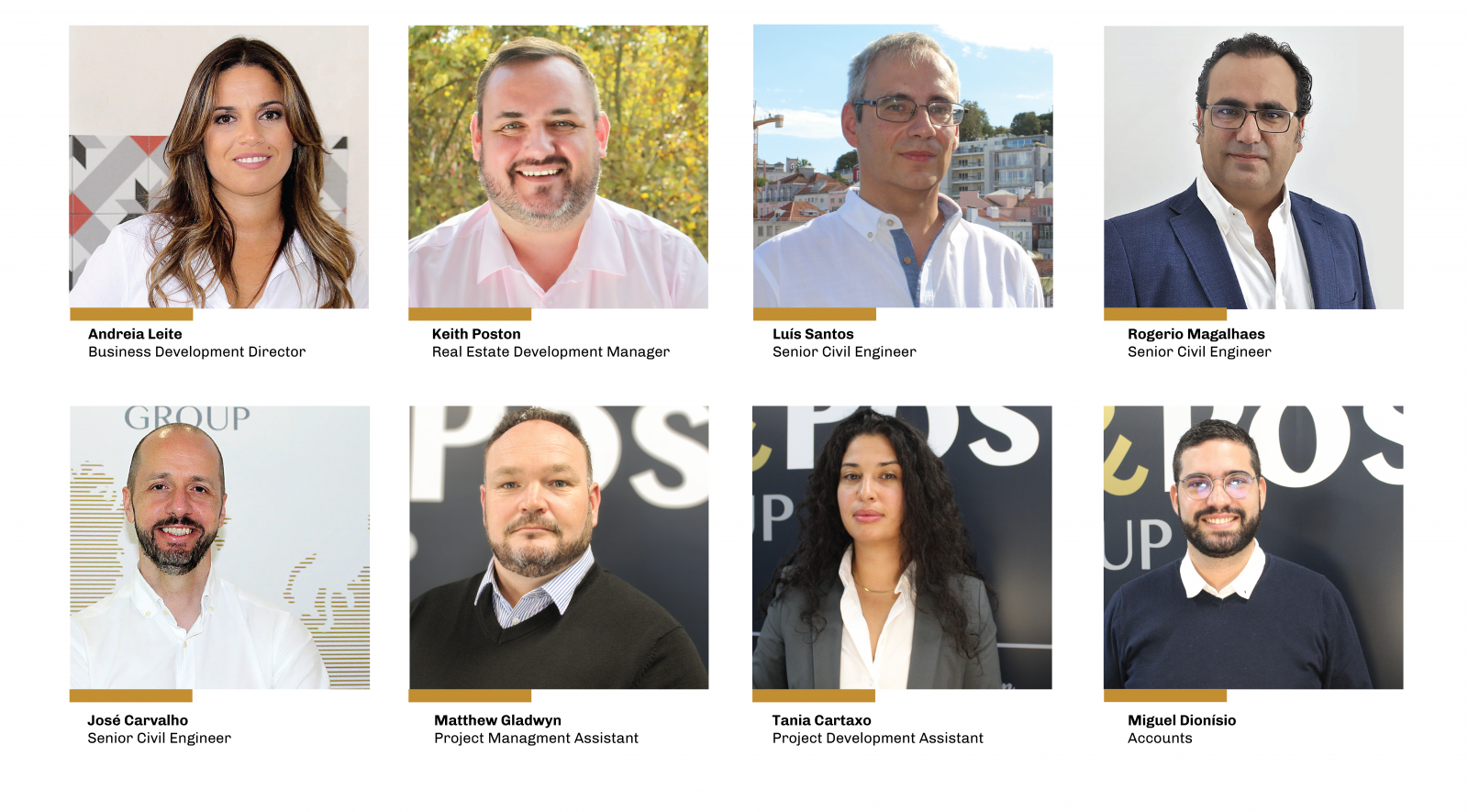 Portugal Homes is also pleased to announce a brand-new office opening in 2022, the Lagos Office; servicing clients on-site with their real estate needs on finding the perfect vacation home in the prime holiday hotspot of the Algarve. Along with our office relocation on Avenida da Liberdade, Lisbon; moving across the street to famous high-end boutique clothing stores such as Michael Kors and Miu Miu. We prospect to open a new United Kingdom office, and Dubai office relocation, exciting business to come in these prominent locations.
Additionally, Portugal Homes held one-on-one private meetings in the United States of America, providing expert investment advisory to overseas clients. Our Investment Director, Simon Hobson, and Senior Investment Advisor, George Hobson, headed to Los Angeles, New York, and Houston, for networking meetings with USA clients looking to obtain EU Residency through real estate investments in Portugal. One-on-one meetings with clients are crucial to a successful business, especially in promoting a close relationship to deliver the best investment possible with the client's needs in mind.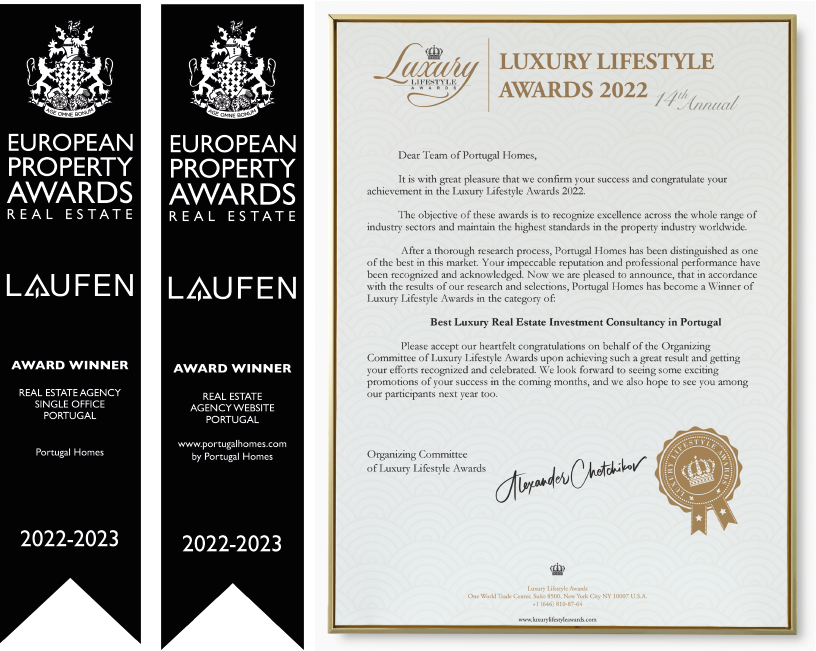 In 2022, Portugal Homes was honoured with several awards. Starting with a distinction by the Luxury Lifestyle Awards, headquartered in New York, USA, as the Best Luxury Real Estate Consultancy in Portugal; and awarded by the United Kingdom's International Property Awards, Europe Edition, as the Best Real Estate Single Office Agency in Portugal, and Best Real Estate Agency Website in Portugal. The company was also featured in PR & News media platforms: Zawya, and the Luxury Lifestyle News. These prominent awards are thanks to the creativity and dedication of our in-house Digital Marketing Department, delivering quality content within graphics, video, social media, article news, and web development to the forefront of the Harland & Poston Group.
Our CEOs, David Poston & Gary Harland are thrilled to have joined 17 new staff members to the company, positions varying from our in-house After Sales Department, to our Digital Marketing Department, and new additions to our Property & Investment Advisors. The vision of our co-founders is to continue to seek out talented, hard-working individuals that wish to grow professionally at the Harland & Poston Group.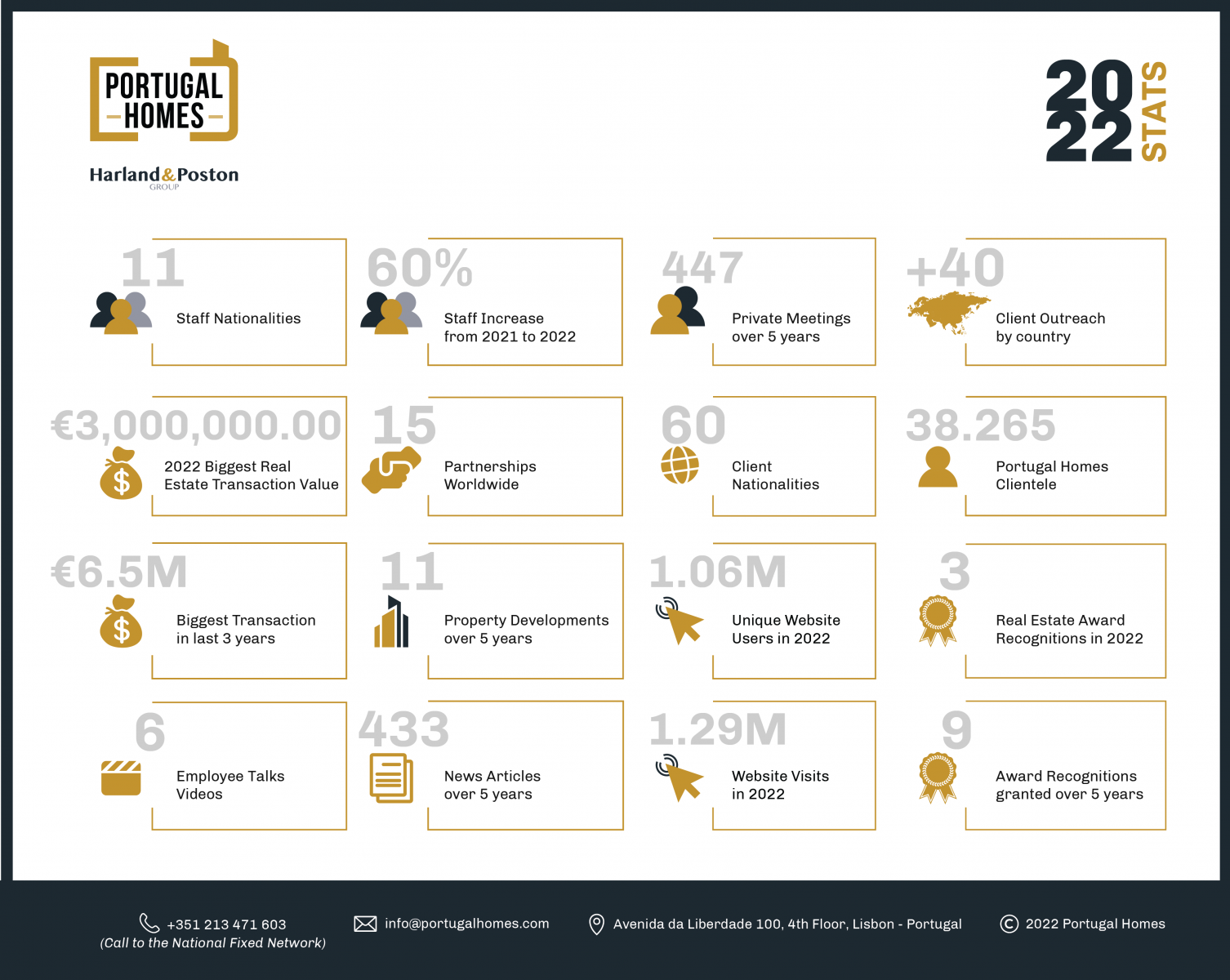 Portugal Homes by Numbers Report for 2022
2022 Biggest Real Estate Transaction Value: €3,000,000.00
Biggest Transaction in last 3 years: €6.5 Million
Total Number of Partners, Nationally and International: 15
Total Amount of Private Meetings over 5 years: 447
Total Amount of Client Nationalities: 60
Total Number of Client Outreach: +40 Countries

, based on Google Advertisement Statistics

Total Amount of Project Development & Construction: 11 Projects over the last 3 years including 2x Hotel Resorts in the Algarve
Staff Increase of 60% from 2021 to 2022
Total Amount of Staff Nationalities: 11
Countries » Portugal, Spain, Poland, England, Ireland, Wales, South Africa, Canada, Chile, Brazil, Venezuela
Total Amount of Articles over 5 years: 433
2022 Total Amount of Website Visits in 2022: 1.29M
2022 Total Amount of Unique Website Users: 1.06M
2022 Total Amount of Portugal Homes Clientele: 38,265
Total Number of Employee Talks: 6
Total Amount of Real Estate Recognitions in 2022: 3
Luxury Lifestyle Awards- The Best Luxury Real Estate Investment Consultancy in Portugal
European Property Awards - The Best Real Estate Website in Portugal and The Best Real Estate Single Office in Portugal
Total Amount of Awards & Recognitions granted over 5 years: 9

Get to know our

Awards & Recognitions
Portugal Homes is proud to showcase all the achievements accomplished in 2022, with outstanding results in the year passed, showing that our CEOs and staff members continue to remain optimistic about the future of the real estate market in Portugal. We would like to thank our clients, and partners for their continuous trust in our expertise, and guidance; the entire team is looking forward to the year ahead and all the new challenges!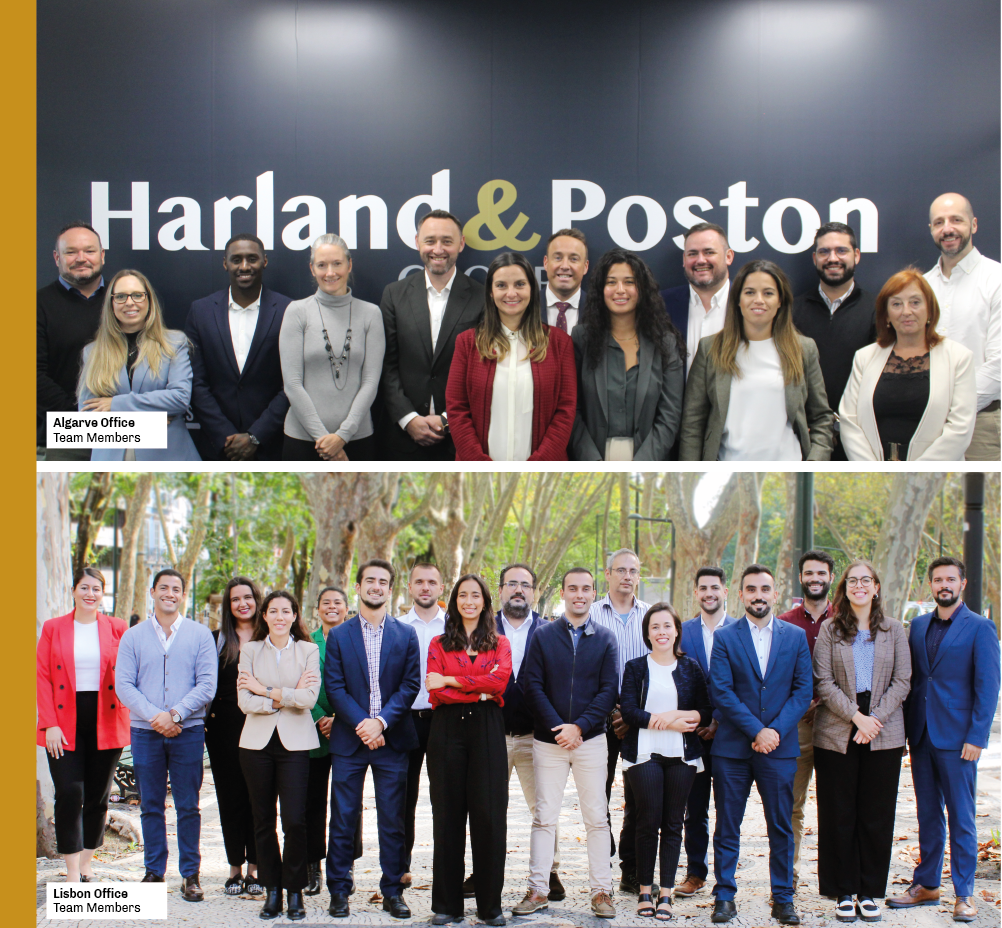 To learn more about Portugal Homes Real Estate Investment services , get in touch with us! We would be most happy to assist you in your future property investments or in finding your home away from home in Portugal!
---
Read Also:
2021: Portugal Homes, End of Year Report
2020: A year of massive growth for Portugal Homes
Portugal Homes numbers on the rise
---