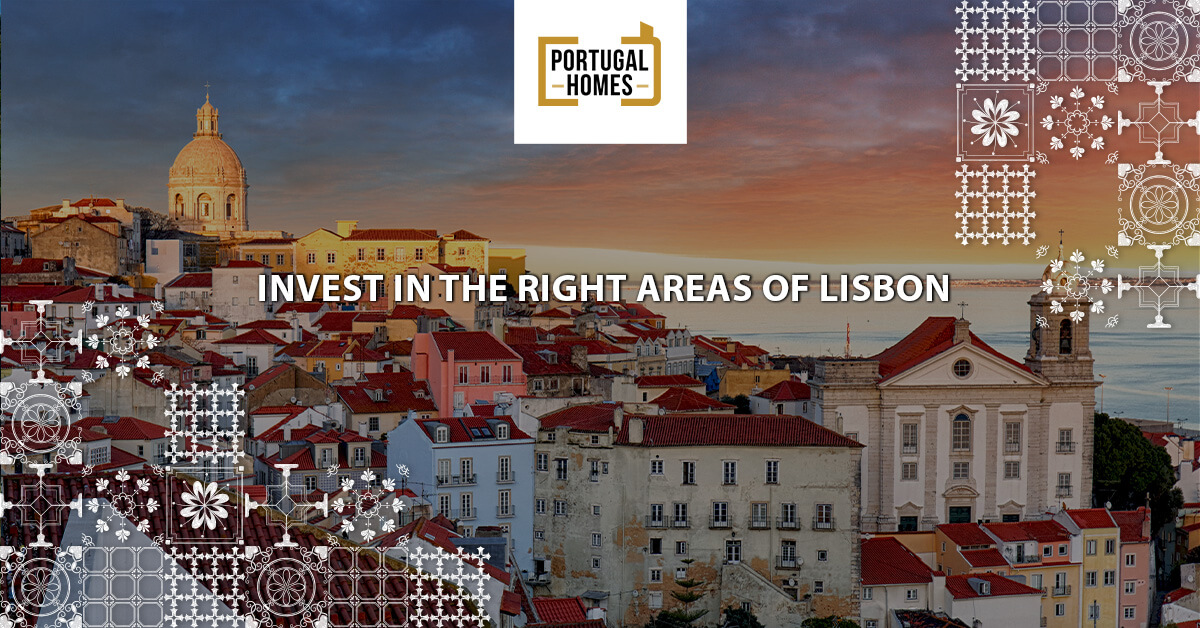 As confirmed by The Financial Times, Lisbon is on its way to becoming one of the best places to live, to do business. And of course, to invest in Lisbon property.
Europe's forgotten "sleeping beauty" of the 20th century woke up after 1998's World Fair, and both local and foreign residents are injecting doses of innovation and modernism despite all the economic hardships.
---
Although prices are rising in the Portuguese capital, the properties across the city still have huge potential for capital gain and return of your investment.
Whether you want to be close to the attractions of Lisbon or find some peace and quiet in the rural areas of the city, there are plenty of places to consider when staying in Lisbon.
---
Lisbon is the capital of Portugal and also the main hub of its economy. It is the most populated region in the country, being very popular amongst both Portuguese and ex-pats. With one of the lowest crime rates in the world, privileged sunny weather, world-renowned healthy cuisine and a laid-back lifestyle with a twist of an entrepreneurial spirit, Lisbon has unarguably become the best place for foreigners to live in.
Together with Lisbon's affordable cost of living, over the past few years, the city has become hugely popular among foreign investors and families wishing to relocate to a better place to work, live and study.
What's more, Lisbon has recently been elected one of the healthiest places to live in 2021, given its diet and Mediterranean lifestyle. Additionally, its status as an aspirational tech innovator has led it to be nominated as one of the best 21 places to work in the future.
If you are looking to buy property in Lisbon, whether as an investment or simply to find a new home, it is useful to understand how the different Lisbon neighbourhoods are and what each has to offer. Lisbon is a picturesque city and embodies a perfect blend of historical and modern aesthetics.

See our properties in Lisbon here.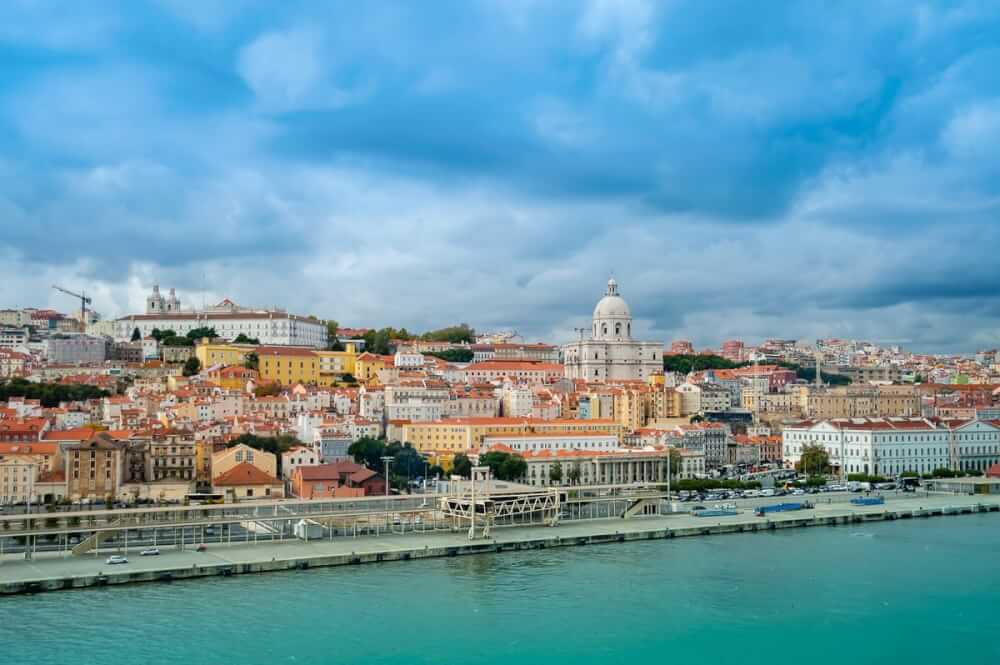 ---
1. Baixa/Chiado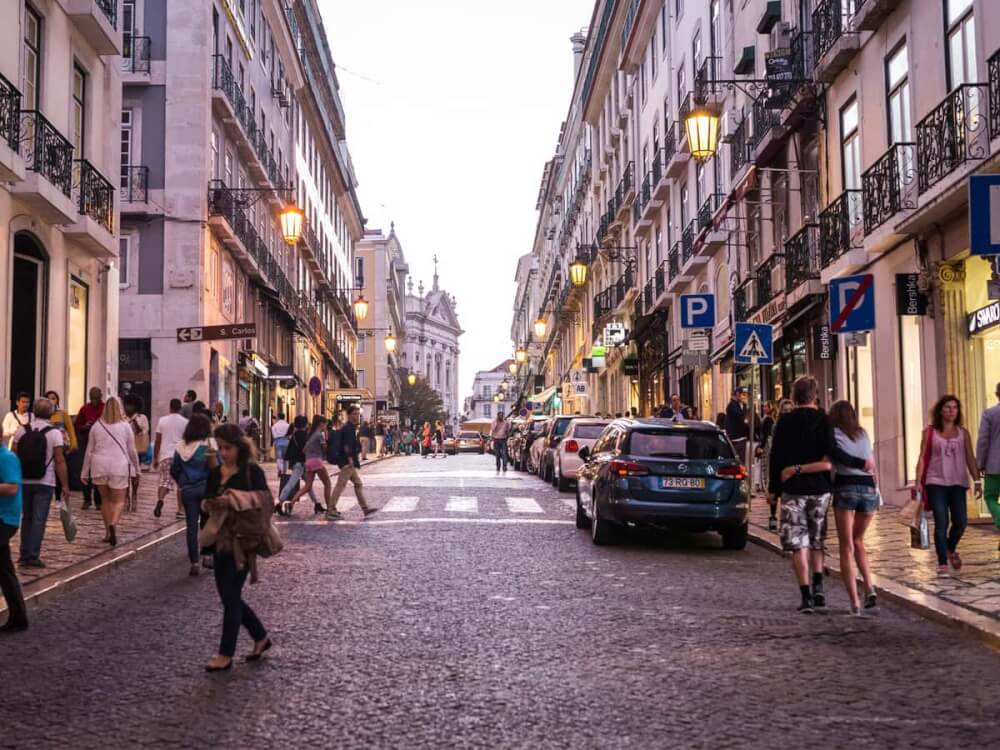 Chiado is a small part of Lisbon that's bursting with Portuguese culture, offering residents a mix of old and modern establishments. It's a fairly traditional area, with theatres, bookstores, and cafes located throughout the region.
Located within the Santa Maria Maior parish, Baixa and Chiado's properties are mainly used for short-term rental purposes, which turns them into very attractive and lucrative hotspots for investors. The growing concentration of tourist accommodation in these areas (witnessed over the past few years) has been pushing up prices. At Portugal Homes, we offer an array of properties in Chiado, including both developments and homes. You can see them here.
Located right in the heart of Lisbon, Baixa and Chiado are referred to as the downtown of Lisbon. Either Baixa, Chiado and its surroundings, such as Praça do Comércio and Avenida da Liberdade are soothing spots to have nice walks, thanks to their wide pedestrian areas. In these neighbourhoods, you can find the charm of the capital's historic streets and, at the same time, breathe a trendy and cosmopolitan feel. These quarters are the main shopping district in Lisbon, have the best cultural attractions, as well as excellent transport links to the rest of the city.
Baixa is also perfect for those who love to try new experiences and want to fully immerse themselves in a new culture. Offering vast amounts of unique experiences and beautiful architecture, whether it be Rossio Square with its tremendous fountain or the vibrant yellow buildings of Praça do Comércio.
---
2. Avenida da Liberdade
Avenida da Liberdade boulevard, built in the 19th century in the style of the Champs-Elysées in Paris, is the main avenue of Lisbon. Home for some of the most fashionable luxury brands, Avenida is one of the richest and expensive areas of the country and represents the ideal place for creating and establish workplaces.
Properties in Avenida da Liberdade.

---
3. Alfama/Graça
Graça houses a diverse population, from local residents who were born here and new residents seeking this old part of Lisbon. Whether a tourist or resident, people are drawn here by its location, history, and soul. Situated next to the São Jorge Castle, Graça's district is also known for its spectacular views that are much enjoyed by residents and visitors.
Alfama and Graça are Lisbon's oldest neighbourhoods. They are well-known for their labyrinth narrow streets. They are also traditionally recognized as the central home of Fado singers, the traditional Portuguese folk music, classified as Intangible Cultural Heritage of Humanity by UNESCO. All of this traditional heritage keeps retaining some of its old charm, which goes as far back as the 17th century. It is even referred to as a village in a city by many lisboetas.
Regarding the housing market, in recent years, many investors have been refurbishing apartments to transform them into holiday rentals, making the area quite seductive for tourists. This is why the prices have been scaling up, being positioned among Lisbon's highest median price value.
You can either find local residents who were born there to new ones enthusiastic about this old part of Lisbon. It is also a demographically diversified neighbourhood, with a vast immigrant community and people from different age groups.
If you would like an alternative to investing in Lisbon city centre, the Algarve and the Silver Coast are great options to consider.
---
4. Príncipe Real
Príncipe Real has become one of the best neighbourhoods in Lisbon, attracting an innovative and quality trade. But it remains essentially a residential neighbourhood, with gardens, quiet spaces and beautiful palaces. This neighbourhood is one of the most sought after areas for buying or renting houses, where old buildings are being refurbished, attracting a younger population.
See properties in Príncipe Real here.
Príncipe Real is a charming residential neighbourhood with attractive architecture and also known for its sophisticated shops. Both youngsters and adults, foreigners and locals, of different ages and status, like to flock there during both day and night, thanks to the variety of attractions and social life this area offers. It is a multicultural neighbourhood, where you can find people speaking different languages in every corner - 11,3% of the people living there are foreigners, according to the Lisbon City Hall.
The community comprises gardens and friendly kiosks, where a lot of people like to enjoy Lisbon's sunlight. Those who love to be within walking distance of everything in the centre will appreciate living in Príncipe Real. Hence, ignited by the interest of locals and international investors, apartments in Príncipe Real enjoy a unique combination of traditional and modern architecture, together with a hybrid of the peaceful and bustling area filled with embassies, international schools, fashion and art galleries, epic wine and cheese shops, iconic bars, biological food fairs and LGBT+ friendly clubs.
Investment and residential growth are on the rise and, although Príncipe Real is not the market for rapid capital appreciation, it's one of the city's loveliest options for investors looking to relocate and live in the apartment. Chic and centrally located, properties for sale in Principe Real offer strong long and short-term rental opportunities.
Read also:
---
5. Avenidas Novas
Moving from the old quarters to the new, Avenidas Novas district comprises large and relatively expensive apartments, popular among middle and upper-middle-class high-earning workers. This is a premium area in Lisbon, composed of long and wide avenues, gardens, universities and multiple buildings. Besides a premium residential area, it is Lisbon's central business district and has some of the most famous shopping malls of the city, such as Él Corte Inglés.
It is home to the beautiful Parque Eduardo the VII, being close to Avenida da Liberdade, known as the Champs Élysées of Lisbon.
This area is popular among those who seek to live in the centre of the city. Here you have access to all kinds of public transports and all amenities: schools, supermarkets, gourmet groceries, prestigious restaurants (such as Eleven), cosy cafés, public and private hospitals.
---
6. Lapa/Santos
Lapa is a predominantly residential area with large houses and old palaces. It was in Lapa that the Portuguese bourgeoisie and nobility decided to settle down in the 18th century.
This neighbourhood remains one of the noblest areas of Lisbon and is home to several embassies. Historic buildings have been rehabilitated and have attracted many residents in search of tranquillity and a privileged location.
---
7. Alcântara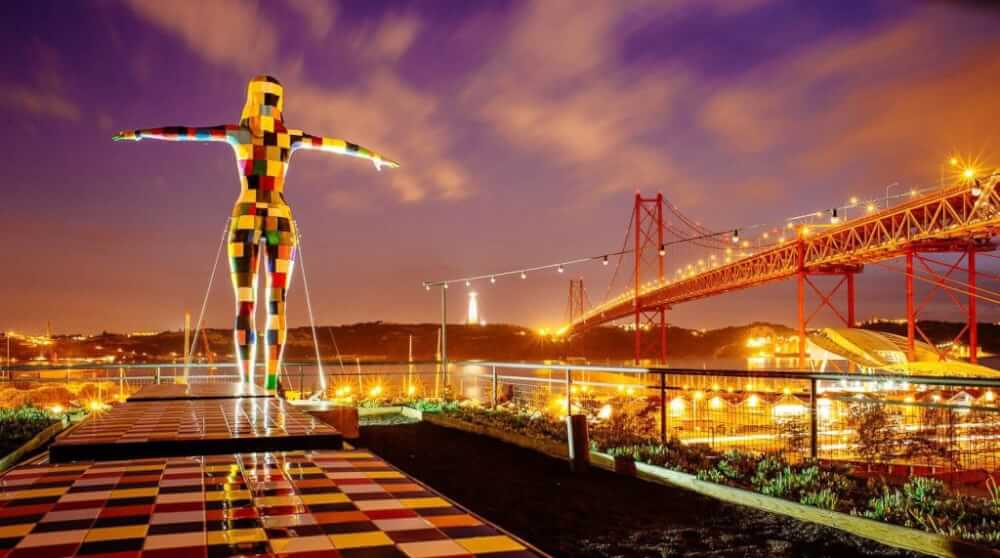 Alcantâra is one of the upcoming areas in Lisbon very famous for its trendy LX Factory, a homemade and traditional concept of commerce and restaurants.
The waterfront district of Alcântara is located between the city centre and Belém. It has a privileged pedestrian area along the Tagus river and below the 25 de Abril bridge - often compared to the Golden Gate Bridge in San Francisco. This place is called Docas de Santo Amaro, an area full of charm with its entire range of trendy restaurants with terraces overlooking the yachting marina. Besides the riverside zone, until recently, tourists had few reasons to come to this industrial and residential part of town. However, there are now several worthwhile attractions. Around Largo do Calvário (the main square), many new restaurants and clubs opened, taking over old warehouses. The most well-known attraction is Lx Factory, a site of former factories, storerooms and workshops, that are now occupied by many of the city's trendiest restaurants and shops, as well as design studios and art spaces. Alcântara also hosts a vast share of parks, perfect for enjoying a lunch break in the sun.
Another attribute to point out is the proximity to the South Edge of Tejo river. NOVA University Lisbon has recently launched a project that aims to create a global city in Almada - the Innovation district - which will combine a unique sustainable lifestyle within innovation and technological expertise. This will not only bring a new dynamic to Almada but also be a lever for Lisbon's internationalization.
Many who live in the Alcântara neighbourhood praise the community for its acceptance of cultural diversity. The district is unarguably considered an up-and-coming area to buy property in Lisbon and best-buy choice when it comes to investment purposes.
See our exclusive development in Alcântara here.
---
8. Arroios - Alameda
The humble parish of Arroios recently clinched the top spot in Time Out's annual list of the coolest city centre neighbourhoods in the world. But frequent visitors will know that the unique neighbourhood, located in the Lisbon city centre, is a hub for art, hotels, and restaurants. It's also small enough to walk across in just 30 minutes - talk about packing a punch!
See top things to do in Arroios and near Alameda here.
See properties in Arroios here.
---
9. Santa Apolónia
Santa Apolónia is a neighbourhood on the side of the Tejo River in Lisbon. Within walking distance of Terreiro do Paço, Santa Apolónia's narrow streets lead to Castelo de São Jorge. The area is connected to the metro grid of the city with good transportation connections, there are many bus routes and a train station there. Panteão Nacional de Santa Engrácia is also a short walk away!
Although there's a lot of bustle around the Station, the neighbourhood itself is peaceful and everyone knows each other.
See properties in Santa Apolónia here.
---
10. Penha de França
On one of the seven hills, northeast of Lisbon is Penha de França. The area is considered to be clean, quiet and family-friendly, attracting high-class families and young adults. Because of its smaller location, it is now the perfect time to invest in property Penha de França property. It is situated in the vicinity of several miradouros (viewpoints) with views over the whole area.
See properties in Penha de França here.
---
11. Marvila
In the centre of many attractions in Lisbon, and within a sufficient distance from Marvila property, it is conveniently located. This is a great venue for young couples and companies that can benefit from its analytical and artistic vibrations. The city is experiencing rapid changes, making it a truly wonderful suburban community and not merely a commercial centre.
In recent years, foreign interest in Marvila has risen significantly, making it a common investment region. It is very near the bustling city centre of Lisbon and provides access to the fashionable Parque das Nações, renowned for its green spaces and shopping.
Take a look at our Portugal guide for more information about the Portuguese Real Estate Market.
---
12. Beato
Beato has become one of Lisbon's most attractive places. The word "Beato" in Portuguese simply means "blessed" and this place definitely lives up to its name. Beato was once an agricultural district with factories and warehouses and is today one of the most sought-after neighbourhoods of Lisbon.
When looking for Beato property, you will realise that the vast majority of offers are not homes, but apartments. Renewed structures and river houses are frequent reminders that the investors who see the future of Lisbon know this is a great secret area to invest in!
---
13. Campo de Ourique
Campo de Ourique is a relatively quiet residential neighbourhood. Living in this region is synonymous with an excellent quality of life. It is an old-fashioned neighbourhood, and its flat streets are an open invitation to long walks!
Campo de Ourique is a pleasant residential traditional neighbourhood in Lisbon, home to numerous Portuguese families. Also known as Champ D'ourique, this district has the biggest french community in Lisbon. With the reputable Liceu Francês Charles Lepierre school in its surroundings, this area is populated with bistros, cafés and Mercado de Campo de Ourique, a recently trendy refurbished food market with a series of restaurants that prepare their meals with the market's ingredients.
What are the best schools in Portugal for my kids?
It is a quiet area with lovely squares, local shops and green spaces. It is one of the calmest central places to live in Lisbon.
Most of Campo de Ourique's residents are from upper-middle-class families, but a younger middle class is also growing.
---
14. Belém and Restelo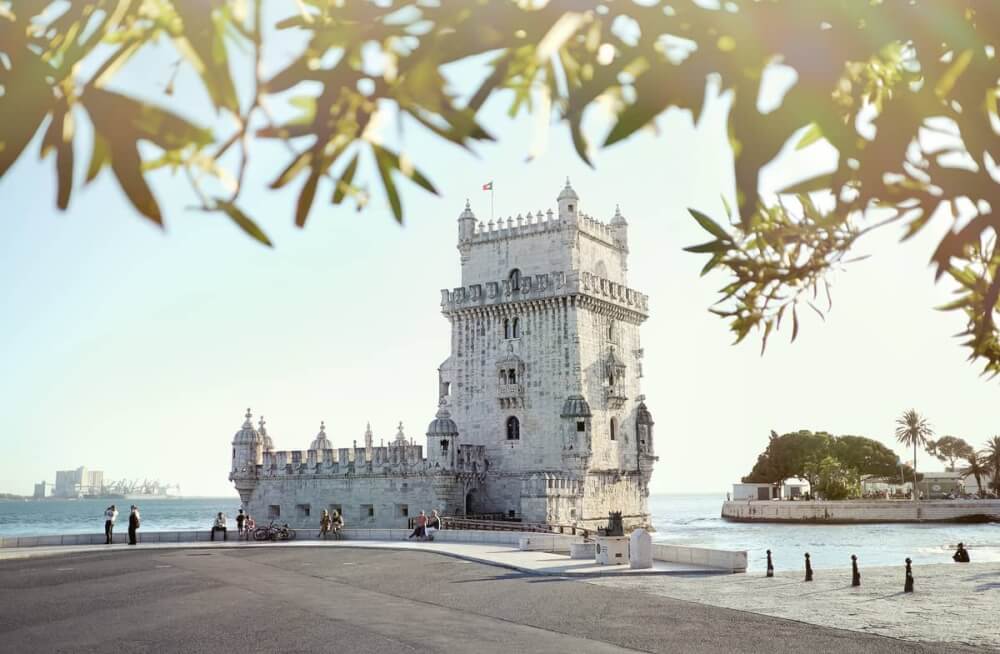 The Belém neighbourhood is the last neighbourhood before the beaches on the Portuguese coast. This is where the Tagus River and the Atlantic Ocean meet.
Belém brings together important historical monuments such as the Jerónimos Monastery, the Monument to the Discoveries and the Belém Tower. It also houses many cultural places such as the very modern MAAT - Museum of Art, Architecture, and Technology, among others. Here, you will also find Pastéis de Belém, a pastry shop that has been producing the famous custard tarts since 1837!
The Restelo area is a luxury residential neighbourhood. Here, you will see children playing in the parks while feeling the fresh breezes from the Tagus. This is a popular place during weekends for a day-out with the family. There are a number of parks and gardens, restaurants and shops in the area and the atmosphere is also very chilled.
Belém is part of a riverside municipality in Lisbon. It is a historical neighbourhood, filled with museums, monuments and extensive gardens and parks. Belém is a very peaceful and safe neighbourhood with houses, dwellings and apartments overlooking the Tagus River and Ponte 25 de Abril.
Explore your Guide to Belém here.
Restelo is also home to many foreign embassies and their diplomats and is also safe, wealthy and secure in terms of capital growth for Investors.
Bordering Restelo is the Monsanto Forest Park (often referred to by locals as "The lungs of Lisbon"). Algés Train station is 5 minutes walk (500 metres). This train station serves the Cascais coastal line and offers a direct line to multiple beach resorts with a journey time of 25 minutes to Cascais beach town. Cais do Sodré train station in the centre of Lisbon is a 12 minutes journey time.
---
15. Parque das Nações
Parque das Nações, colloquially known as Expo (thanks to the 1998 Lisbon World Exposition), is a modern neighbourhood made up of recent residential buildings and hotels. This area is generally quiet, except when there is a big conference or event in Lisbon, such as Web Summit, which has been held in Parque das Nações for the last 4 years in Altice Arena.
It is easy to forget you live in Lisbon if you stay in this area, as the spatial planning is pretty much different from the neighbourhoods close to the centre. The prices are not the lowest, compared to other Lisbon neighbourhoods, but its architecture and housing are far more modern, futuristic and contemporary than most other areas of the city.
Parque das Nações is a residential and business district, known for its contemporary architecture and some other landmarks: Oceanarium, Casino, the huge Lisbon Oriente Sation, the Pavilion of Knowledge and the marina. Its pleasant waterfront location with green spaces, the Vasco da Gama mall, good transport connections, and abundant parking space make this area increasingly popular among the high and upper-middle classes.
---
16. Algarve
Best known for its amazing soft climate, with plenty of sun throughout the year, Algarve's pleasant weather allows you to discover its gorgeous coastline against which the ocean presents itself with all colours available in the blue spectrum.
Stepping away from the coastline you'll find other relics to explore in Algarve's more rugged interior, where people live in harmony with the environment and keep ancient traditions that they like to share.

Properties in the Algarve.
---
17. Silver Coast
By many expats, the Silver Coast is one of the most desirable places to live in Portugal, together with Lisbon and Algarve. The region remains largely unknown and therefore untouched by tourism, which means that visitors can bask in the extraordinary sand of "silver."
The Silver Coast is also a popular destination for surfers, and beaches such as Peniche and Nazaré, which are always busy with tourists from northern Europe.