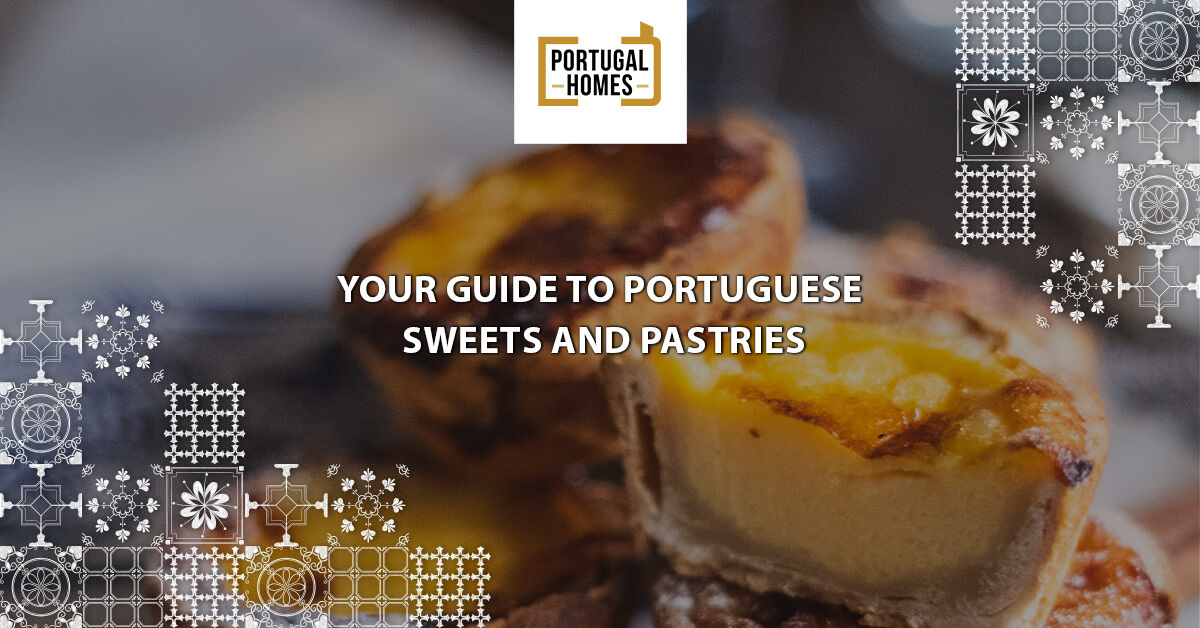 Sweet Tooth Alert
The culinary delights of the Portuguese are notable, especially known for their amazing cuisine, and a wide variety of dishes, ranging from meats, fish, seafood, and vegetables. The Portuguese utilize olive oil as the start and finishing garnish to all of their dishes, showcasing a distinguished home cooking style with balanced spices that are utterly delicious. Portugal, much like all of Europe, loves a good pastry - with or without coffee, bring on the pastry, we say!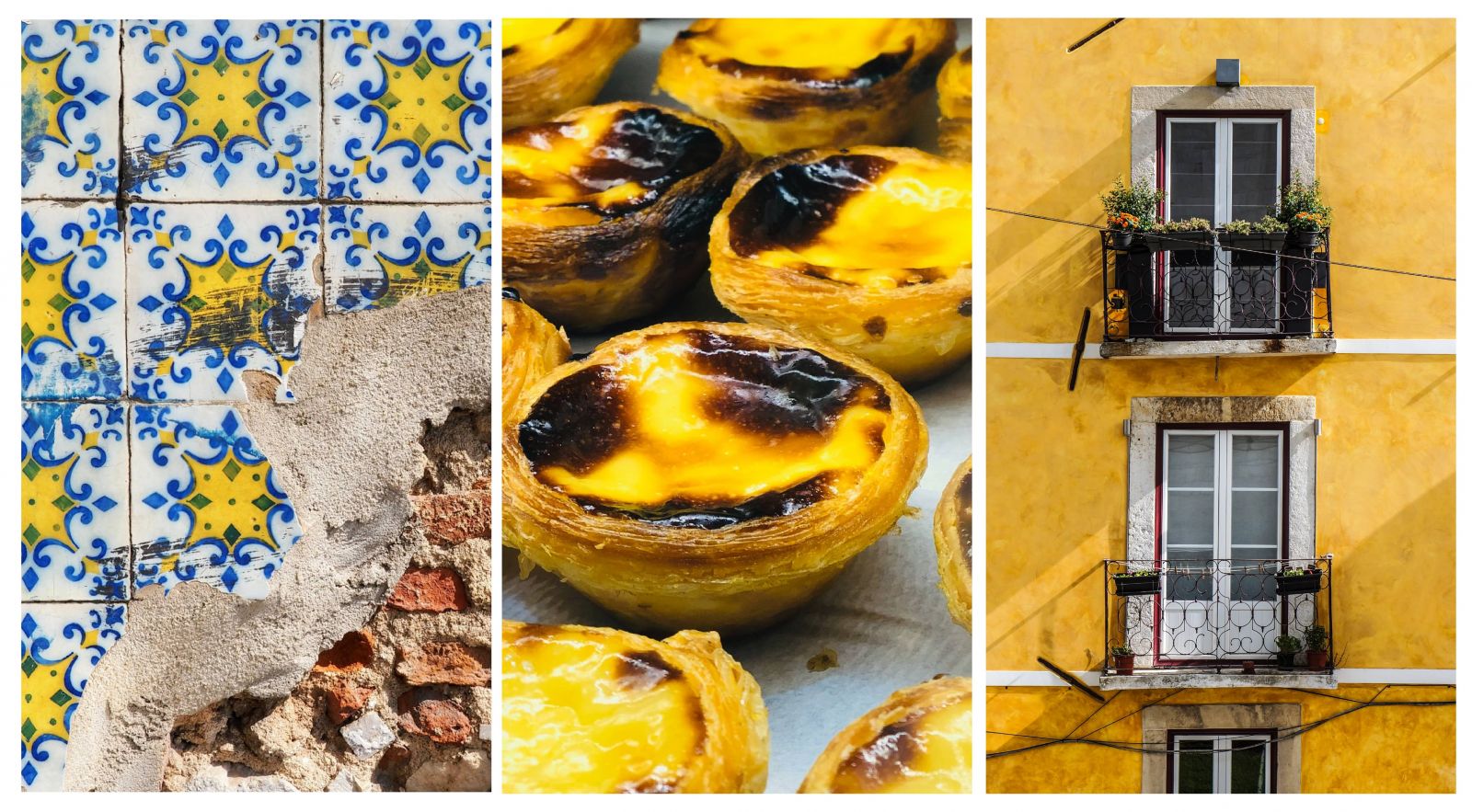 ---
1. Pastel de Nata
After all, we are famous for our Pastel de Nata, a buttery vanilla custard tart with flaky puff pastry that melts in your mouth!
You can find it in any street corner cafe; but we always say go to the source at Pastéis de Belém, having been baking these delicious tarts since 1837 at their factory, and pastry cafe situated in the heart of Belém. The secret recipe was originally regenerated by monks at the Monastery of Jerónimos, and recreated using traditional methods, which keep the sweet tooth of locals and tourists satisfied.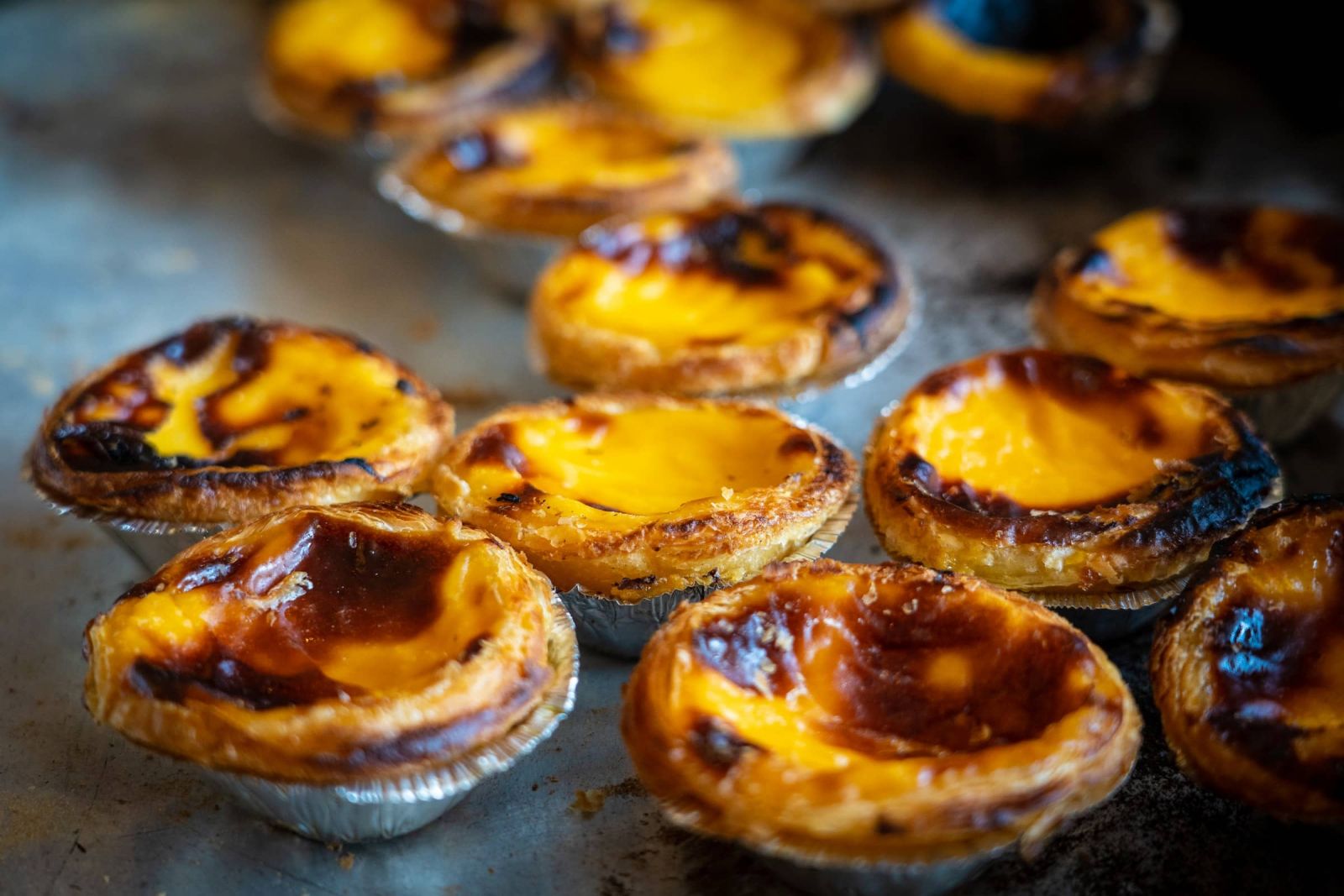 ---
Our dessert, cakes, and sweets obsession began in the 15th century during the Age of Discovery, which also connects to how each discovered land corresponds with our ingredient use. For example, by discovering Madeira Island in 1418 at Porto Santo, where the Duke of Viseu, Dom Henrique of Portugal (Henry the Navigator) urged the plantation of sugarcane crops, which became a great success, gave Portugal a taste of sugar.
Later, the discovery of Brazil in 1500 was a pivotal point in the further production of sugar, and economic gain for the Portuguese Empire - thus our fixation with sugar began, and ceased to end! The Portuguese also hold much love for other well-devoured desserts that are a staple at any loving grandmother's home, and local restaurant. We want to show you the must-try sweet sensations from Portugal; we promise that there will be a favorite for everyone.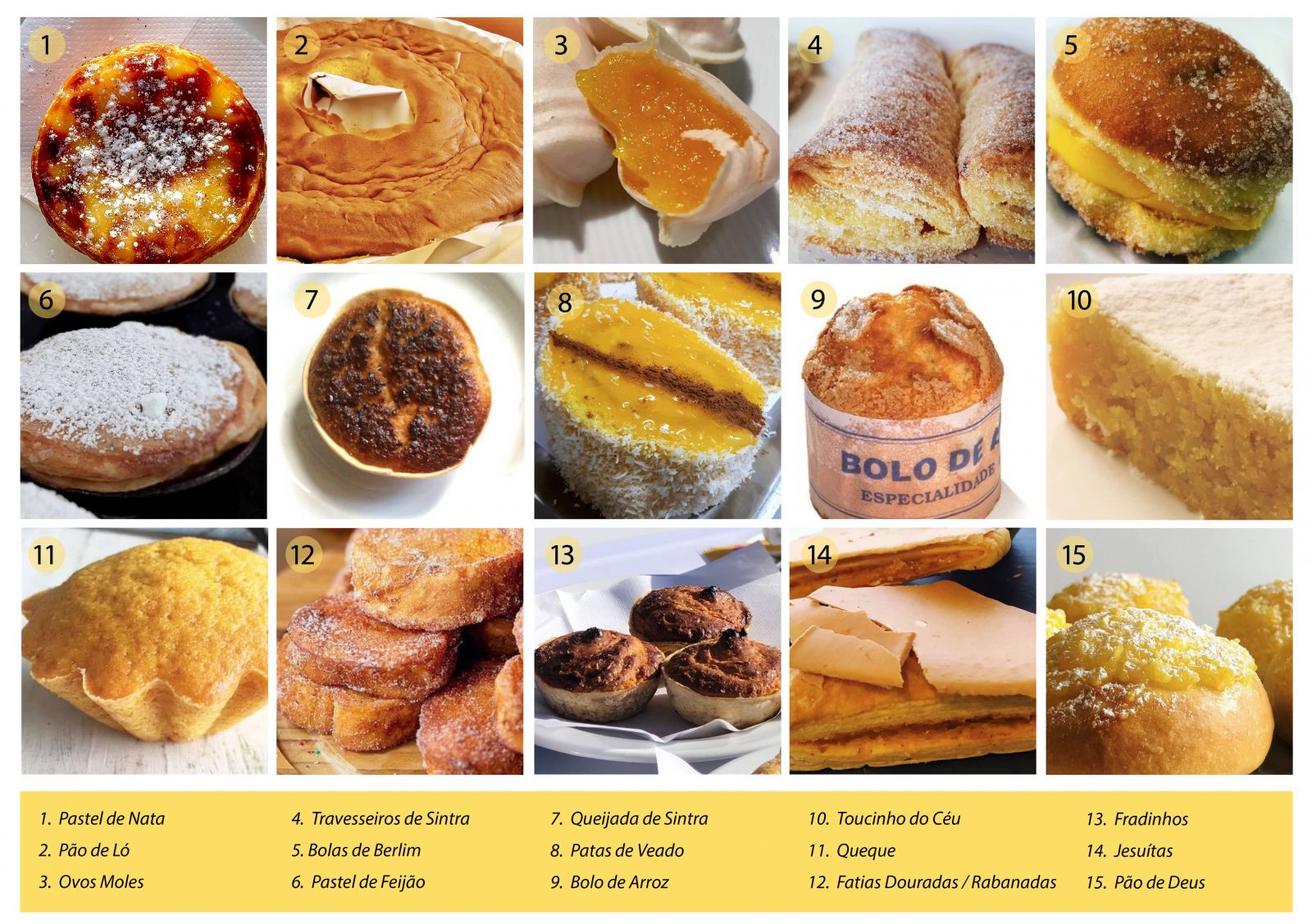 ---
2. Pão de Ló
The history behind the Pão de Ló or Pão de Castela dates back to the 1700s when a Genovian chef sent by Spain in a banquet presented the King of Spain with Pan di Spagna, which later was adapted by the neighbouring Portuguese. There are also links to the Age of Discovery when travels were made to Japan, that the recipe was evolved further and inspired by the famous Japanese cake Kasutera. There are various variations of this cake, we have the Pão de Ló de Ovar which is considered to be gooey and moist, since it has a total of 18 egg yolks, and six whole eggs made in an old fashioned clay pot. The traditional Pão de Ló is a sponge bread, made with eggs, flour and sugar; a principal dessert for Christmas and Easter celebrations, however, we think this tasty sponge cake goes particularly well with coffee or tea sessions!
---
3. Ovos Moles
As you can notice, the Portuguese absolutely love eggs, and Ovos Moles are a pure representation! These sweet treats originated around 1501, in the Convento de Jesus de Aveiro, a convent in the center region of Portugal, Aveiro. It is known by the Portuguese that egg whites were typically used for domestic purposes, such as ironing clothes - while the yolks were often discarded, and not sure on what to do with them - until the day it was decided to add sugar to the yolks! Nuns at the Convento de Jesus de Aveiro created this sweet egg dessert, which was served at daily mass as the bread of Christ. If you are ever in the vicinity of beautiful Aveiro, take some time to visit Confeitaria Peixinho, a pastry shop specializing in the classic Ovos Moles since 1856.
---
Read also:
---
4. Travesseiros de Sintra
The famous Travesseiros de Sintra, translation for travesseiros is pillows - which is literally what these flaky sweet pastries of egg cream and almonds look like! The history behind these dreamy "pillows" comes from a local bakery in Sintra, a charming town within the cool mountain range of the Serra de Sintra. The bakery under the name "Casa Piriquita" was originally given by King D. Carlos I, as he named the bakery after the wife's owner, being a woman of very small stature. The King encouraged the bakery owners to confection sweets, such as the other well-known Sintra specialty - Queijadas de Sintra, which became a huge success and widely popular. Later, the couple's then daughter found an old recipe book with the recipe for travesseiros, and this original recipe has been kept secret and loved by all who try these delicious Travesseiros de Sintra!
Ever been to Sintra? Meet the romantic side of Portugal.
---
5. Bola de Berlim
The famous Bola de Berlim, a delicious deep-fried, egg custard-filled donut - a staple must-have at every beach, where street vendors serve freshly made during the summer months. The real history behind the doughy delight came from the second world war as numerous Jews escaped for Germany and sought asylum in Portugal. The refugees began working in cafes, and bakeries, meanwhile introducing the Portuguese to Germanic pastries such as the Berlinesa or Berliner - thus the Portuguese name Bola de Berlim. Nowadays, you will find many more flavors of the Bola de Berlim from caramel, cinnamon apple, Belgian chocolate, chocolate, and praline, and with or without your traditional egg custard. We suggest you visit Bóllíssima de Berlim, each bola at EUR 1,20 - we are positive you will adore a good Bola de Berlim as much as we do!
---
6. Pastel de Feijão
The adored Pastel de Feijão, a hearty navy bean jam-filled pastry with a crispy tart dough, a recipe from the 19th century; originally introduced by a local at the village of Torres Vedras, near Lisbon. These treats became so popular that they were daily delivered to Lisbon by train, and made available at various pastry shops; one of them being, Confeiteria Nacional at Praça da Figueira in Lisbon, which is one of the oldest pastry shops, serving sugary delights for 192 years! The recipe was passed down through generations, where it became highly confectioned in its original almond, and bean flavor. It may seem crazy to make pastries with beans, but trust us - it is so tasty, you wouldn't even know it's beans!
---
7. Queijadas de Sintra
The history behind de Queijadas de Sintra dates back to the 19th century, originally the recipe was created in the village of Ranholas in Sintra, and this sweet treat was formerly known as a form of exchange for fees. There are transcripts written by famous Portuguese writer Eça de Queirós, describing a recommendation between a mother and son to go for a walk around Sintra, but not to forget the Queijadas as a payment for the month's rent. The traditional Queijada de Sintra is made of fresh cheese, sugar, eggs, flour and a dash of cinnamon, placed in a crunchy dough. There are many variations nowadays of this pastry, however, we always say stick to the original recipe that can be tasted at Casa Piriquita, the best pastry shop in Sintra for local delights such as the Travesseiros de Sintra, and Queijadas de Sintra.
---
8. Patas de Veado
The Portuguese dessert, Patas de Veado, is beautifully crafted to look like a deer's foot, thus the literal translation "Deer's Foot" - consist of a swiss roll filled with egg custard, sliced diagonally, coated with egg custard, coconut flakes, and a thin design of ground cinnamon to resemble a hoof. We suggest seeing this aesthetically pleasing dessert at Pastelaria Rainha de Aveiro, in the coastal lagoon city of Aveiro; locals and tourists alike review the Patas de Veado at this bakery and pastry shop as hands down the best!
---
9. Bolo de Arroz
If you have ever ventured to Portugal, we are positive that you have seen this little cake with a wrapper announcing itself as Bolo de Arroz - a muffin look-a-like of sorts, however, we are biased to say that it tastes much better than any muffin! The lovely Bolo de Arroz is traditionally made with rice flour, making the dough's texture light, fluffy, and soft, perfect for a tea and coffee break! The real origin of the Bolo de Arroz is unclear; there is only a recipe book from 1933, named the Ideal Kitchen by Chef Manuel Ferreira, who refers to the Bolo de Arroz as a simple delight, that is not overly greasy and is completely different from a traditional queue.
---
10. Toucinho do Céu
A staple Portuguese dessert in which the recipe was originally crafted by nuns in a convent, it is said the nuns used pork fat instead of butter to make this dessert. However, the buttery delight of Toucinho do Céu which translated means a "Bacon of Heaven" is always served with the main ingredients like sugar, flour, egg yolks, almond flour, and almonds. We advise you to try this delightful almond cake at Pastelaria Alcoa in Alcobaça, specializing in Portuguese confectionery since 1957, the bakery & pastry shop offers a wide range of traditional Portuguese cakes which are perfect for a coffee break.
---
11. Queque
The little Queque, a rather simple muffin of sorts that is adored for its buttery taste! The Queque is seen in almost every street cafe, a variation of the recipe can be found with walnuts. It is very similar to the Pão de ló, but more compact and made with butter, eggs, and sugar. You can experience the best Queques at a little cafe located in Parede, Cascais at Arca Doce, the Casa dos Queques, where its staple desserts are only queques! Enjoy this buttery delight with a cup of tea or coffee, we are positive you will love it!
---
12. Fatia Dourada or Rabanada
Now, we introduce you to Fatia Dourada or Rabanada - the Portuguese version of french toast! The Fatia Dourada, literally translated as the "Golden Slice" or Rabanada, unlike the American-style French Toast, the Portuguese Rabanada are crispier, as they are made of crusty bread, soaked in eggs, milk, and cinnamon, fried and dusted with sugar and cinnamon. Another version of Rabanadas in Northern Portugal, Minho, is made with wine, either red wine, wine, or green, equally delicious. The history behind the Fatia Dourada dates back to the 11th century when the recipe was originally made with leftover stale bread, eggs, and honey. This little dessert was eaten during Easter as the Portuguese avoided consuming meat, and in turn, delighted themselves with the "Golden Slice". Nowadays, it has become a traditional staple at every Christmas dinner table for dessert or Christmas morning breakfast!
---
13. Fradinho
The Fradinho is less commonly known by tourists, but nonetheless a historic conventional sweet typical of Portugal. The origin of this little pastry is all thanks to a local bakery shop in Mafra, by the same name as the sweet itself - O Fradinho! The Fradinho is made of beans, sweet egg cream, and almonds; much like the Pastel de Feijão; the sweet-tart is filled with sweet bean jam, and it is absolutely fantastic with a good cup of espresso, or a bica, as the Portuguese say!
---
14. Jesuitas
The Jesuíta pastry is a delicious pastry made of filo dough and sugar and traditionally made by real Jesuits from Santo Tirso near Porto. The history behind the sweet treat is closely linked to the Christian faith, as the name Jesuítas is derived from Jesus. Locals say that the recipe of the sweet was brought to Portugal from Spain by a Spanish pastry chef who was working in a Jesuit Community in Bilbao, and ever since the pastry became a staple must-have sweet for the Portuguese! Try this delight at Evian Bakery in Lisbon, they offer the original recipe and other versions of the same.
---
15. Pão de Deus
Pão de Deus is a pastry that has a connection with a holiday in Portugal, called the Dia de Todos Os Santos (Day of All Saints) held on November 1, where it was traditional for children to beg for this sweet as "Pão de Deus", meaning " the Bread of God". The tradition was that on Dia de Todos Os Santos (All Saints Day), all the noblemen would set a table with food and drink for the poor. Nowadays, this tradition is not in practice but the sweet cake of soft brioche with sweet coconut crust remains to be adored, and surprisingly a staple for breakfast; as the Pão de Deus is usually eaten in the morning, and served with ham and cheese. We suggest trying this simple treat at the Padaria Portuguesa, a locals' favorite cafe chain of baked goods.
---
We can agree that Portugal has an endless array of sweets to try, there many more that haven't even been mentioned - we say come visit Portugal and experience for yourself! Visit the best confectionery shops, and absolutely indulge in the sugary sensations of Portugal.
---
Source: Will Fly For Food
---
Read More:
Lisbon and Porto are considered the best cities to live in
Californians Dreaming and Living in Portugal
Spain and Portugal revealed as the healthiest places to live in 2021
---