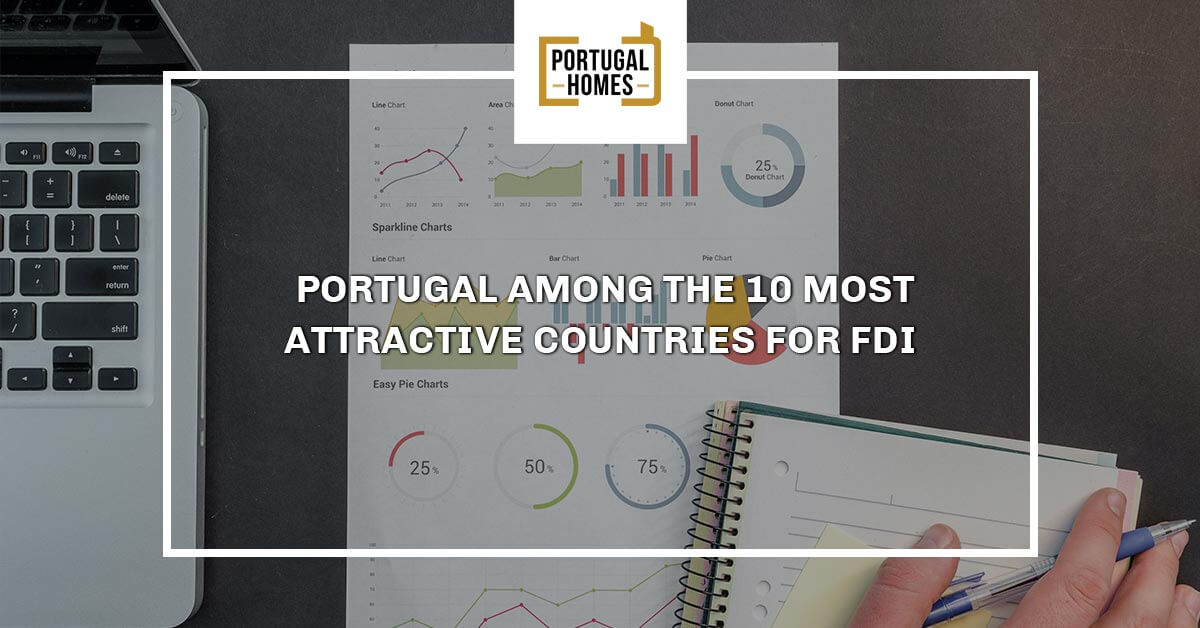 In a year marked by the pandemic, Portugal joined the 10 most attractive countries for foreign direct investment (FDI), according to the EY Attractiveness Survey 2021.
The study assesses annually foreign investors' perception of the country's attractiveness for investment and, this year, Portugal conquered the 10th place of the ranking hence being on the top 10 most attractive countries.
Last year, the world economy endured a challenging hit brought by the Coronavirus outbreak, and Portugal was no exception. Nevertheless, it was still a historical year regarding investment transactions. With 154 enrolled projects, Portugal entered the ranking of 10 of the best investment destinations in Europe, showcasing the country's resilience when contrasting with other European nations.
The uncertainties brought about by the COVID-19 pandemic in 2020 caused a fall in the attractiveness of FDI in European countries. Investment levels fell by 13% in Europe, compared to the previous year. In Portugal, 154 Foreign Direct Investment projects were announced, representing a decrease of only 3% compared to the 158 counts of the last year.
Portugal is retaining high investment numbers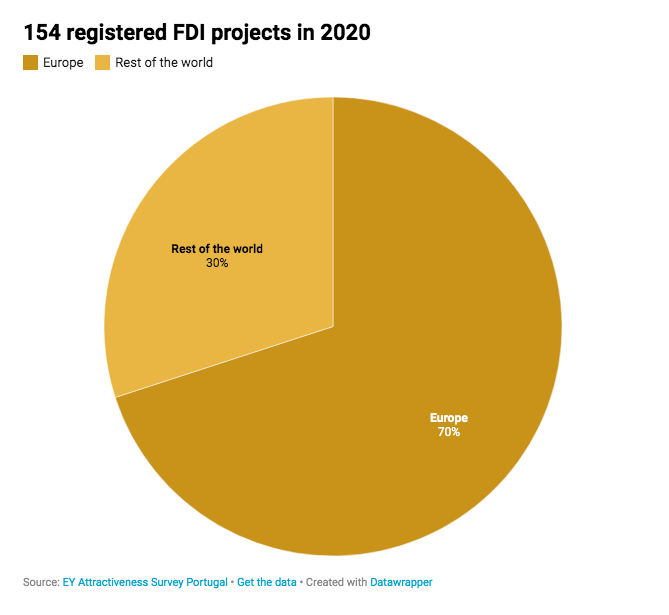 The country has been consolidating its position as the investment destination in Europe. This year, the large majority of foreign direct investment projects were new projects instead of expansions (73% vs 27%).
Evolution in the number of Foreign Direct Investment projects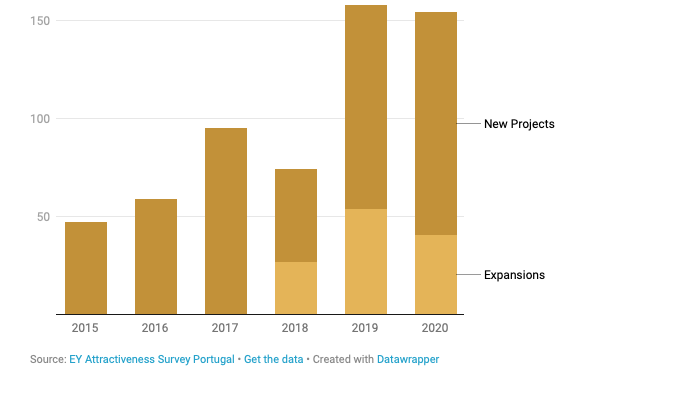 This year's projects resulted in the creation of more than 8,947 jobs, of which 57% resulted from new projects. These are very positive results given the pandemic context we are living in, with a global impact on the world's economy.
---
Read also:
---
Despite the slight downturn of 3% in foreign direct investments, 37% of respondents to the EY Attractiveness Survey, plan to create or expand operations in the country in the next 12 months.
A high level of foreign direct investments is here to stay. The results show that investors remain optimistic, as:
37% of investors are planning to establish or expand operations here over the next year
50% of investors consider that Portugal's attractiveness will improve in the next three years
---
Read also:
Foreign Direct Investment (FDI) trends
This year's results also revealed that Real Estate and Construction have strengthened their position as one of Portugal's growth drivers. With 39% positive answers, these sectors were considered the second-largest growth driver, right after "Digital Economy" - Software & IT Services. These industries were revealed to be resilient during the past crisis, having been one of the least impacted last year.
---
Read also:
---
For the upcoming years, both residential and commercial trends are positive, and a new trend is likely to shape this sector. As employees are expected to work from home, real estate investment in residential areas is expected to increase in areas surrounding large cities. Regarding property costs, Portuguese residential prices are more competitive when compared to other European countries.
Looking at Portugal's main attractiveness factors, the study highlighted the country's privileged weather, as well as the fact that it is a safe and social place to live. It also mentioned Portugal's high coverage of infrastructures (transport, telecoms, energy) and its available and high-skilled workforce. Nonetheless, the country should keep investing in innovation, transparency and high-qualified professionals, which will be the engines for long term growth.
---
Read also:
---
Portugal has currently one of Europe's most popular immigration schemes - the Portuguese Golden Visa - granting investors the right to live, work, and study in the country and visa-free travel within the Schengen Zone. If you are considering taking advantage of this programme, now is the right time to do it, as changes are being set into motion in January 2022, which means investors will no longer be able to purchase residential properties in high-density areas such as Lisbon and Porto. You can learn more about the Golden Visa changes here.
---
Read also:
Source: EY Attractiveness Survey Portugal 2021