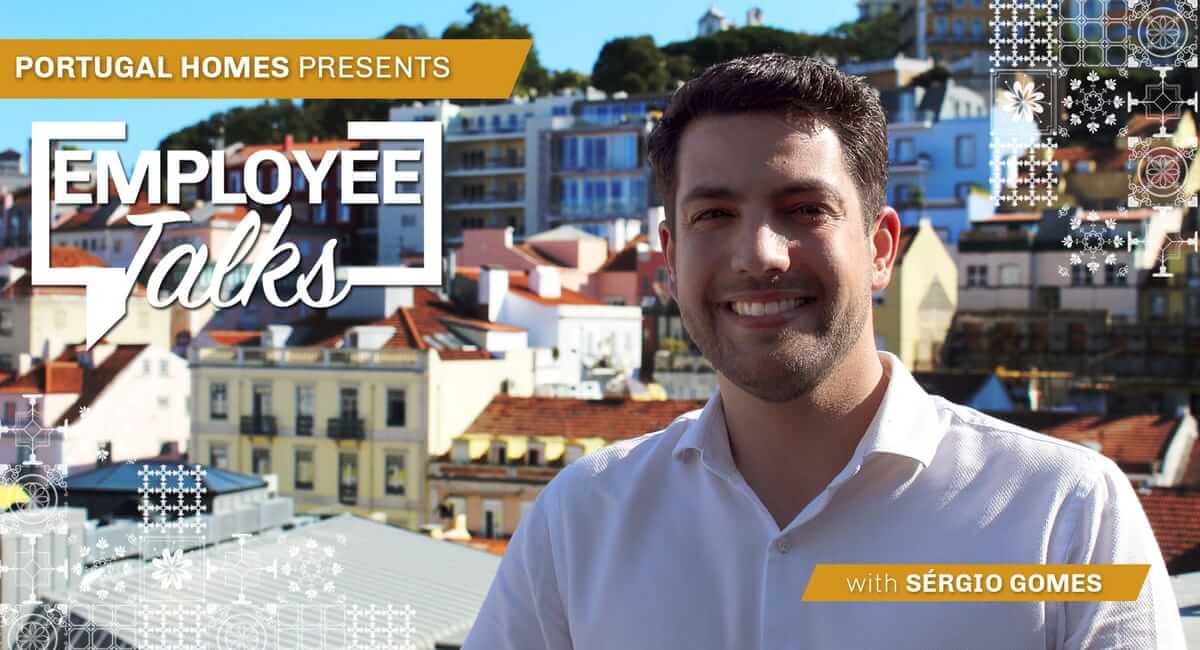 Sérgio ensures all our clients have what they need to complete their investments. He is a vital member of the After Sales team as his job consists of inspecting clients' properties and developments, reporting all the flaws and snags to the client before the completion of the sale.
He has a background in Computer Science and Engineering and transitioned to the real estate world after working in sales and client retention for renowned companies. His knowledge in outbound sales allied with his skills in customer support, make him a valuable asset to the After Sales Department.
How is a regular workday for you at Portugal Homes?
My regular workday is quite motivating and energetic. When I'm not in the office taking care of our inspection reports, you can find me anywhere in the city of Lisbon, inspecting and following the new constructions sites, developments of our clients which is more enthusiastic every day as this job is different every day.
How does your work in the field strengthen our client's investments?
The work I do on-field ensures that the client who is overseas can rest with the management that I do for his or her property. It's a hassle-free feeling for them knowing that I'm their eyes on the field, informing them whenever something comes up. These relationships are greater when the clients are happy with the management we're doing on their property.
What are the challenges of creating a Property Snagging report and what are the advantages for the client?
As a property manager, my challenges begin when I need to conciliate my work on-field and in the office. This demands organization and scheduling my day and date for each inspection report. Being organized like this ensures the client appreciates the final result of the reports as they expect our attention to every detail to maximize the full potential of their property.
Are our clients open to the suggestions you indicate on the report? If so, how do you address those solutions?
Since the beginning of my journey in the After Sales Department, I've been acquiring a lot of experience and knowledge from constructors, handymen and master builders. I recall that I used to be very annoying with my questions at the beginning so I could know more and deliver the property and the correct information to our clients. My suggestions on the reports come from research and most of them are almost the same issues that we see in the properties that need maintenance. For these situations, I can recommend the best and most viable solutions with examples that I encountered previously before the client takes any actions to any major or expensive solutions.
What have you learned most from looking after our clients' investments?
I literally learnt everything from the beginning. When a new development is under a full renovation, I've learnt how to be proactive, to analyse situations and which steps I need to take to reach the excellence of my work. Working in the building sector also teaches me about the property sales processes, and how they interconnect with my work, as well as how to adapt to new challenging adversities and reinvent my own efforts and insights into every repairing process, which combined give me great tools to what I need to do to look after our clients' investments.
What is the most meaningful part of your job?
Working with exceptional team members at Portugal Homes, and brainstorming with any of my colleagues can really improve my work. Getting out of my comfort zone, seeing perspectives from one another and learning from the best can really make my day. I believe that at the end of the day if the job is done and the client is happy with any action from us and feels safe regarding his investment, it becomes the most meaningful part of my job.
Facts and curiosities about Sérgio
He has a great sense of humour and makes working in the office pleasant

He is very attentive, detail-oriented

He loves cats

He's a true foodie

He is a big fan of the NBA, F1 and football

He has a masterclass course in Gin Tonic ;)
---
About Employee Talks
Employee Talks is a part of Portugal Homes - Harland & Poston Group's marketing strategy. Our employees and their backgrounds are the company's greatest asset, hence our belief in sharing the employees' thoughts on working at this company shows our ability to differentiate, cultivate and promote our identity to not only candidates interested in working here, but also clients who are purchasing with us. We want our viewers to understand why we stand out from the crowd and think it's a great opportunity for you to get to know us better.