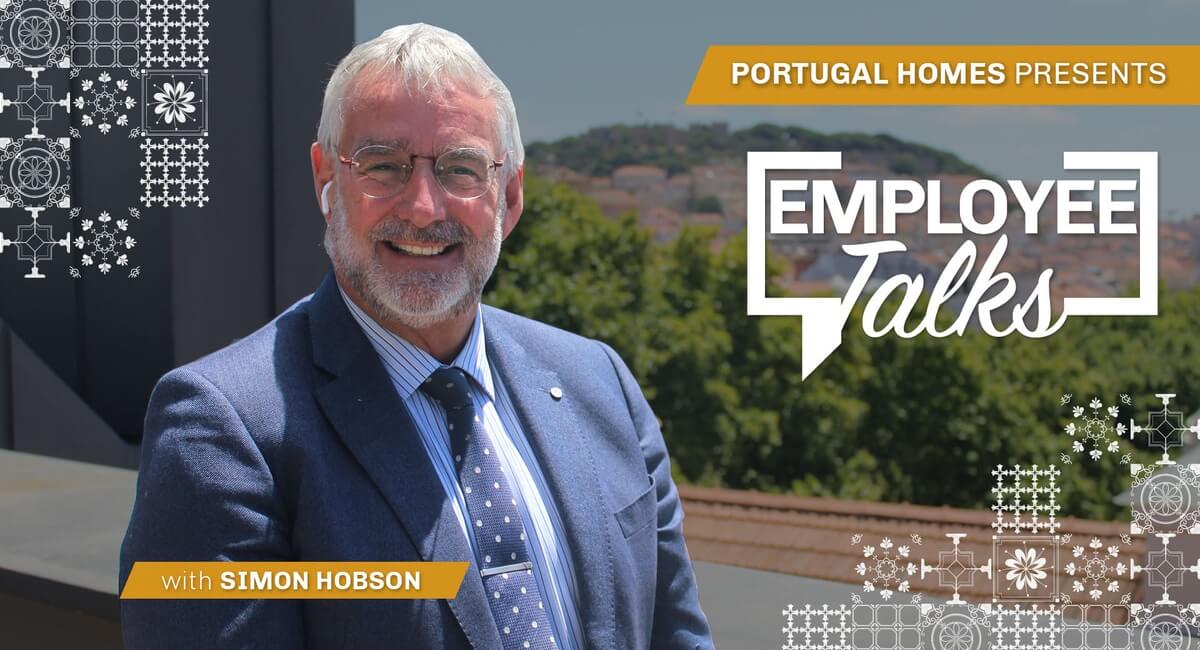 Having worked in the Portuguese market for the last 17 years, Simon has become a key figure in Real Estate and Investments across the country. Starting his career in the Algarve and then moving to Lisbon, his wealth of experience across 2 of the major markets make him a valuable member of our team and a great figurehead for the company.
Having started his professional career as an Officer in the British Army, Simon went on to become a serial entrepreneur with many successful businesses in his portfolio. The experience he also passes on to other members of staff has helped us grow not only as a brand but as better professionals.
His charming personality makes everyone feel at ease and his hard work and determination to provide the best opportunities for our clients make him a valuable asset to our company. As he says in his interview, "it is extremely important to bond with clients and take into account their backgrounds and circumstances", which is what allows him to provide much more detailed and tailored advice when investing.

What are the toughest challenges you've had working at Portugal Homes?
Personally, I've not had too many challenges. I've been a Senior Broker in Portugal for the last 17 years so I find it quite easy. In fact, the size of this team within the different departments has made my life much easier than any other company I've worked for. that's all down to the team and not me, it's the fact that we as a company are well prepared with many departments to guide the client. One of the biggest worries the clients have when buying in a foreign country is who's going to look after their property for the foreseeable future. We have an entire After Sales division within the company who are on hand to keep an eye on the property and all the extras that come with it. It's a fantastic service to have and helps our clients immensely moving forward. We also have a Marketing Team in-house that gives our clients much more information than I have seen from rival companies in the past; in other words, it's saving me time and effort and basically giving the client a much better experience.
What is the most meaningful part of your job?
The most meaningful part for me is certainly on the Golden Visa side. It is knowing that I'm not only helping a client get a great investment but I'm giving them an opportunity to become an EU citizen. Most clients in the Golden Visa program are looking for an insurance policy against things that may happen in their country in the future, they have business there and don't intend to leave in the near future, they mainly want to give an opportunity to their children to get an education within Europe and allow them to maybe forge a future in Europe where there are more opportunities, And for me, the fact that they're going to get that, and giving somebody that opportunity is really rewarding. The fact that it doesn't cost anything is a very loose statement, but Generally speaking, they can invest in Lisbon, Porto or the Algarve and come out on top of it at the end of their 6 years financially, to get this along with all the other benefits of being an EU member passport holder is fantastic, and I think that's one of the biggest joys of my job. It's also great to find someone their new home, for the clients that want to move here and start a new life there is a lot of joy seeing somebody find their dream home. It doesn't happen that often but I get a lot of pleasure in doing that.
What do you foresee being the next major milestones for Portugal Homes?
The milestones for the company over the next 12 months is to open our Hong Kong office. The company is already set up there and we are ready to go, however, the restrictions due to Covid-19 have prevented us from getting there and finalising, we have just set up in Dubai and our new offices will be open soon which is another great milestone for the company and great for me personally as I will be able to travel there much more and meet with our clients.
Do you think the varied cultures and backgrounds we have at Portugal Homes add value to your professional experience?
Yes, I've had so many conversations with the team about this. We have such a diverse culture here, I think it sums Portugal up because Portugal has a diverse culture. They accept people virtually from any nation and that's mirrored throughout the company, not only culturally but from various backgrounds and businesses. No matter where you're from, what religion you follow or the personal lifestyle you have, Portugal Homes has open arms to anyone that has drive and ambition. The atmosphere within the company reflects this and it's a company full of energy with young and vibrant people driving it forward.
Can you always find a tailored request for the client and advise them accordingly?
That's a really good question, and the answer is yes, we can find what they're looking for. We have a really strong team who can go out and look exactly for what the client is aiming for. That's generally based on lifestyle requirements. People are looking for a new home or a holiday home, and have got specific needs. A lot of our clients probably don't know what they're looking for because Lisbon doesn't equate to Berlin, London or Paris, it's very very different. They arrive here having never been to Portugal and they'll find this stunning city a very relaxed and enjoyable place. Their requirements with regards to their own objectives probably aren't home-based, they're investment-based, and that's where I think our expertise and age of the business has paid off, purely because we're able to guide them in the right direction so they can invest here not only for the next 6 years but keep investing for the foreseeable future.
Do you try to create a bond with the client so the client feels more comfortable? Do you consider their background?
Yes, that's really important. Different backgrounds have different requirements, and really understanding where they're coming from is important, if it's a fiscal background, if it's life-savings they're spending or just an investment… all these things are really important and you have to take that seriously. I think getting to know the client is important, especially understanding how much the money that they are spending means to them. All our staff are very alert that a lot of people are spending their life savings and committing to a new life in Europe, so we take great care in ensuring we not only understand their requirements but we are sensitive to how big of a decision this is for them.
During the pandemic, what techniques did you use to build trust with your clients over the phone?
I'm a huge believer in face-to-face meetings. I don't like to speak to a client unless they're prepared to do a video call with me and I can see their face. By doing this we then get the opportunity to read each other and fully understand how we can work together. It's been very difficult through the pandemic because when the client comes to Portugal Homes at Avenida da Liberdade, we normally spend at least one or two hours having coffee considering properties and getting to know each other. We spend time going through the demographics of the country, the background on areas and the reasons why the investment is so good. To do that on the telephone is impossible which is why video calls have been great, you have to do it face-to-face to understand and receive their questions correctly. The pandemic for somebody my age has been an eye-opener. If you told me two years ago that I'd be spending the next 18 months doing business over a video link, I just wouldn't believe you. It's been surprisingly good, and you can build a rapport very easily with the clients, as many companies have, I'm sure, found throughout this pandemic.
How does the Marketing Team help you do a better job?
Good question. It's easy to say we don't notice but of course, we do because the client arrives with a lot more knowledge than you actually expect and we are pleasantly surprised when we meet people face-to-face. They know a lot more about the environment,
the Golden Visa, the city, the culture and that comes from online marketing. I think that's really important because not only does it save us a lot of time and effort, but it gives the client a really good understanding of the culture here which is different to many other cultures and many other cities, and I think the online marketing helps not only me but our client's enormously.
Watch Simon's full interview below
Curiosities and facts about Simon:
His son, George Hobson, is also a part of the company. You can meet him here.
He's one of the most renowned real estate brokers in Portugal.
He needs to believe in what he's doing in order to do his job correctly.
He's an excellent character judge.
He genuinely cares about everyone around him.
He's the best at procrastinating when it comes to doing something technology-related for the Digital Marketing Team (but we love it!).
Simon's first thing to say when he enters the office is a loud and friendly "Bom dia!" even though he's English.
---
About Employee Talks
Employee Talks is a part of Portugal Homes - Harland & Poston Group's digital marketing strategy. Our employees and their backgrounds are the company's greatest asset, hence our belief in sharing the employees' thoughts on working at this company shows our ability to differentiate, cultivate and promote our identity to not only candidates interested in working here, but also clients who are purchasing with us. We want our viewers to understand why we stand out from the crowd and think it's a great opportunity for you to get to know us better.