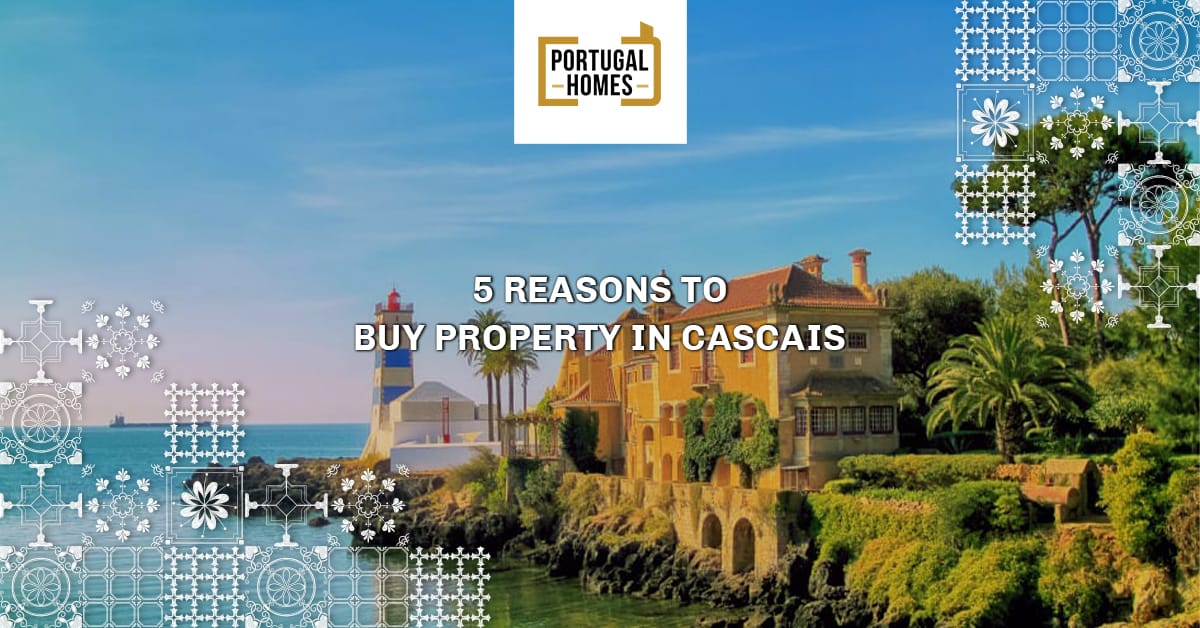 Cascais is a picturesque fishing town, home to beautiful calm streets, lovely avenues, and amazing beaches. With so much to see in this town and great investment opportunities, Cascais is the perfect place to go to get away from the big city and buy a property. Here are 5 reasons why buying property in Cascais is a great decision!
You can retire here for under €30.000
If you've been to Portugal before, you would know that this country is filled with beautiful historic cities, world-renowned cuisine, breathtaking natural landscapes, some of Europe's most spectacular beaches and incredibly cheap too! The average cost of living in Lisbon is 47% lower than New York and 55% cheaper than London and Cascais is even cheaper! You can even retire here for under €30.000!
Learn more about retiring in Portugal for under €30.000 here.
It's an archaeological wonder!
In 2018, an archaeological phenomenon was discovered right under the Cascais shores! Ruins of a shipwreck were found at the bottom of the sea which is said to have sunk between 1575 - 1625. Contents found on the shipwreck were Chinese ceramics, spices and currency used during the slave trade! So not only is this town a great place to settle for your future but it's also a historical hub! Read more about this here.
Cascais is home to some of the hottest beaches in Portugal
Cascais is the go-to area for beaches in Lisbon. With amazing warm sand and beautiful blue waters, these beaches are the perfect place to come to relax. Some of the best beaches include;
Duquesa Beach
Praia do Tamariz
Praia da Rainha
Praia da Azarujinha
Praia de São Pedro do Estoril
All of these following beaches are within walking distance of central Cascais and are where the majority of tourists spend most of their beach time. These beaches are some of Portugal's most popular beaches, especially in the summer months and when you go to them you'll understand why. From these beaches not only do you get front row seats of the amazing waves, but you'll also get the chance to eat at some of the best restaurants in the area right on the seafront. Why not also try Bacalhau, Portugal's national dish!
It has some of the best schools in Portugal
Education is so important and we understand that when looking to relocate, you want to ensure you are going to the best districts with the best schools for any children you have. Well, we are pleased to tell you the Cascais has some of the best schools in the whole country! Read more about the best schools in Portugal here.
It's a great place for golfers!
This town is filled with amazing sporting opportunities and golf is no exception. The Portuguese golf industry has an undeniable importance in the European Market and Cascais was set to host the European Gold Business Conference this year. If you are interested in golf then this is the place to be!
If you want to live in Cascais, Portugal
Life in Cascais is very pleasant as Lisbon riviera offers, on average 290 days of sunshine every year and unlike many destinations, Lisbon appeals to a diverse age range. In Cascais, there are a host of 5-star hotels, upscale restaurants, ten golf courses, tennis courts, water sports, horse riding clubs, health clubs, and international schools. With its marina and the pleasant seawall for walks to Estoril.
Estoril and Cascais have been well-established hot-spots for family relocation for many years. Not only does it lean on the beautiful coastline of the Portuguese Riviera, but Estoril and the surrounding areas are also historically cultural, wealthy, and noble parts of the country.
If you are looking for places to relax on beautiful white sandy beaches whilst also not being too far away from a big city then Cascais is the place for you!