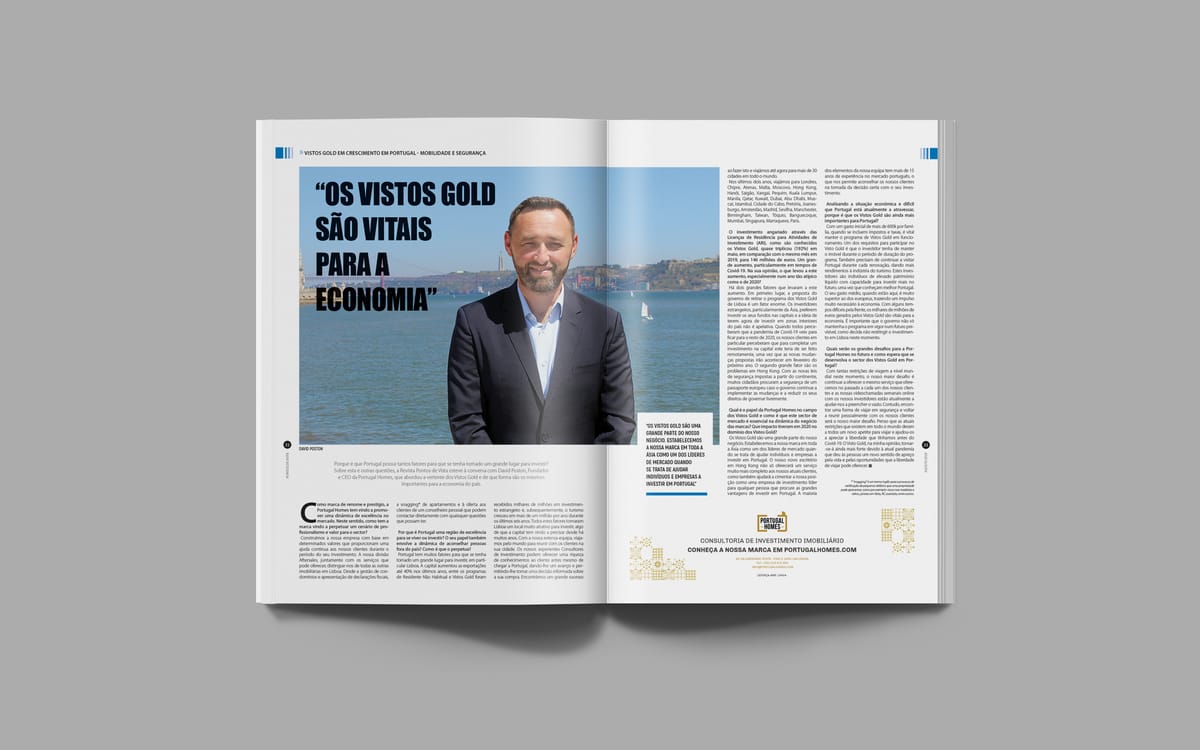 Why does Portugal have so many factors to make it a great place to invest? On this and other issues, Pontos de Vista Magazine talked to David Poston, Founder and CEO of Portugal Homes, who addressed the issue of Golden Visas and how they are important for the country's economy.
As a renowned and prestigious brand, Portugal Homes has been promoting a dynamic of excellence in the market. In this sense, how has the brand been perpetuating a scenario of professionalism and value to the sector? 
We have built our company based on certain values that continues to help our clients for the duration of their investment, our After Sales division along with the services they can offer sets us apart from every other Real Estate in Lisbon, from running condominiums and submitting tax returns to snagging apartments and offering clients a personal advisor they can contact directly with any enquiries they may have.
Why is Portugal a region of excellence to live or invest in? Does your role also involve the dynamics of advising people outside the country? How do you perpetuate it? 
Portugal has many factors to why it has become a great place to invest, in particular Lisbon, the Capital city has increased exports by up to 40% in recent years, between the NHR and GV programmes they have received billions in foreign investment and subsequently increased tourism by more than 1 Million per year for the last 6 years, all of these factors have finally made Lisbon a very attractive place to invest, something the Capital has been needing for many years. With our extensive team we travel the world to meet clients in their towns and cities, our trained Investment Advisors can offer a wealth of knowledge to a client before they even arrive in Portugal, giving them a head start and allowing them to make an informed decision on their purchase, we have found great success in doing this and travelled to more than 30 cities across the world so far. 
Where we have been to meet clients in the past 2 years, London, Cyprus, Athens, Malta, Moscow, Hong Kong, Hanoi, Saigon, Shanghai, Beijing, Kuala Lumpur, Manila, Qatar, Kuwait, Dubai, Abu Dhabi, Muscat, Istanbul, Cape Town, Pretoria, Johannesburg, Amsterdam, Madrid, Sevilla, Manchester, Birmingham, Taiwan, Tokyo, Bangkok, Mumbai, Singapore, Marrakech and Paris.
The investment raised through Residence Permits for Investment Activities (ARI), as golden visas are known, almost tripled (192%) in May, compared to the same month in 2019, to 146 million euros. A large increase, particularly in times of Covid-19. In your opinion, what led to this increase, especially in such an atypical year as 2020?
There are 2 big factors that have led to the increase, firstly the government's proposal to remove the Golden Visa program from Lisbon is a huge factor, foreign investors particularly from Asia prefer to invest their funds in to capital cities and the thought of having to now invest in interior parts of the country is not appealing, once everyone realized the Covid 19 pandemic was here to stay for the remaining of 2020, our clients in particular realized that to complete an investment in the capital would have to be done remotely as the new proposed changes will happen in February next year, the 2nd big factor are the troubles in Hong Kong, with new security laws forced upon them from the mainland a lot of citizens are looking for the security of a European passport should the government continue to implement the changes and reduce their rights to govern freely.
What is the role of Portugal Homes in the field of golden visas and how is this market sector essential in the dynamics of the brands business? What impact have they had in 2020 in the field of golden visas?
The Golden Visa is a big part of our business, we have established our brand across Asia as one of the market leaders when it comes to helping individuals and companies invest in Portugal, Our new Hong Kong office will not only offer a much more complete service to our existing clients, it will help cement our position as a leading investment firm for anyone looking at the great advantages of investing in Portugal. The majority of our staff have more than 15 years experience in the Portuguese market which enables us to advise our clients on making the right decision with their investment.
Analysing the economic and difficult situation that Portugal is currently going through, why are golden visas even more important for Portugal?
With an initial spend of over 600k per family when you include taxes and fees it is vital to keep the Golden Visa program running, one of the requirements of taking part in the GV is the investor needs to keep the property for the duration they are in the program, they also need to continue to visit Portugal during every renewal giving more income to the tourism industry. These investors are High net worth individuals with the capacity to invest further in the future once they get to know Portugal, their average spend when here is much higher than that of Europeans bringing a much-needed boost to the economy, with some difficult times ahead the Billions of euros the Golden Visa generates is vital for the economy, It's important that the government not only keep it in place for the foreseeable future but they decide not to restrict investment into Lisbon at this moment.
What will be the great challenges for Portugal Homes in the future and how do you expect the golden visa sector in Portugal to develop?
With so many worldwide travel restrictions at the moment, our biggest challenge is to keep offering the service we have in the past to each of our clients, our weekly online video calls with our investors is currently helping us to fill the void, however finding a way to travel safely and get back to meeting our clients in person will be our biggest challenge moving forward, I think with the current restrictions that are in place worldwide it has given everyone a new appetite to travel and helped them to appreciate the freedom we had prior to COVID 19, the Golden Visa, in my opinion, will become even stronger due to the current pandemic and has given people a new sense of appreciation towards life, and the opportunities freedom of travel can offer.