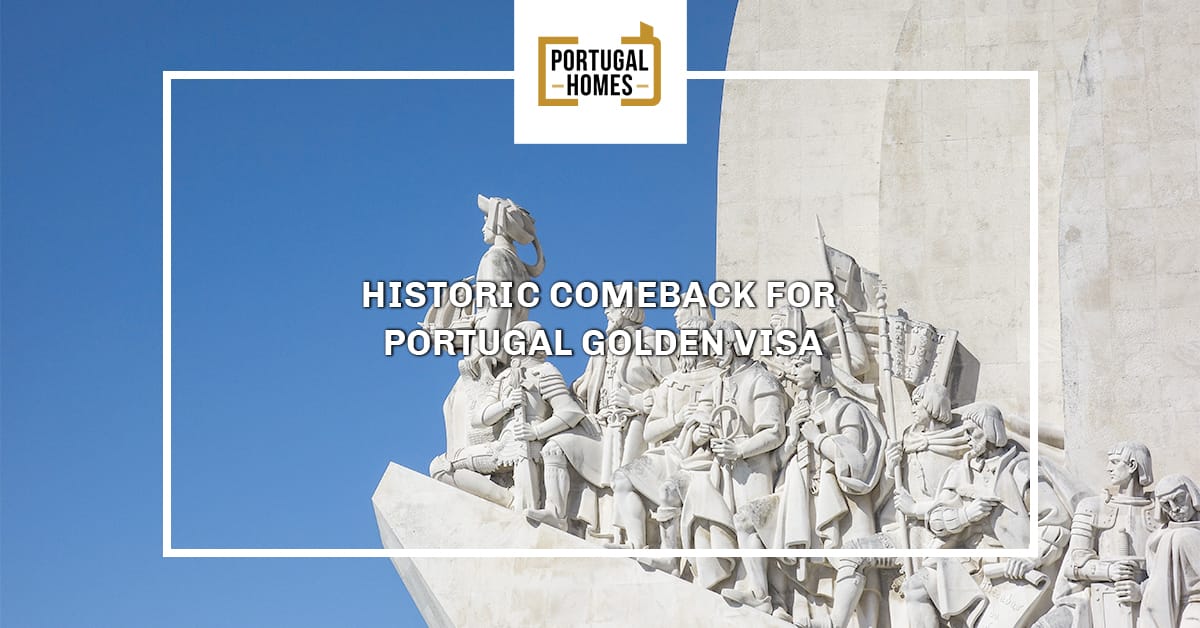 Portugal's Golden Visa Program, which was supposed to be suspended for property investments in the greater Lisbon and Porto regions from 2021, is to stay unaffected for the time being as a consequence of the coronavirus pandemic.
In fact, the first third of 2020 has been heavily compensated by May alone as Portugal Golden Visa investments exceeded, blustering over €146 million (an increase of 192% compared to May 2019 that recorded €50 million). Numbers released by SEF for May 2020 show that in a single month, 270 applicants invested €146.2 million, bringing Portugal back on track for a statistically normal year, despite the pandemic.
The current worldwide pandemic will have prompted many people to re-evaluate their personal circumstances and lifestyle. Health problems may have led them to consider their own private healthcare, or life insurance cover, as well as better protection for their property and assets. Besides this, factors like immediate profit, rental income, or housing appreciation, and several economical reasons also motivated worldwide investors to purchase real estate overseas.
Lisbon is amongst the only four cities that will experience growth over the price level in the segment of luxury real estate, still in 2020, thanks to the way the country is handling the crisis combined with strengthening demand and limited prime supply. Monaco, Vienna and Shanghai are on the list, too, because of historic supply shortages and/or because transactions were able to continue in these countries during the lockdown.
Hong Kongers, in particular, are prepared to come to Portugal, and to sell their properties in Hong Kong quickly due to the fear of Beijing's new law that restricts "any act of treason, separation, rebellion, subversion against the Central People's Government, theft of state secrets, the organization of activities in Hong Kong by foreign political organizations and the establishment of links with foreign political organizations".
Having said that, of the total Portugal Golden Visa applicants in May 2020, 45% came from China, 20% from Brazil, 12% from the United States (the highest-ever number to date), 12% from India and 11% from Turkey.
As per the investment sector, of the total 270 granted visas, 257 were through the acquisition of real estate (€110.6 million), 73 for urban rehabilitation (€26.2 million), and 13 through capital transfer (€9.2 million).
The habitual €500.000 property investment option remains the investor's top preference, however, this year, 31% of the investors have chosen alternative investments such as Portugal Golden Visa for €350k, and venture capital, two subgroups that have been seeing an avid rise.
It becomes important to mention that real estate prices in Portugal also continue to be competitive with those of other Western European countries, especially in the segments disputed by French pensioners, international funds and Portugal Golden Visa investors. Learn more about the requirements to apply for a Portuguese Golden Visa here.
At Portugal Homes, all the preventive measures have been duly adopted, and we are fully committed to ensuring our clients and potential clients the continuity and growth of the real estate sector. The fundamentals and advantages of the real estate activity remain unchanged, and we are fully available to provide you with the information you need so you have a smooth and easy application process.
As you can expect, even through difficult times, our teams continue to innovate. See what's new at Portugal Homes here and how it can benefit your future investments!
Follow us on Social Media for continuous updates on the Real Estate Market in Portugal, Golden Visa Portugal, Non-Habitual Resident and so much more!