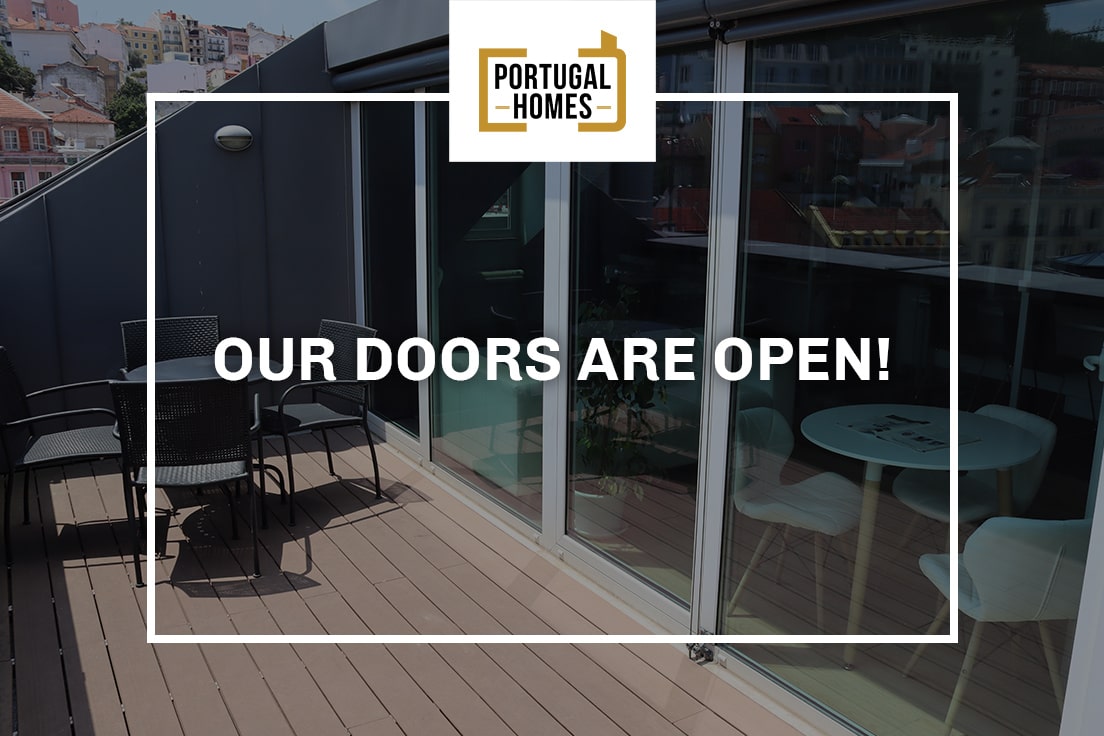 Portugal Homes has finally opened its doors to you!
Despite the pandemic, we weren't far... the world stopped for a moment, but our teams stayed close through video calls, telephone, email, website chat, and social media. We shortened the distance so that you wouldn't feel lonely. Now that we are back, we can be together again, safely!
All the preventive measures have been duly adopted and you can finally visit us again in our offices in Lisbon, and soon in the Algarve.
We are opening the door to a new world, in which collaboration, technology, and the ability to constantly adapt will be crucial to strengthen what has always been and will continue to be a safe investment: the real estate market.
In this sense, whilst we were away, the truth is that Portugal Homes' teams continued learning, studying, and investing in themselves to come back stronger for the months ahead. We are happy to share some of the exciting projects our teams have come up with to provide you with even more complete and trustworthy advice!
What's new?
1. A new office in Central Hong Kong
Aiming to come closer to our tier markets, our founders have been traveling around the globe, bringing business and investments directly to you, so you don't have to worry about traveling to Portugal. Having said that and considering the significant number of clients that come from Asia, Portugal Homes saw an opportunity to establish an Asian Hub Office in central Hong Kong.
2. The birth of our group
Our in-house marketing team has developed the Harland & Poston Group, a privately owned group that showcases all our brands in the areas of real estate, investments, property management, and travel. The group works as an ecosystem that provides our clientele with a set of investment opportunities on a global scale, through knowledge and expertise in the countries and business sectors you want to invest in!
3. We are building better and stronger partnerships
By opening a new office in Asia, we are open to build and explore new valuable partnerships to fuel our Harland & Poston Group.
Portugal Homes' current business partners already maximize the company's strengths, where both parties mutually benefit from each other. Only in the last 2 years, we've paid more than 1 million euros to our trusted partner base. This is why we aim to expand them further in any new place we establish a business in. We believe that by doing so, the company is able to better cater to our global citizens. We also believe that strategically positioning the business will enable us to build better and stronger partnerships!
4. Invest in Spain through Spanish Homes
As a group, we've seen Spain as a healthy investment market. While still working from Portugal, we want to be able to offer real estate investments in Iberian countries, for those who are looking for the best of both worlds, combining the city and the sea!
Don't miss out on our email newsletters when we launch our Spanish properties! Coming soon!

Despite the pandemic that the world is currently facing, the truth is that the fundamentals and advantages of the real estate activity remain unchanged, which has helped strengthen our confidence, and ensure the continuity and growth of the sector the way we are able to. The new reality in which we find ourselves also reinforces our willingness to react and lead, which is why we will continue aiming for constant learning and growing, and do our absolute best to provide you with the best complete business at all times!


Related articles:
- Team dynamics, the key to Portugal Homes success
- Portugal Homes numbers on the rise
- Where should Portugal Homes travel next?
Contact us today!

We're online!