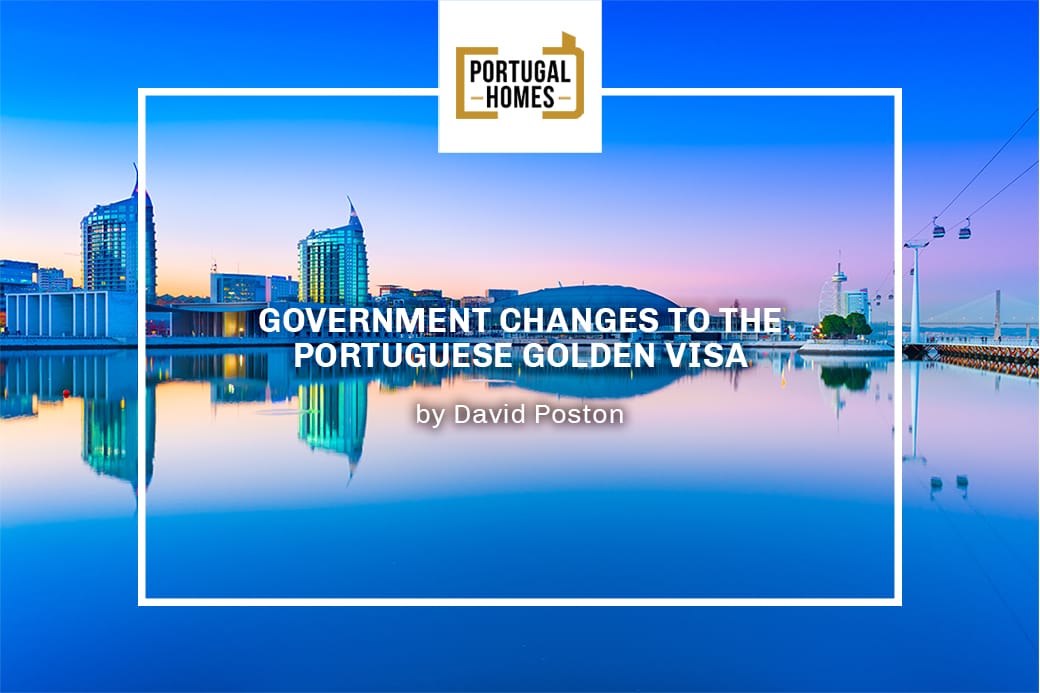 In the light of the recent announcements regarding the Portuguese Golden Visa program, our Managing Director and Founder felt it was important to update our partners and investors on the current situation and give his thoughts on the next and best steps forward.
For those of you not fully aware, there was a proposal to change the terms of the Golden Visa programme from the Socialist Party during the final approval of the state budget for 2020; the matter has been discussed in sub-committees within parliament and when they reconvene on the 6th of February, this year, those proposals will be sent for publication.
The changes in question are to stop investment into City Centre's and Major Towns within Portugal for Golden Visa Investors and to only approve applications that are in interior parts of the country or fall under what the government determines as Low-Density areas.
First, let me cover the reason why I believe they have made this decision. During the past 5 years there has been substantial investment into the major towns and cities of Portugal, with the majority of this investment going into Central Lisbon and Porto, only a small part of what is happening has to do with the Golden Visa, hence the government is worried that the property market is growing too quickly, and would like to considerably slow it down. This measure will not stop the market from growing but will slow it down to a more manageable situation regarding locals and foreign nationals living and working in the city centres.
Portugal has one of the most attractive passports in the world and the government has realized that by making the current changes, it will still receive investment from non-EU citizens looking to partake in the Golden Visa program, however, they will now receive this investment into much-needed areas across interior regions of the country rather than in the city centres where they already have good foreign investment through other channels.
Regarding timelines, this is not something that will happen overnight. Once approved, which I am 90% sure it will be, there will need to be several meetings/discussions to ascertain how they will make the changes and the exact areas that will be affected.
Once this is done, the specific legislation will need to be approved and they will have to amend the existing regulations regarding the Golden Visa Program. It is likely that this process will take several months, however, it is difficult for me to give a timeline as we still don't have the specific details of what will change and when. Nevertheless, I am sure we are talking about months (and not weeks) for this to happen, but certainly at some point before the end of this year, 2020. 
I will be monitoring the process closely to understand the new legislation in more detail, and once it is fully approved, I will keep you updated. One thing to take notice of is that the spokesman for the political party that has proposed this new legislation has already said that "this action will not be retroactive, so if you have an application already in with SEF there is no need to worry even if you don't have your approval through at the moment."
My advice moving forward is if you're still looking to apply for Golden Visa through property investment in one of the City Centre's of Portugal, then you should buy a property that has all of its licenses in place, or one that allows you to sign deeds immediately.
Then, submit your application at the earliest opportunity to avoid any issues when the new laws come into place. Keep in mind that a bank account in Portugal can take up to 6 weeks which means that any property purchased today would allow you to apply for a visa realistically in the next 6-8 weeks, should you have all of your documents in place.
With the knowledge I currently have on the proposed changes, my calculation is that you need to have your property purchased in the next 3 months to avoid any problems moving forward regarding rule changes.
If you have any further questions, please feel free to contact one of our team members who will gladly answer what they can. I will also be holding an online Q&A later next week once we have further information; it will be a live podcast that will allow you to ask any questions you may have to either myself or one of the legal representatives we will have present to help with some of the finer details.
I hope this clears a few things up for you and puts a clearer image on the current proposals. 
If you would like to speak with me further, just speak to one of our team members for all the details regarding the online Q&A.
Sincerely, 
David Poston | Managing Director & Founder of Portugal Homes