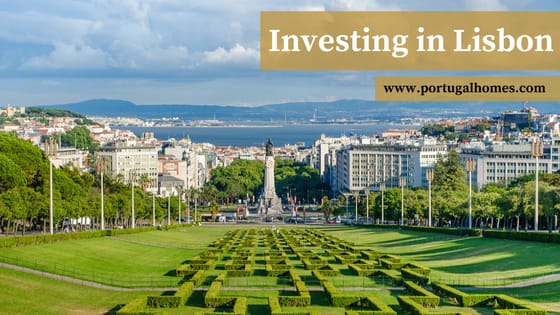 A Message from our Director

As the city continues to grow in stature and the investors keep arriving one thing I am constantly asked is if it is still possible to find a good deal in the City Centre, do you now need to look outside the main areas of Baixa and Chiado to get a good investment or is it still possible to enter the market in the best areas that historical Lisbon has to offer.
With the rise in NHR applications over the last 4 years and the continued interest in the Golden Visa, there is a lot of money coming into Lisbon that continues a trend which started in 2013.
When the government in Portugal made the necessary changes and clarified that pensions would indeed be tax free for applicants of the NHR programme the number of applications soared dramatically, from a mere 100 applicants between 2009 & 2012 there was a sudden jump to 1,000 applications in 2013 followed by more than 3,000 in 2014, the numbers have continued to increase during the past 3 years and have shown no signs of slowing down.
To qualify for the NHR you don't need to make a property acquisition, however with the regime mainly attracting high net worth individuals it seems that more than 90% of all applicants decide to purchase a property rather than rent. Huge increases in French, British, German, Italian and Scandinavian nationalities moving to Portugal has had a significant impact on the Portuguese economy.
Then we have the Golden Visa programme that is also attracting high net worth individuals to Portugal, this time the investment is from outside of Europe with the attraction of a Schengen visa luring investors from across the globe, in 2013 there were 476 applications followed by 1,523 in 2014, this was then eclipsed in 2015 and 2016 with a further 2,093 applications giving a total spending of over 2.5 Billion Euros.
More than 2.3 billion Euros of the 2.5 has been spent on real estate in the 4 years from 2013-2016, again the Golden Visa has been a fantastic addition to the economy with each individual investing an average of 620k on real estate, as we wait for the figures from 2017 there seems to be no change in the trend and the numbers investing in to Portugal keep increasing.


Then we have the increase in Tourism across Portugal but most importantly to the city centre, Lisbon has seen an increase of huge proportions over the last 6 years with the airport now at capacity with more than 20 million passengers passing through it each year, with tourists in the centre increasing from 6 Million to more than 11.5 million Lisbon is becoming one of the leading city breaks in the world, so what does all this mean for investors.
What it means is Increased rents and fantastic occupancy, with areas such as Baixa experiencing 80% plus occupancy for the year the returns are much higher than the interest rates which makes the Capital Prime for Buy to Let properties.
So taking all this in to consideration is it still possible to get a good investment in the key areas, in my opinion "yes", you can still get in to the centre at a good price you just have to know where to look, lots of agencies are now taking investors away from the centre however the returns are not as good and for me as long as you don't get caught up in the hype and you avoid investing on Rua Augusta at 10k per sqm you can still find fantastic properties in Baixa in the 5-6k per sqm range.
One thing I have built a reputation on is finding properties that my clients can make a return on and more importantly are in key locations that are desirable should they need to sell in the future, If the numbers of investors keep increasing at such a high rate then we may need to start looking outside the best areas for our clients, however, I don't think that time is here just yet and if your looking at investing my advice is to stick to the centre whilst you still have the chance.

David Poston
Managing Director
Portugal Homes


Read more in our article: Lisbon is among the best for real estate investments in Europe.

Phone: +351 213 471 603
Email: info@portugalhomes.com