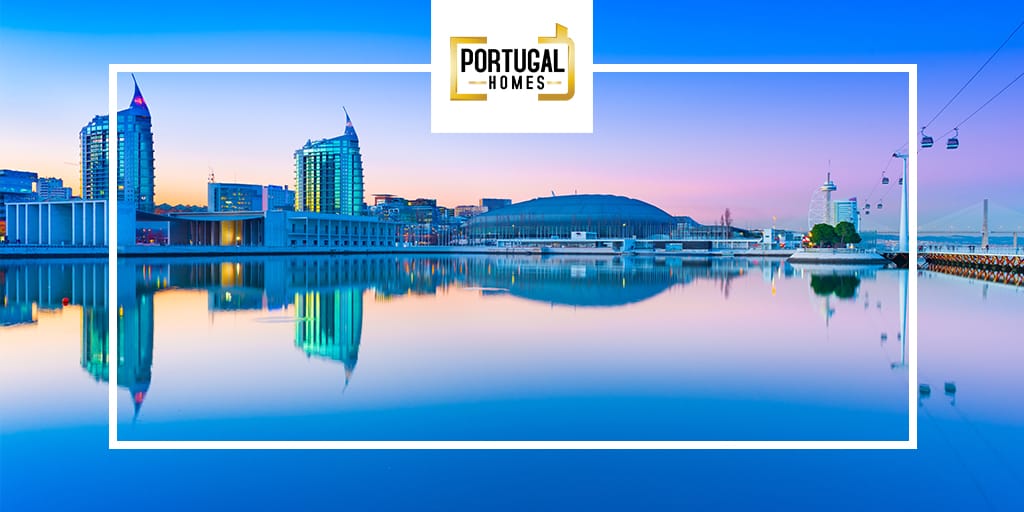 A seaside garden with mild temperatures, unforgettable scenery, unique historical monuments, irresistible cuisine, safety and Portugal real estate opportunities are the country's business card for foreigners. In fact, Portugal is the ideal setting for a full, happy life that many can only dream of. Whether for foreign investors looking for a good business, or for non-resident individuals looking for a home for sale in Portugal, here's what you need to know before taking this step.
This guide includes the following topics:
Why investing in Portugal real estate is a good option?
How to buy a house in Portugal?
Challenges you might face when purchasing a house in Portugal.
FAQ
Why investing in Portugal real estate is a good option?
Purchasing a property can make you eligible for Portuguese citizenship - know more about this topic on our Golden Visa Portugal page;
The cost of living in Portugal is one of the lowest in Europe;
It is an investment with high yield returns;
Eligible for great tax benefits through the Non-Habitual Resident scheme;
Public infrastructure such as healthcare and transportation are widely accessible;
Portugal is a safe place to live, with a very high quality of life, with pristine nature and golden beaches - see them here.
How to buy a house in Portugal?
1 | Choose your premium area
Choosing where to live in a place you don't know anything about can be overwhelming, which is why you should check our Portugal Guide to help you start your research. Portugal has something for anyone looking for a new life - whether it is vibrant cities, or scenic small towns. Leave no stone unturned, and learn about how it is to live in each one of Portugal's premium areas.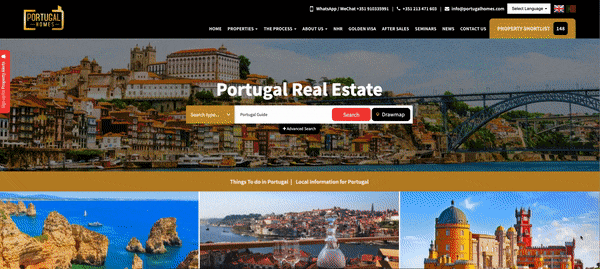 2 | Talk to an expert
You can find a house through an online portal or through a real estate agency. Our team at Portugal Homes can provide you with a personalised consultation for buying a property in Portugal, as well as provide you with market reports, to help you make the best decision. Get in touch with us here.
3 | Get a mortgage loan
If you're not rolling in it, you may need to look for a mortgage broker. Alternatively, if you wish, Portugal Homes liaises with three of the best portuguese banks, and can help you to, comfortably and conveniently, take care of opening an account and handling the respective process, so you don't have to make travel efforts to the establishments.

In most cases, mortgages in Portugal run for 25 years, however if you're a resident you can get up to 30 years.

For more information about mortgages, contact our Financial Advisor: steve@portugalhomes.com or mariana.vieira@portugalhomes.com

4 | Find your property
Although there are more flats available in built up areas and cities, you still have a wide choice of apartments, houses or commercial properties to build your ideal property in Portugal yourself. We can help you find the best property according to your requirements, here.
5 | Sign the Promissory Contract - Contrato de Promessa de Compra e Venda
Once you've decided what property you want to buy, you will sign a contract to close the purchase - the Promissory Contract (Contrato de Promessa de Compra e Venda). You will also be required to pay a deposit on this stage - usually 10% to 30% of the agreed purchase price -, this value being refundable if you can't obtain a mortgage, or complete the transaction within the specified period in the contract.
6 | Sign the Final Deed - Escritura
This is the final stage of purchasing a property in Portugal. Here, the notary will read the contract aloud and the Final Deed (usually in Portuguese) is finally signed. At this stage, you must pay the remaining funds and have the utility contracts changed into your name.
Challenges you might face when purchasing a house in Portugal
- Rising prices
After the economic downturn, the price of houses in Portugal rose 9.2% over the first quarter of the year.
Source: SCMP.com

Solution: At Portugal Homes, we have an in-house data analyst who provides in-depth market reports on each of the investment properties, allowing the client to make the correct decision on their new investment and ensuring he will get a significant percentage of their return on investment (ROI).
- Hidden Costs
If you're dreaming of glamour, you may want to take a step back. Portugal is coated in traditional buildings and historical architecture. Older homes are prone to an array of foundation and structural problems that can cost you plenty.

Solution: Before purchasing this type of property, you should address our After Sales department to assist you with this matter, as the team will make sure to inspect your property before, during and after your purchase to report potential snags and get them solved before you move into.
- High Ownership
Portugal is one of the countries with the highest rate of ownership, where over 74% of the population are homeowners.
Source: worldatlas.com
Opportunity: When the higher classes moved by the sea (Cascais, Estoril and Sintra), the heart of Lisbon was left to the lowest classes, especially to poor pensioners living on frozen rents. The buildings began to rot but in the past two decades there has been an effort to renovate the old historical center of the city. As the most elderly population dies, younger investors renovate the houses and discover the charm and the privilege of living in the focal point of the city.
Frequently Asked Questions about Buying Property in Portugal
What kind of taxes do I have to pay?
Although you're liable to fees as a buyer, these vary according to the circumstances. Fees and taxes include:
Stamp duty: Levied at a flat rate.
Property transfer tax - Imposto Municipal sobre Transmissões (IMT): This is calculated on a sliding scale depending on the cost of the home.
Notary and land registry fees.
If you're buying a house in Portugal through the Golden visa programme, use our Calculator to estimate the property buying cost, the legal fees and government fees.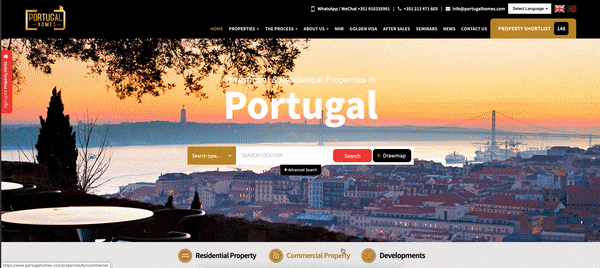 What are the requirements to buying a property in Portugal?
The purchasing process in Portugal isn't that complex, and requires the following documents:
Passport/Citizen's Card: For all legal and bank transactions such as signing the contract or applying for a mortgage.

Portuguese Tax number: to make any transaction and pay taxes. It's also needed to open a bank account, apply for a mortgage or even install water and electric facilities in your property.


Bank account: to help you with transfers, paying bills and to avoid dealing with frequent changes in the exchange rate.

About Portugal Homes

PortugalHomes.com specializes in investments through Real Estate and Golden Visa. We help buyers find the right property overseas, whether it be for Golden Visa, NHR, Investment or simply a place in the sun. Our properties are selected with great thought in mind to give our clients the best opportunities. We offer the complete service from introducing them to the Legal Representatives, Currency Exchange, Mortgage Advisors, Property Management, Rental and Furniture Packages along with making sure all our staff are trained to fully understand the buying process and taxes for every scenario. Portugal Homes provides the complete service to anyone looking to buy a new or resale property overseas for holiday use or as a short or long-term investment.
To find out more, please contact us:
E-Mail: info@portugalhomes.com