Portugal's tourism put Lisbon's airport under stress
Lisbon's airport has been under stress in recent years due to very high demand from tourists and flight companies. The number of tourists arriving at Humberto Delgado's (Lisbon) airport rises every year in overwhelming amounts.
Portugal learned to unveil its wonderful secrets in the latest years and people from all over the world are attracted to this country's history, safety, gastronomy, coastline, warm weather, and warm people. Combining this with economic and social stability makes Portugal one of the hottest traveling trends and a magnet for tourists and investors.

This context translates into the evolution of passengers traveling to Portugal and, specifically, arriving at Lisbon's airport every year.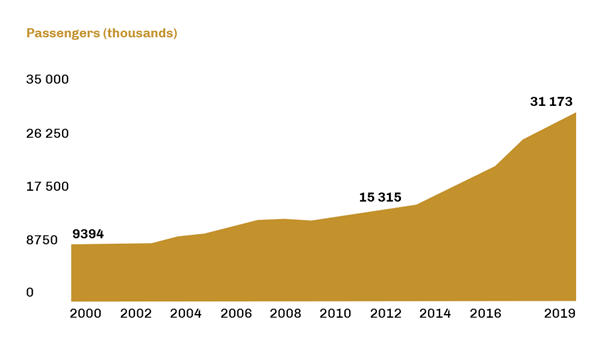 This amazing passenger turnout has forced the company that manages the airport facilities (ANA) to make several updates to the existing airport structure. One of them was building the second airport terminal. An expansion for low-cost and short-range flights. In the last 7 years, Lisbon's Airport doubled its number of passengers. In 2019, both terminals reached a record number of 31 million passengers. The previous record was exactly the year before, 2018, with 29 million passengers.
Portugal's success in tourism is reflected in all of the recognitions and awards the country has been receiving in the latest years. Also, Portugal became a prime destination for surfers and golfers from all over the world.

Take a moment to read more Portugal Homes articles on the Portuguese tourism rise:
The Solution: A Lisbon new airport in Montijo!
In January 2019, the government unveiled a €1.1Bn plan to expand Lisbon's current airport and build a Lisbon new airport in Montijo, right over the Tejo river.
The project was halted due to the lack of an Environmental Impact Study on the selected construction area. The Portuguese Environment Agency (APA) emitted its final declaration, authorizing the implementation of the second Lisbon airport in Montijo. However, this favorable declaration includes some retributions, like preventive measures and limited hours of air traffic to reduce noise pollution, as well as compensatory measures for the consequent loss of agricultural production, to the grant of river transportation from the Montijo area to Lisbon and railway connections to the Oriente and Pinhal Novo railway stations, for instance.
This document is a fundamental step to advance the building of this new airport that will complement Lisbon's present Humberto Delgado airport. With the updates to present Lisbon airport, in Portela and in Montijo, along with adjustments in air space management, it is believed that it's possible to increase the present 38 plane movements per hour to 72 movements and the whole system will be able to face a demand superior to 50 million passengers per year.


About Portugal Homes
PortugalHomes.com specializes in investments through real estate and Golden Visa. We help buyers find the right property overseas, whether it be for Golden Visa, NHR, Investment or simply a place in the sun. Our properties are selected with great thought in mind to give our clients the best opportunities. We offer the complete service from introducing them to the Legal Representatives, Currency Exchange, Mortgage Advisors, Property Management, Rental and Furniture Packages along with making sure all our staff is trained to fully understand the buying process and taxes for every scenario. Portugal Homes provides the complete service to anyone looking to buy a new or resale property overseas for holiday use or as a short or long-term investment.
To find out more, please contact us:
Phone: +351 213 471 603
E-Mail: info@portugalhomes.com