Publicado 24th December 2019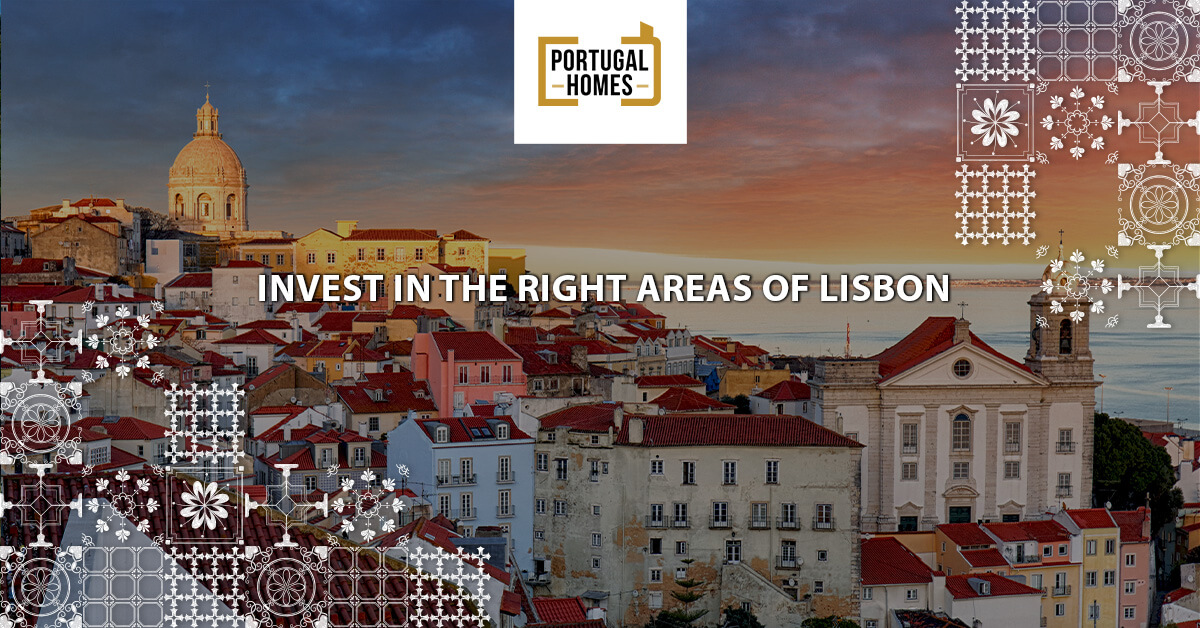 (6min read)
Europe's forgotten "sleeping beauty" of the 20th century woke up after 1998's World Fair, and both local and foreigner residents are injecting doses of innovation and modernism despite all the economic hardships. As confirmed by The Financial Times, Lisbon is on its way to becoming one of the best places to live, to do business. And of course, to invest in Lisbon property.
Although prices are rising in the Portuguese capital, the properties across the city still have huge potential for capital gain and return of your investment.
Whether you want to be close to the attractions of Lisbon or find some peace and quiet in the rural areas of the city, there are plenty of places to consider when staying in Lisbon.
Key areas to invest in Lisbon
Chiado
Chiado is a small part of Lisbon that's bursting with Portuguese culture, offering residents with a mix of old and modern establishments. It's a fairly traditional area, with theatres, bookstores, and cafes located throughout the region. Here at Portugal Homes, we offer an array of properties in Chiado, including both developments and homes. You can see them here.
Baixa
Baixa is perfect for those who love to try new experiences and want to fully immerse themselves in a new culture. Offering vast amounts of unique experiences and beautiful architecture, whether it be Rossio Square with its tremendous fountain or the vibrant yellow buildings of Praça do Comércio.
Avenida da Liberdade
Avenida da Liberdade boulevard, built in the 19th century in the style of the Champs-Elysées in Paris, is the main avenue of Lisbon. Home for some of the most fashionable luxury brands, Avenida is one of the richest and expensive areas of the country and represents the ideal place for creating and establish workplaces.
Properties in Avenida da Liberdade.

Graça
Graça houses a diverse population, from local residents who were born here and new residents seeking this old part of Lisbon. Whether a tourist or resident, people are drawn here by its location, history, and soul. Situated next to the São Jorge Castle, Graça's district is also known for its spectacular views that are much enjoyed by residents and visitors.
If you would like an alternative to invest in Lisbon city center, the Algarve and the Silver Coast are great options to consider.
Summary of the cost of living in Lisbon
Algarve
Best known for its amazing soft climate, with plenty of sun throughout the year, Algarve's pleasant weather allows you to discover its gorgeous coastline against which the ocean presents itself with all colors available in the blue spectrum.
Stepping away from the coastline you'll find other relics to explore in Algarve's more rugged interior, where people live in harmony with the environment and keep ancient traditions that they like to share.

Properties in the Algarve.
Silver Coast
By many expats, the Silver Coast is one of the most desirable places to live in Portugal, together with Lisbon and Algarve. The region remains largely unknown and therefore untouched by tourism, which means that visitors can bask in the extraordinary sand of "silver."
The Silver Coast is also a popular destination for surfers, and beaches such as Peniche and Nazaré, which are always busy with tourists from northern Europe.
See our latest property available on the Silver Coast.

About Portugal Homes
PortugalHomes.com specializes in investments through Real Estate and Golden Visa. We help buyers find the right property overseas, whether it be for Golden Visa, NHR, Investment or simply a place in the sun. Our properties are selected with great thought in mind to give our clients the best opportunities. We offer the complete service from introducing them to the Legal Representatives, Currency Exchange, Mortgage Advisors, Property Management, Rental and Furniture Packages along with making sure all our staff are trained to fully understand the buying process and taxes for every scenario. Portugal Homes provides the complete service to anyone looking to buy a new or resale property overseas for holiday use or as a short or long-term investment.
To find out more, please contact us:
Phone: +351 213 471 603

E-Mail: info@portugalhomes.com