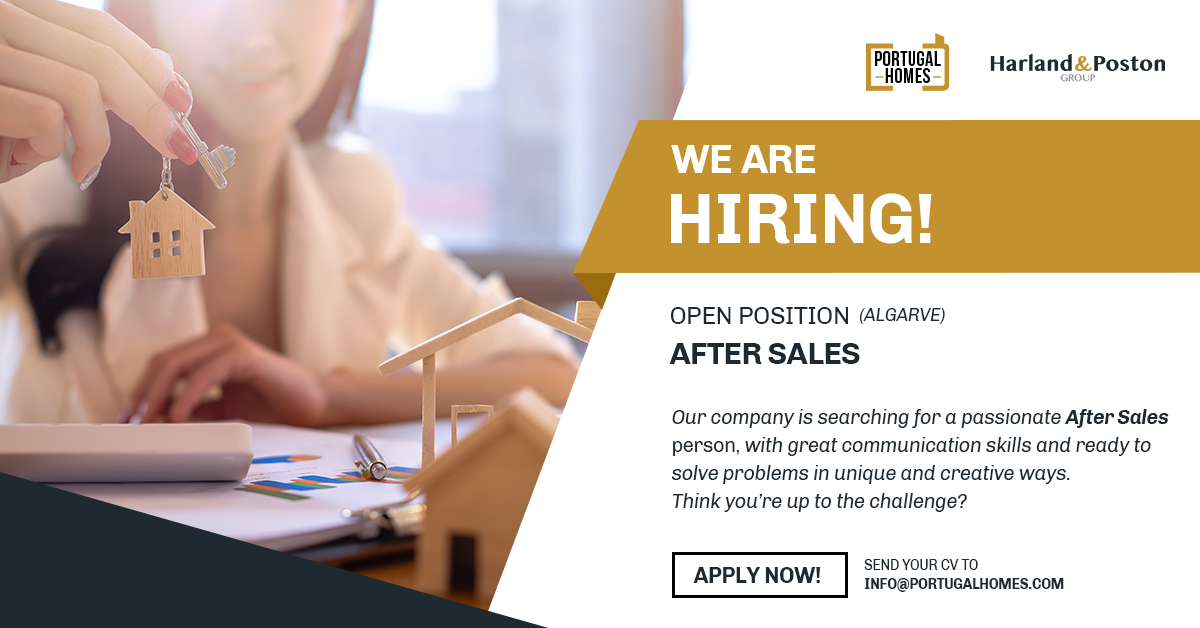 After Sales

| Lisbon

Portugal Homes, a leading estate agency with an AMI Licence 14414, and an APEMIP membership 5940, is currently looking for people to add value to our After Sales department. The After Sales department is a key market differentiator of Portugal Homes. We have designed a unique and unrivalled service tailored to our clients' needs. We have an in-house team that is solely committed to satisfying clients' needs post-purchase, and who guides them through every step of the way. We believe that by providing this service to all clients we are following our company's core values of honesty, trust and accountability, in everything we do - even after a client has made a purchase.

Job description:
Serves clients, selling products and meeting clients' needs.
Services existing accounts and establishes new accounts
Recommends changes in products, services, and policies by evaluating results and competitive developments.
Resolves clients' complaints by investigating problems, developing solutions, preparing reports, and making recommendations to management.
Drives sales through engagement with clients, suggestive selling, and sharing service knowledge.
Updates managers by consolidating, analysing, and forwarding daily action summaries.
Provides product, promotion, and pricing information by clarifying clients' requests, selecting appropriate information, forwarding information, and answering questions.
Skills:
Advanced customer focus and customer service skills
Great verbal and written communication skills
Ability to remain calm and in control of a situation
Microsoft Office and other useful software
Requirements:
Experience working in a call center
English Fluent
How to apply:
Please send us your CV in English to info@portugalhomes.com, with your name and position in the email's subject
---
Digital Marketing Specialist | Lisbon
The Harland & Poston Group / Portugal Homes Marketing team is growing and we need one more ninja willing to work, learn and grow with us!
The Harland & Poston Group is formed by a group of brands specialized in investment consulting, real estate, travel and tourism. In addition to the offices in Lisbon and the Algarve, we will soon also open international offices in London, Dubai and Istanbul. The Portugal Homes and Group team is composed of multi-disciplined, highly qualified and specialized professionals who perform their duties with confidence and responsibility.
Key Responsibilities:
Create & manage digital marketing campaigns
Analyze marketing data from campaigns, real estate portals, website traffic and translate into actionable data for performance improvement
Create marketing reports and analyze Harland & Poston Group performance enquiries & budgeting data
Manage pay-per-click campaigns in Search, Display, Social Media and Affiliates
Perform email marketing and lead generation activities, including formatting, optimizing, and distributing email messages and marketing campaigns, event invitations, announcements, and newsletters
Make sure email distribution lists follow marketing best practices, applicable regulations, anti-spam laws, and brand standards
Carry out update and maintenance of information and business intelligence relating to activities and marketing within the HubSpot CRM (all related automations with Telemarketing department data etc)
Active initiative in developing, launching, and maintaining of blogs, microsites, campaign measurement and analytics
Apply tools such as CRM, Google Ads, Google Analytics, Google Tag Manager, social media management platforms, and the CRM in creating, analyzing, and interpreting requested reports
Make useful suggestions on improving business processes and procedures, and the department's business innovation systems
Responsible for designing, producing, and distributing specific departmental reports that may be required
Ensure documentation and maintenance of daily work activities, including team activities
Provide training and deliver presentations when required and directed by the Digital Marketing Director
May be responsible for managing supplier relationships (agencies, third party providers etc)
Support all departments, if necessary, from marketing campaigns, information, and data point of view
Manage digital marketing projects whenever necessary to support the Digital Marketing Director
Requirements
Bachelor's Degree in Marketing, Business, Communication or other related fields
A Master's Degree in Marketing, Advertising and Branding will be a plus
Knowledge of the digital landscape is a must
A clear understanding of brand building through the whole brand funnel and omnichannel media context
A strong focus on reaching results/KPIs
Excellent English language skills (written and spoken)
Good command of Microsoft Office (Word, Excel, PowerPoint, Outlook)
What we offer
A competitive salary for the right candidate

Work in a multidisciplinary team

Help and support from the Marketing team

A fast-moving exciting environment
How To Apply
To apply, please send your CV in English to info@portugalhomes.com
---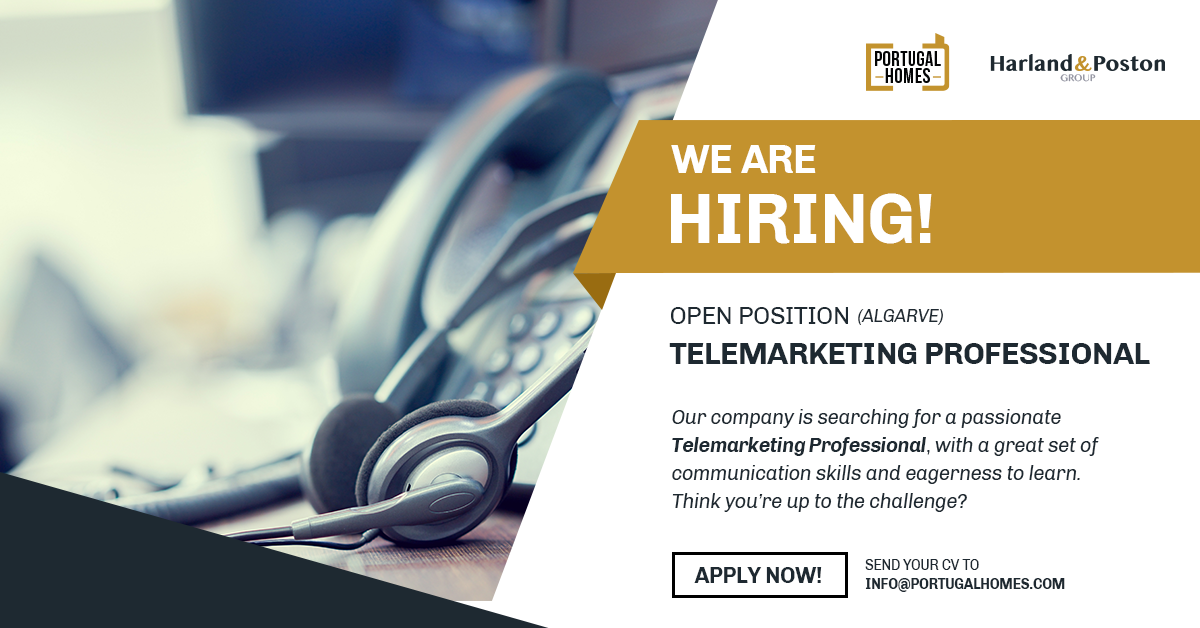 Telemarketing Professional |
Algarve
Portugal Homes - Harland & Poston Group is looking to recruit experienced Tele Marketing staff to join their growing office. We are building a new team in Algarve and would like you to be a part of it. Previous experience in a Telemarketing role is essential and all applicants will need to be fluent in English.
We have positions open for English, Portuguese, Turkish, Chinese, Indian & French-speaking staff, you will be part of a dynamic team that will contact clients who are interested in our services and would like further information, no experience in the Real Estate sector is needed and there is no cold calling involved.
If you have previous experience in Telemarketing and are looking for a new challenge then this could be the role for you, working in a state of the art office alongside a high achieving team for one of the fastest-growing Real Estate companies in Portugal.
The office is based on Quatro Estradas and you will spend the majority of your day on the phone calling clients from around the world that have enquired directly with our company for Real Estate & Investment purposes, we contact Mid to Senior level professionals so a professional and skilled approach is essential at all times.
You will need to be self-motivated and positive in a demanding role that requires you to be organized and efficient with a desire to achieve more, good keyboard skills are also an advantage as writing up your client reports efficiently will allow you to make more calls during your working day.
The role includes a structured development program designed to enhance your ability to progress into management and grow within the company, A comprehensive training program on our business, the market and what we do will be provided for every successful applicant.
Details:
Working hours: 9 AM – 6 PM;
Start Date: Immediate;
Job Type: Permanent;
Contract Length: Full Time;
This role is not your stereotypical Telemarketing role as all our leads are warm and have asked to be contacted.

Please send us your CV in English to info@portugalhomes.com, with your name and position in the email's subject.
---
Explore more about our teams:
Team dynamics, the key to Portugal Homes success
Portugal Homes team bonding and weekend getaway
---
Watch some of our staff talking about their day-to-day life at Portugal Homes. We love to have fun even when we're working! :)